January 20th, 2012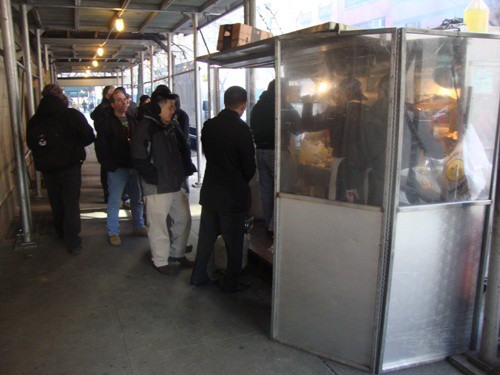 In the slow street food season of winter, I've been revisiting some of the better food carts around town.  One of the best is Tony Dragonas' cart on the SW corner of 62nd St & Madison Ave.
Tony was actually a Vendy Award Finalist in the very first competition back in 2005.  Even in 30 degree weather with 3 people working at the cart, there was still a line of about 10 people, although I didn't wait more than 5-10 minutes.
Most of the people on line seemed to get chicken over rice or a combo platter of chicken and rib-eye steak over rice.  Another excellent dish is the steak and portobello hero I had there about a year and a half ago, which you can get with grilled chicken too.
In order to try something new, Today's Lunch is a chicken gyro ($6).