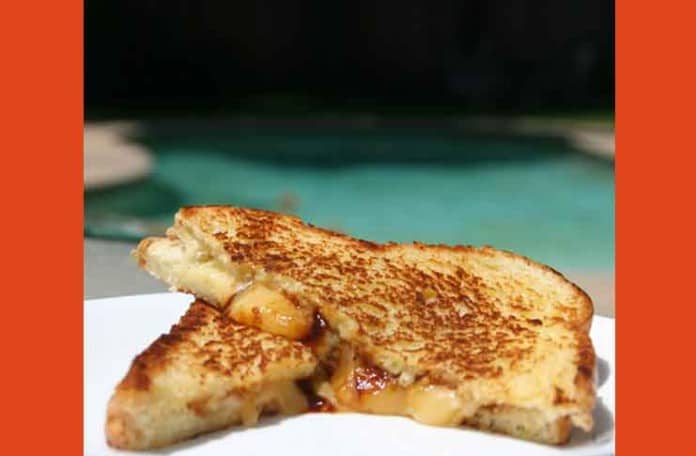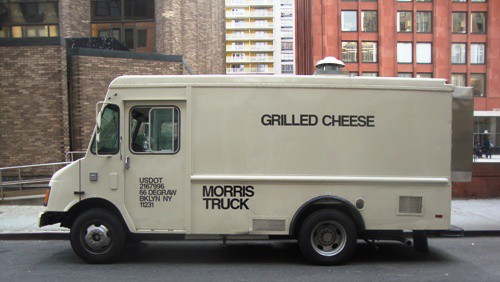 We passed by the Morris Grilled Cheese Truck recently and saw they had expanded their menu with some interesting new sandwich choices.  In addition to a few classic grilled cheese sandwiches, they also had a hot pastrami, chili & cheddar, and the one that caught our eye right away – The Blue.
Not only did it have blue cheese, but there were also pickled beets (which are in season) and duck prosciutto (!)
Today's Lunch is The Blue ($8) from the Morris Grilled Cheese Truck.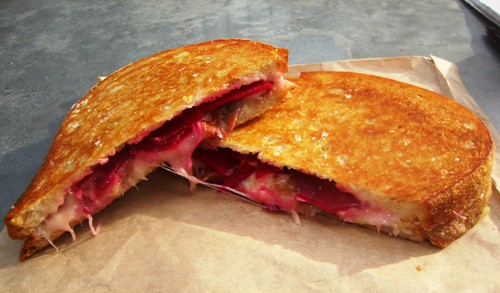 While me and two other people were waiting for our sandwiches, the guy in the truck gave us each a taste of their hot apple cider, which was delicious.  It was made with nutmeg, cinnamon, brown sugar, allspice, clove and a little orange zest, and was very nice on a cold winter day.  It reminded me of an apple version of our favorite winter drink – grog – but without the rum.
The sandwich came out of the griddle a gorgeous golden brown color, and they sprinkled a little sea salt on top.  I asked him to cut it in half, and the color was even more striking with the beets in the middle.
The first thing I noticed upon taking a bite was the beets were still "al dente".  The beets I've had recently in other dishes have been totally soft, but these  had a little body left.  The beets did not have a strong pickled taste either, which was fine with me.
The cheese melted well, and had a nice blue cheese taste, but was a bit salty.
The duck prosciutto had a darker and deeper flavor than prosciutto made from ham, but it was a bit salty too.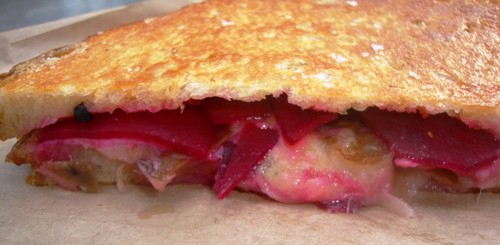 Between the "bit salty" cheese and prosciutto, and the salt sprinkled on top, the overall effect was the sandwich was too salty for my taste.  I'm not a big salt lover to begin with, so maybe it's just my sensitivity, but I would have preferred less.
Perhaps a meat that absorbs salt rather than has its own would have been a better choice – or don't sprinkle salt on the top of The Blue, which already has enough.
I almost forgot to mention the bread, which was sourdough, and it made a nice grilled sandwich.  It was thick enough to hold the fillings and still have some body after grilling.
Today's Lunch from the Morris Grilled Cheese Truck was still pretty interesting with the blue cheese, beets and duck prosciutto, but I would have preferred less saltiness in my sandwich.
I definitely want to try the pastrami sandwich from Morris Grilled Cheese.  I realize it's not going to have much in common with a Jewish deli pastrami sandwich, but it does sound good.
You can follow Morris Grilled Cheese on twitter here or on our Mobile Munchies twitter feed here.