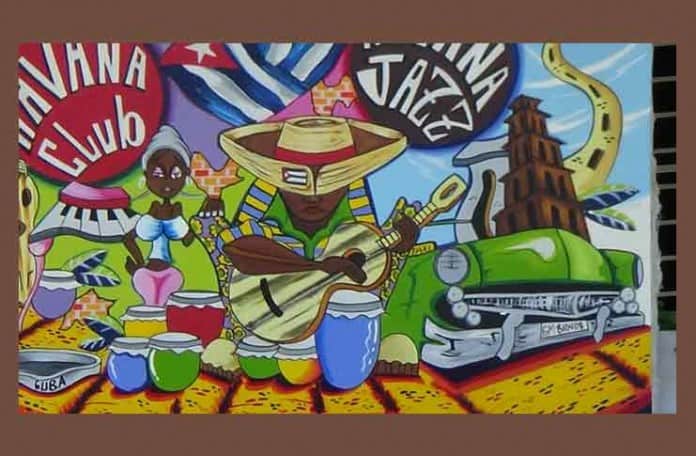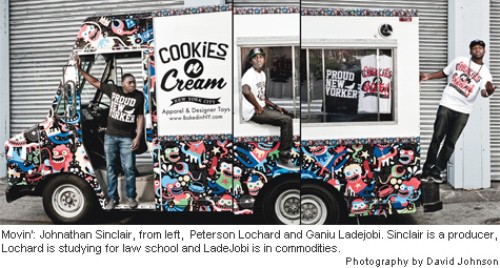 Our friend James from Vancouver Street Eats sent us an article from Entrepeneur magazine about a truck in Soho called Cookies n Cream that doesn't sell food – they sell hip t-shirts and toys in the middle of one of the trendiest retail neighborhoods in New York.  As the startup's creative director, Ganiu Ladejobi, says:  "We're at the intersection of cool and cooler."
The truck- let's call it a mobile boutique- sits at the corner of Broadway & Prince on weekends, and the unique design of the truck and loud music blaring from the speakers keeps a steady stream of locals and tourists alike coming over to the truck.  Many of them gladly hand over $35 for a t-shirt, and everyone who buys somethings has their picture taken, which is posted on their website.
These guys aren't the first ones to try this tack.  National companies have also been sending their wares out on wheels.  Designer Cynthia Rowley has a "mobile fashion unit" traveling the country, stocked with her latest styles and equipped with a changing room.  Armani Exchange has sold jeans from trucks in Los Angeles, and the Olsen Twins did a similar stunt for their line for JCPenney last fall.
The reasons for opening a mobile boutique are similar to the reasons for opening a mobile food truck – the startup costs are significantly lower than opening a retail outlet.  With a "real" store, you need months of rent up front, a showroom, a stockroom and a full-time staff.  Go the truck route and the startup costs drop fast.  Consider the Cookies-n-Cream tab:
Used DHL truck – $3,600
Vinyl wrap printing costs – $1,865
Van wrap – $600
Lights installation – $300
Windows installation – $1,600
Audio installation – $500
Audio equipment – $400
Cutting out windows – $350
Commercial registration – $568
Painting – $650
Total costs = $10,433
Looks like another successful mobile business in the making. [Entrepeneur]
The article doesn't say whether they have trouble with retail businesses calling the police on them, as some of the food trucks do.