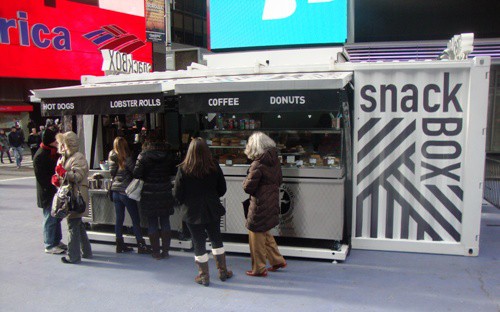 I was in Times Square at lunchtime, picking up 2 for 1 tickets to a show for Broadway Week.  If you still want 2 for 1 Broadway tickets, get online quick.  Most of the best tickets are already gone.
Since I was in Times Square, I decided to try Snackbox, a new kiosk in the pedestrian plaza on Broadway at 46th St.  They have a decent variety of items for a Times Square street vendor with hot dogs, chili dogs, lobster rolls (?), Sigmund pretzels, donuts, coffee and a few other things.
I wasn't brave enough to try an $11.75 lobster roll (maybe one day).  Today's Lunch is Snack Pack 2, which is 2 hot dogs and a bag of chips for $7.95.  You can see the Snackbox main menu here, the Snack Pack menu here, and the dessert menu here.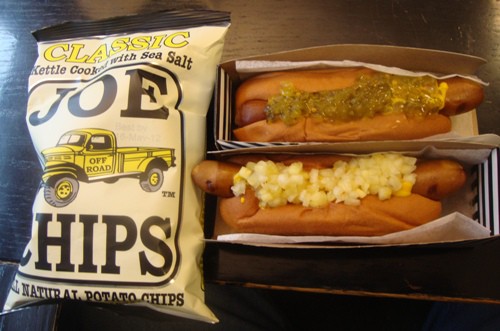 The hot dogs are first steamed, then grilled, which gives them a decent snap.  The quality of the hot dogs themselves was decent, but not great.
The buns were nicely toasted, although they had that top-sliced thing I'm not crazy about.
I got spicy pineapple relish on one dog and cucumber relish on the other for an extra $0.50 each.  Ketchup, mustard and sauerkraut were free of charge.
The pineapple relish wasn't really spicy, but I expected it wouldn't be in the middle of Times Square.  The sweet pineapple and spicy mustard were a nice combination though.  The cucumber relish was standard pickle relish, which I wasn't crazy about paying extra for.
Today's Lunch was a little pricey, with 2 hot dogs, toppings and a bag of chips totaling $9.24 after tax.  If I was a tourist, this would be fine.  As a New Yorker, I would rather get a foot-long hotdog from the Carnegie Deli  about 8 blocks uptown for $5.95.