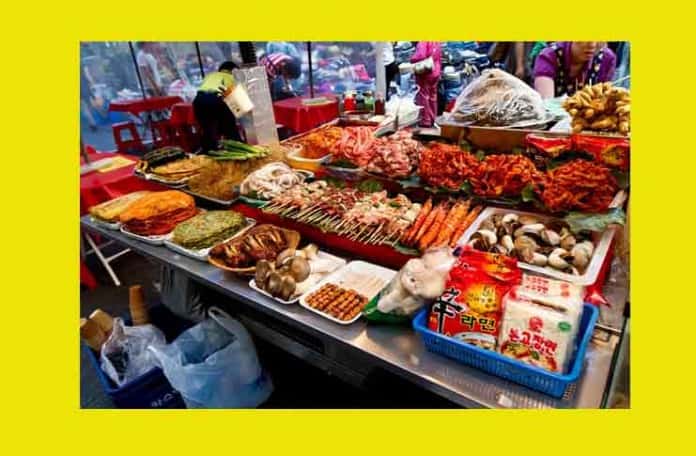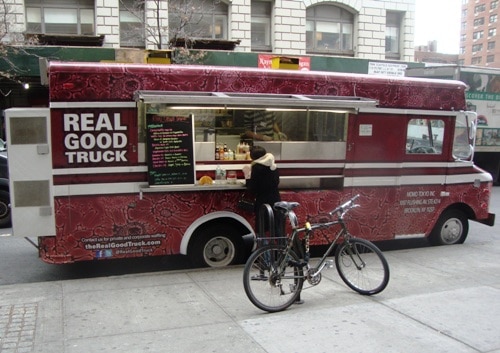 About 10 days ago we went out to Williamsburg to have a NYSF First Look at the Real Good Truck and their wafflewiches – sandwiches on waffles.  We enjoyed a jalapeño cheddar bratwurst on a fresh waffle that day.
The Real Good Truck has just started coming into Manhattan this week, and we were able to get down to the Flatiron District for lunch.
Last week Matthew gave me a taste of their bbq brisket, which was tasty.  My intention today was to get the BBQ brisketwich, but it wasn't on the menu, so Today's Lunch was a yakinikuwich ($7).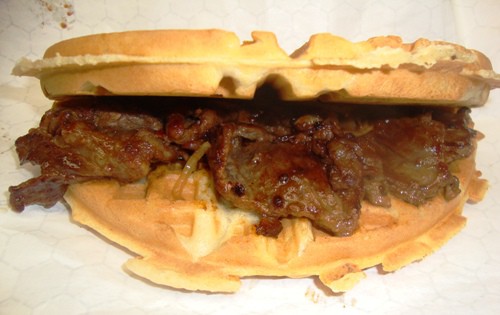 As we told you last week, all the meat on the Real Good Truck comes from the owner's family ranch they have had in Montana for over 100 years.
Yakiniku is Japanese-style BBQ beef.  This beef was thinly sliced and marinated in a sweet and slightly spicy mirin-type sauce.  You could see it was grilled by the lines on the meat, and it was placed inside a fresh waffle as bread.
The meat had a good flavor, which lingered nicely for a while after eating it.  The beef was a little chewier than I expected, but nothing too serious.  It was still enjoyable.
The waffle made for an interesting bread choice.  It wasn't sweet as you might think – it was more akin to bread without a crust – but it all held together just fine.
Today's Lunch of a yakiniku wich from the Real Good Truck was real good.  As I'm writing this, I'm still tasting the BBQ flavor from the meat – and enjoying every second of it.  It wasn't an overstuffed sandwich, but it was only $7 for marinated beef on a fresh waffle.
You can follow the Real Good Truck on twitter here or on our Mobile Munchies twitter feed.  Below is their menu.