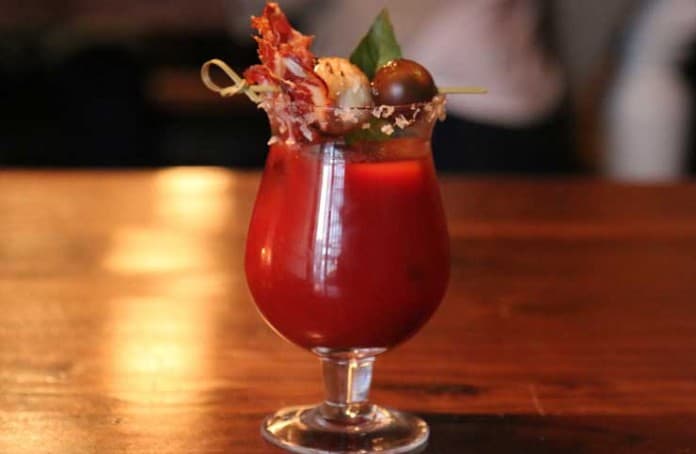 By Loren Noel
Already known as one of the hottest NYC cocktail establishments in the East Village, Drexler's is proud announce its brand new weekend brunch menu, officially launching March 26th! For those who are looking to start- or end- a weekend right, the popular watering-hole is introducing a daytime specific cocktail menu that includes a traditional Bloody Mary, a Classic Mimosa and a special "Beermosa," which is concocted with a pilsner brewed just for Drexler's from the Brooklyn based, Kelso Brewery.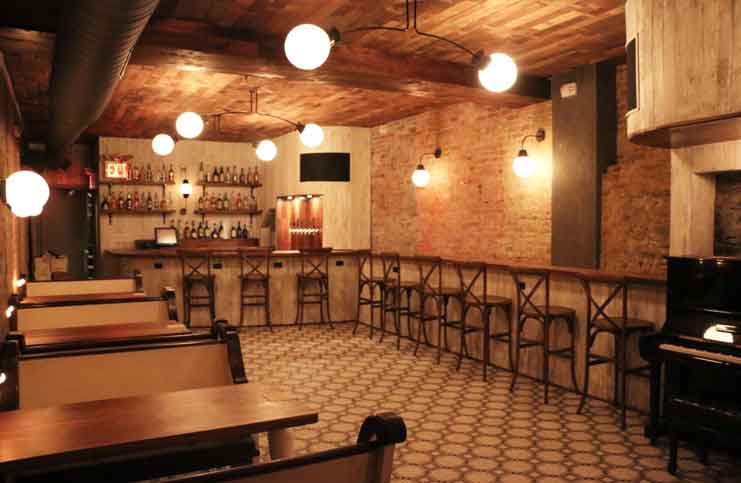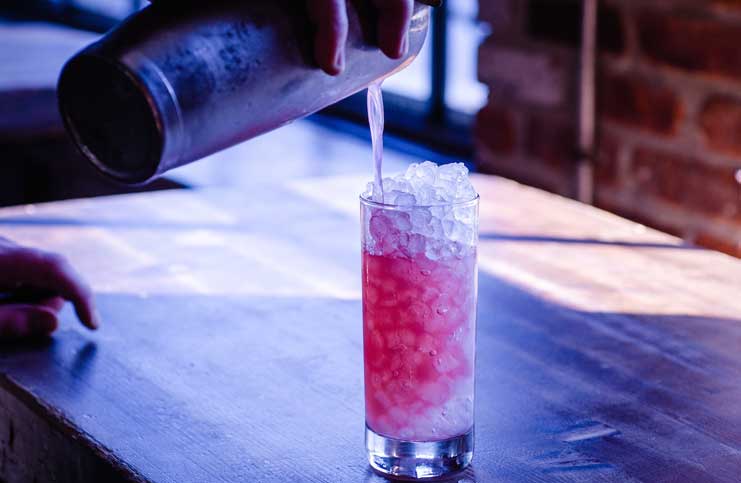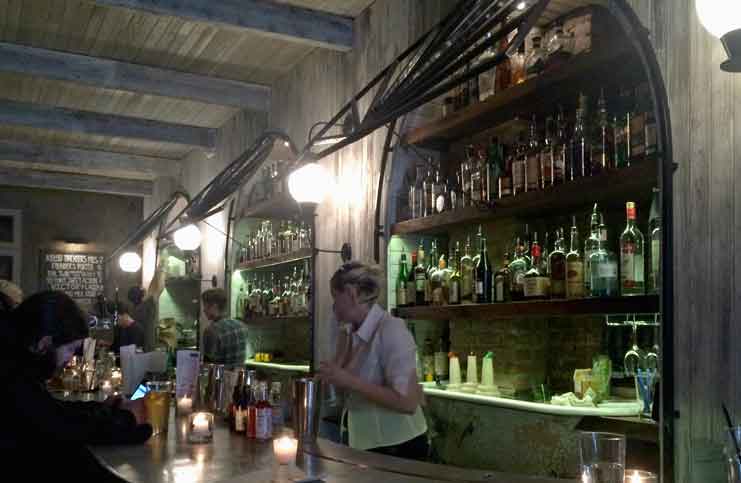 Its lineup of beverages showcase four creative cocktails that include: The Bloody Caesar, Paloma, Bramble and the Americano. Moreover, Drexler's is excited to introduce a fifth cocktail—The Mediterranean Bloody Mary— to the menu. To celebrate both the launch and new cocktail additions, this casual-yet-trendy drinkery threw a lively Louisiana-style brunch event and invited some food enthusiasts to test out the latest innovations—myself included.
Drexler's Brunch Menu
Pumping energy throughout Drexler's was the jazzy, funky and NOLA influenced trio, The Hot Hand Band, staring Kevin Moehringer (trombone), Ray Cetta (bass), & Kevin Raczka (drums.) As the live music blared, the brunch menu items began popping up. We were served two delicious assortments of savory breakfast goodies on Drexler's signature sharable butcher blocks. The spreads featured fresh and toasty Black Seed Bagels, cream cheese, tomatoes, onions, capers and sprigs of dill, all along side two delicious types of Catsmo salmon.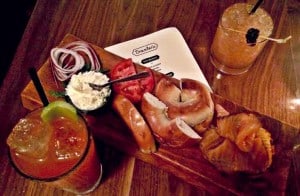 The pastrami smoked salmon was expertly cured with a mix of Catsmo's exceptional blend of spices and was extremely rich in flavor. Meanwhile, the traditional smoked salmon was likewise delectable; it was buttery in texture, smoky and melted in your mouth. Both types of lox were super fresh.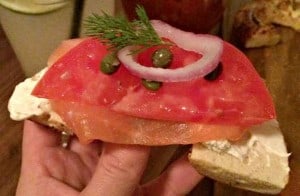 Everyone knows that no true NYC brunch menu is complete without some snazzy cocktails and Drexler's drinks certainly shined in this department. Take a look at your new favorite boozy brunch libations:
Bloody Caesar: George Green Chile Vodka, Clamato, Horseradish, Worcestershire, Tobasco and a Stalk of refreshing Celery. If you're a fan of big, bold horseradish flavor and like a kick to your drinks, this one is for you. Tangy, zesty and strong, the celery stalk is a welcome refresher to tame the spice and balance the flavors of the brunch menu.
Mediterranean Mary: Reyka Vodka, Tomato, Olive Tapenade, Basil, Oregano, Citrus and Hot Pepper. This inventive spin on the traditional bloody mary is unlike any other, thanks to its complex mix of flavors. Garnished with a lovely skewer of coppa calabrese, mozzarella and a ripe cherry tomato, this drink both looked creative and possessed a distinctive taste. The combo of tapenade, herbs and tomato reminded me of a spicy- and spiked- pasta sauce. In the best way possible. Fellow tasting guest and good friend Nikki M. really enjoyed this "interesting drink" describing it as a, "savory, olive infused, fiery cocktail that shouldn't be missed."
Paloma: Tromba Blanco Tequilla, Lime, Jaritos Grapefruit Soda and Smoked Sea Salt topped with a lime slice. This pretty pale green drink is perfect for those who love refreshing, slighty tart and fruity cocktails. Being a tequila drinker myself, I really liked the combination of the carbonated grapefruit soda and the smoky flavors and how they accentuated the tequila itself.
Bramble: Beefeater Gin, Plymouth Sloe Gin and topped with a Blackberry. Gin drinkers will enjoy this invigorating and vivacious drink and will particularly like the hints of fruit in each sip.
Americano: Campari, Carpano Antica Formula Vermouth and Club Soda. Although I didn't get the chance to taste this one, both types of liquor can be considered aperitifs. The vermouth is more on the sweet and rich side, while the Campari has fruity, herbal notes along with a biter-sweet taste.
Advice: Come for the brunch menu bites and stay for the cocktails and energetic NOLA music guaranteed to make for a fantastic dinning experience!
Drexler's: www.drexlers.nyc
Location: 9 Avenue A, New York, NY 10009
Hours: Mon-Fri 4pm-2am; Sat & Sun (brunch) starts at 12pm