Here, in Hell's Kitchen, you can go on a journey led by Jaz Rupall and a menu created by Chef Arif Ahmed, delivering you to the flavors of Northern India. Jaz Indian Cuisine is clean and polished with art on the wall and a fully stocked bar on display. With 10 tables, the restaurant is personal and intimate, providing a warm welcome back. You feel like you're dining at a close friend's house.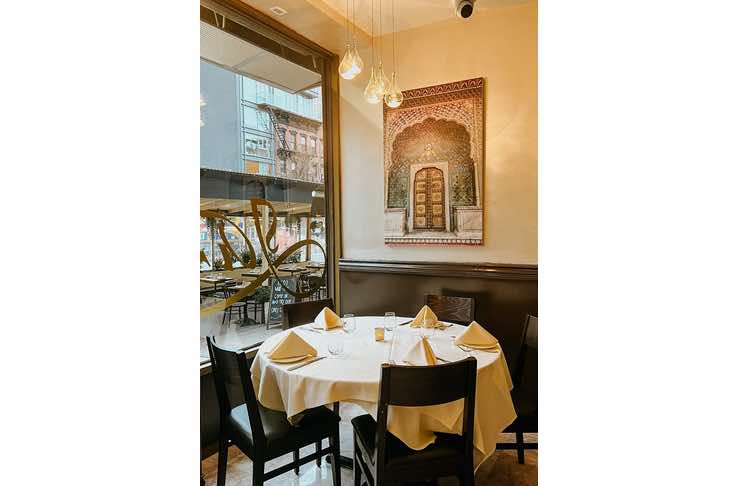 Arriving at Jaz Indian Cuisine, We Started With Cocktails
We arrived in the evening for dinner where we were greeted personally by Arif (one of the owners) and the very friendly staff who recommended some of their most popular dishes. We ordered two of their signature cocktails (Kiss from Jaz and the Mango Margarita).
The Kiss from Jaz was a beautiful Campari forward aperitif. Although Campari is not much of my style, it was an amazing way to start the meal. For the Mango Margarita, it was a welcome mix of sweet mango with traditional margarita flavors. Overall, the cocktails were generously poured and tasted delicious.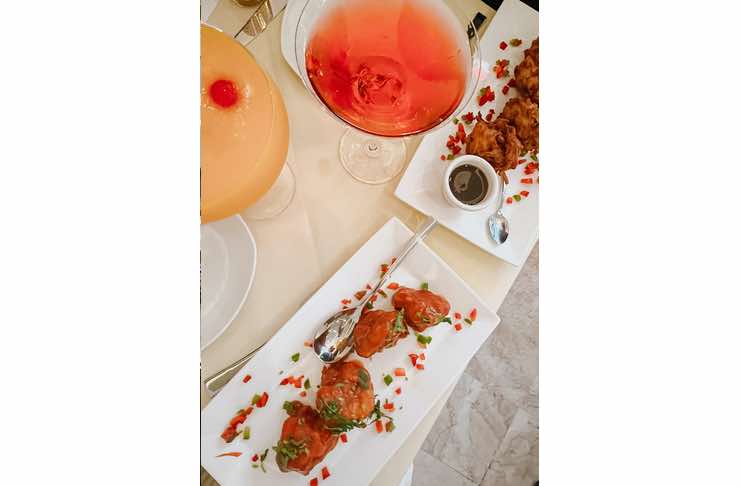 The Onion Fritters and the Lasuni Gobi
For starters, our server recommended Onion Fritters and the Lasuni Gobi. The Onion Fritters had a crunchy texture and came with my favorite sauce to date. A glaze-like tamarind sauce that was so sweet and sour that I had to ask for a refill.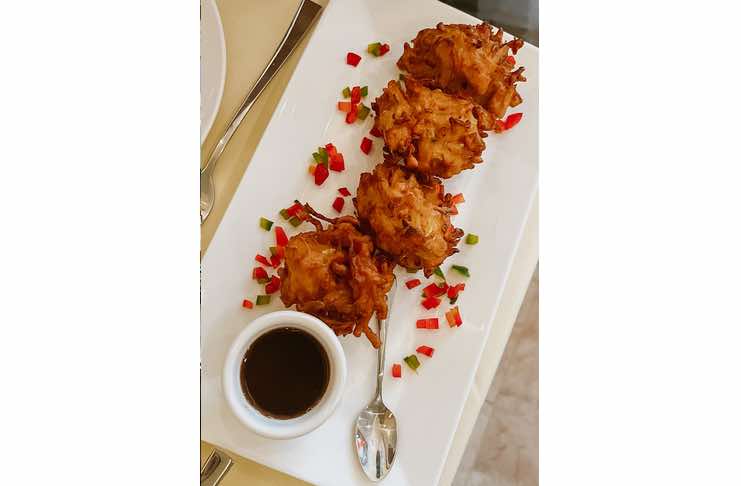 The Lasuni Gobi was a favorite as well. I'm already a big cauliflower lover, so to have such crispy Gobi that was garlic forward and sweet had a mouthfeel of some American-Chinese food but with so many delicious Northern Indian Flavors. No meat, all flavor.
The Entrees: Saffron Shrimp, Chettinad, Lamb Chops and More
For our entrees, we decided to treat ourselves. We ordered a few dishes – Saffron Shrimp, the Chettinad, Lamb Chops, and an order of Lemon Rice. Now before I get into details, each one of these items was super fresh and flavorful.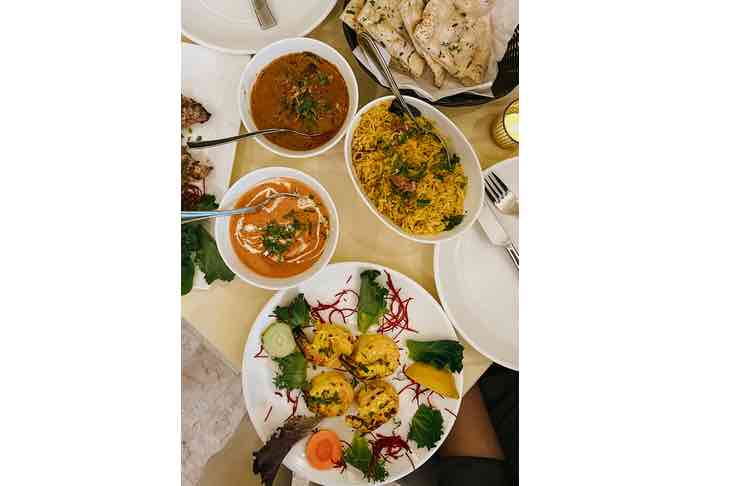 We inhaled the lamb chops which were fall-off-the-bone tender and fragrant but still so respectful of the unique flavor of Lamb. The lamb chops were personally recommended by Arif who told us that this is his specialty dish and requires an extensive 14 hours of marination.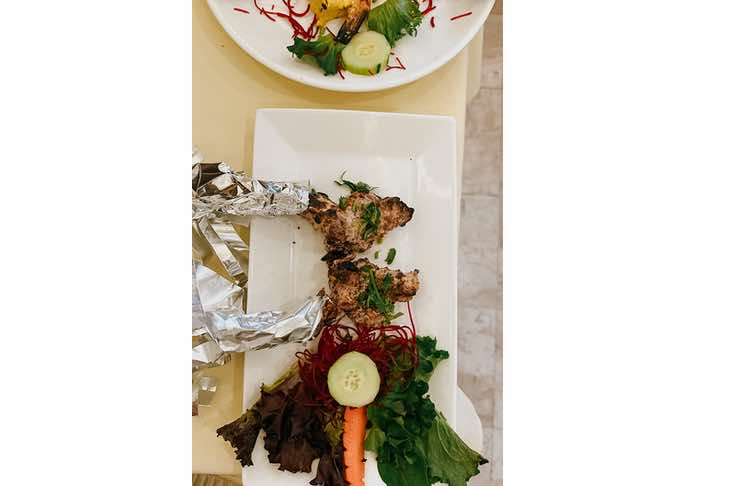 The marinade includes an array of spices like fragrant saffron, ginger, garlic and some dark rum which imparts a great smoky caramel flavor. Easily becoming our favorite, you HAVE to get this!
The Saffron Shrimp was another great dish. It was beautifully plated and tender with a strong saffron flavor and a coconut finish. Finally, the Chettinad which was reminiscent of curry and was accompanied by an order of their Lemon Rice was also delicious.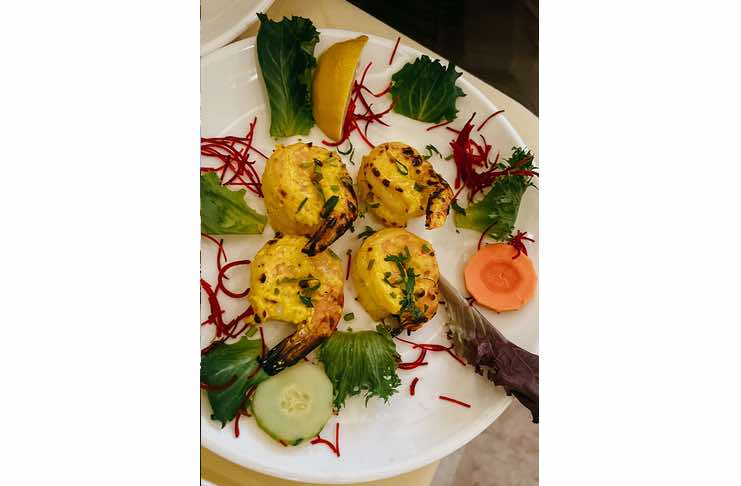 Starting with the basmati, the rice was buttered and had a satisfying feel in the mouth. The flavor of lemon and curry leaves were mixed in as well to provide a savory but not overpowering flavor.
Personally, I loved to mix the Chettinad with the basmati rice to get the fluffy quality of the rice with the lamb-y flavor. This combo was second only to the Lamb Chops!
Dessert Time: Kulfi and Gulab Jamun
Finally, we moved on to dessert where we tried their Kulfi (ice cream) and Gulab Jamun (specialty Indian donut soaked in syrup). Now I gotta say, I am Indian, so Gulab Jamun is one of my favorite desserts/snacks/anytime-anywhere-dish that I will NEVER be tired of eating.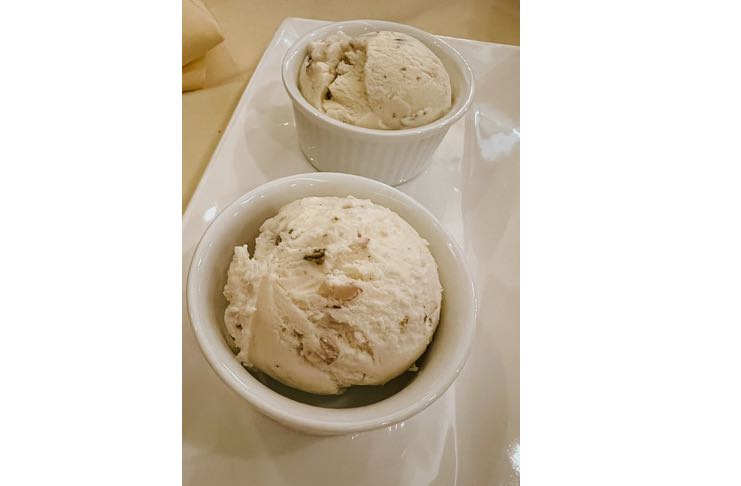 My personal experience in NYC has been that there aren't many places that do it well. But, I think I've finally found the best Gulab Jamun in the city. It was served warm with enough syrup to have each Gulab Jamun submerged and, most importantly, it was fresh. I will come back to Jaz Indian Cuisine any day just to eat this Gulab Jamun. Do NOT skip it!
The Kulfi (ice cream) was another favorite. As someone who doesn't usually go crazy over Kulfi, this was a welcome surprise! The Kulfi is made in-house and consists of slowly churned whole milk slowly flavored with rose water, pistachio, almonds, and saffron – another one of Arif's recommendations.
Each ingredient shined through with a special mention to the almond which brought a crunch and texture to the Kulfi, breaking apart the smooth creaminess in a very welcome way. This is a unique Indian dessert you have to try.
Final Verdict
Overall, I would give this place a 10/10 and I will definitely be back (still dreaming of the Lamb Chops!). The staff is professional and welcoming, high-quality ingredients (generous use of saffron in many dishes), the food is delicious and you will be touched by how much love and respect Arif and Jaz put into their food – it really shines through.
They truly love what they do, and it's evident in their food. So next time you're in the mood for elevated Indian food with soul, you need to make your way to Jaz Indian Cuisine. You will not regret it! 
Check out more reviews here on Yelp.
My favorites are:
The Lamb Chops, they're SO tender, so well spiced but not overpowering in any way. This is my new standard for perfect Lamb Chops.

Gulab Jamun, I'm a bit of a Gulab Jamun connoisseur and this is easily the best Gulab Jamun I've had in Manhattan. Usually to get comparable Gulab Jamun I need to go to either Jackson Heights or deep in Jersey.

Lasuni Gobi, this reminded me of Gobi Manchurian but with a decadent garlic sauce that reminds me of some American-Chinese dishes.
This place is amazing and I WILL be back!
Want to read more of our latest reviews? Check out our review of Honest Indian Restaurant.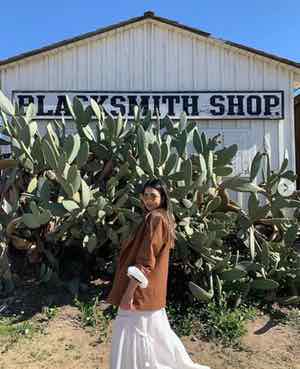 A travel hobbyist from Dallas TX, Mehru believes we all share one common language: good food. Eating her way around the world, Mehru has spent significant time learning about other cultures and their flavors (she also makes a mean chicken curry!). Now living in Brooklyn, she shares her adventures on social media (IG: @sheikhshack_). Previously, she's ghost-written for travel blogs and even ran a food page.