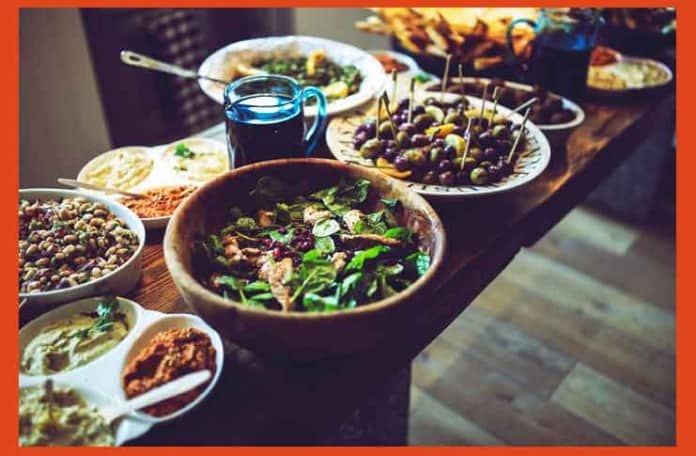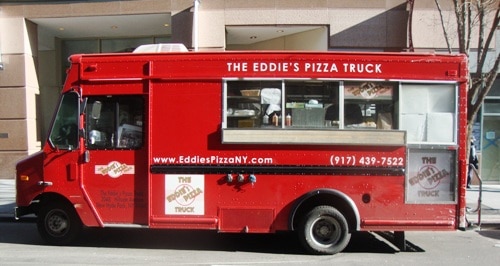 As we told you towards the end of last year, Eddie's Pizza Truck has expanded their menu to include several types of sandwiches.  We enjoyed their buffalo chicken sandwich the week after Thanksgiving, so today we decided to go back and try their porchetta sandwich.
We originally tried Eddie's porchetta at the 2011 Vendy Awards, where they were a Rookie of the Year finalist.  At the Vendy's, in addition to pizza, Eddie's prepared a couple of new dishes, porchetta and sweet potato gnocchi.
Today's Lunch is a porchetta sandwich ($9.50) from Eddie's Pizza Truck.
If you've read our reviews of Eddie's sandwiches, you'll know the old top-sliced roll was not one of our favorite things.  As it turns out, Derek from Eddie's emailed us recently and mentioned they were using new bread for their sandwiches.  Eddie's is now using ciabatta from a small bakery in Brooklyn (which he did not name).
The new ciabatta was excellent!  It was very soft, even after baking in the pizza oven for a few minutes.  There was a little char around the edges, the outside crust still had the remnants of a little dusting of flour, and the bread held plenty of meat, cheese and pesto without going soft.  Very good find on the bakery.
The porchetta was thinly sliced Italian roast pork.  It was a little saltier than I remember at the Vendy's, but that was probably because I had a whole sandwich with lots of meat instead of just a piece of pork.
The pesto on the bottom of the sandwich was a good condiment, giving the porchetta an herbiness that went well with the meatiness of the sandwich.
There was also provolone cheese on the sandwich that was nice and gooey, although it was a little weak for the porchetta and pesto.  A stronger cheese might have added a little more flavor.
Still, Today's Lunch of a porchetta sandwich from Eddie's Pizza Truck was very tasty.  It was thick with roast pork and flavorful from the pesto.  Holding it all together was a great ciabatta roll.
There are plenty of other new sandwiches to try at Eddie's. Just check out the sandwich menu below.  Looks pretty good, eh?
you can follow Eddie's Pizza Truck on twitter here.