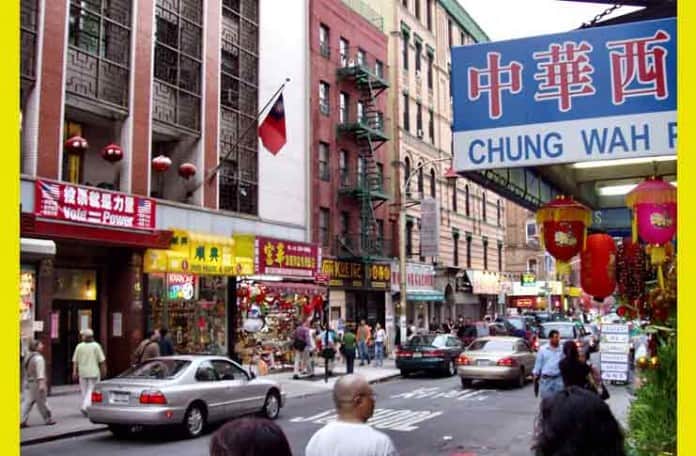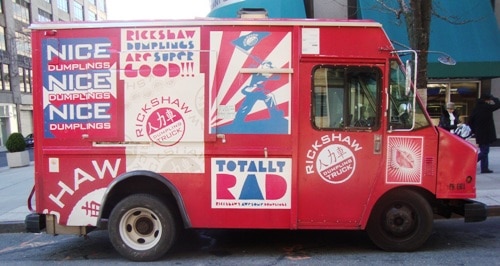 One of the oldest food trucks in New York is Rickshaw Dumplings. I first tried them at the 2009 Vendy Awards, where they were a finalist for the Vendy Cup.
They have since expanded to two trucks, three storefronts, and they just opened a new kiosk in the Times Square pedestrian plaza.  You can find the truck locations by following them on twitter here.
Today's Lunch is Thai chicken basil dumplings and a cold noodle salad from Rickshaw Dumplings, which costs $9.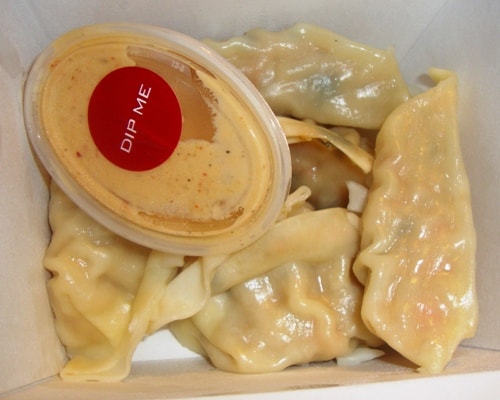 Although I'm not usually a big fan of chicken dumplings (pork or shrimp, baby!), the Thai basil chicken dumplings at Rickshaw Dumplings are among the better chicken dumplings I've had.  They had a nice flavor with minced chicken, basil, carrots and cellophane noodles make a tasty filling.  The dumpling wrapper was soft and springy too.
One thing that has improved since I first tried them is the peanut sate dip that comes with the Thai chicken basil dumplings.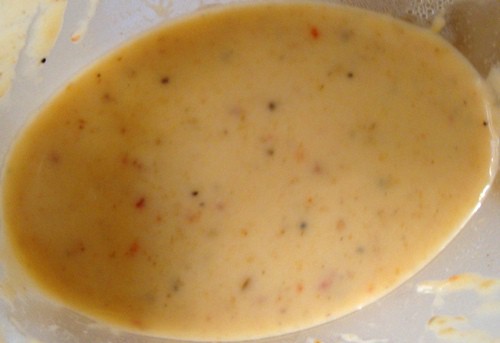 The peanut sauce used to have a processed-food type of consistency and flavor, but it now tastes much more organic, and has a little bit of heat as well.  You can see a lot of spices in the peanut sate dipping sauce.
I also really like the cold noodle salad from Rickshaw.  There's lots of stuff in there – carrots, bean sprouts, scallions and sesame seeds, among others.  It makes for a nice refreshing side dish, even though it's cold as ice outside.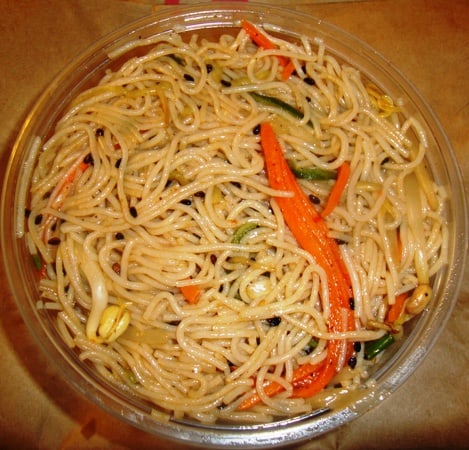 The Rickshaw Truck is a bit pricey, with either 6 dumplings for $6, or 6 dumplings and a side dish for $9.  You can get cheaper dumplings in Chinatown – but I'm in midtown during the day, and there aren't many Chinese restaurants in my immediate vicinity.
Rickshaw Dumplings are obviously are doing something right, with this much expansion over the past 2-3 years.  Let us know what you think.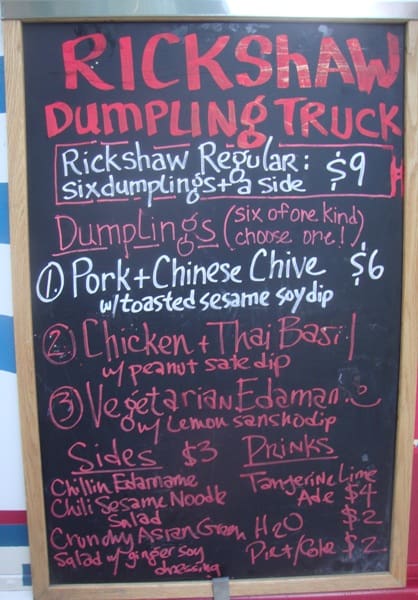 icken