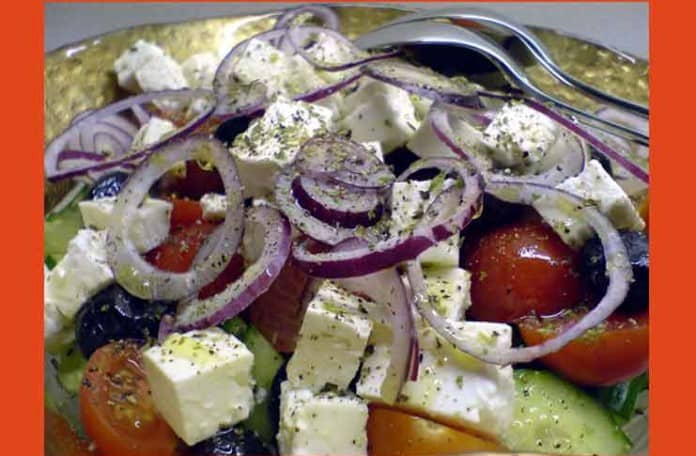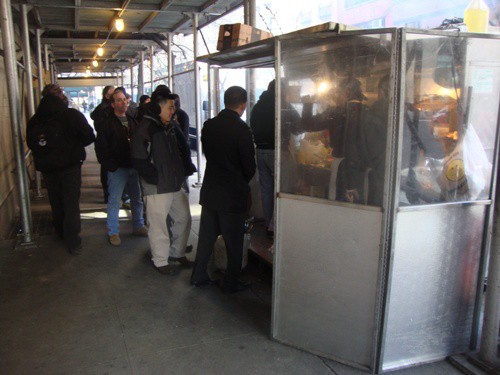 In the slow street food season of winter, I've been revisiting some of the better food carts around town.  One of the best is Tony Dragonas' cart on the SW corner of 62nd St & Madison Ave.
Tony was actually a Vendy Award Finalist in the very first competition back in 2005.  Even in 30 degree weather with 3 people working at the cart, there was still a line of about 10 people, although I didn't wait more than 5-10 minutes.
Most of the people on line seemed to get chicken over rice or a combo platter of chicken and rib-eye steak over rice.  Another excellent dish is the steak and portobello hero I had there about a year and a half ago, which you can get with grilled chicken too.
In order to try something new, Today's Lunch is a chicken gyro ($6).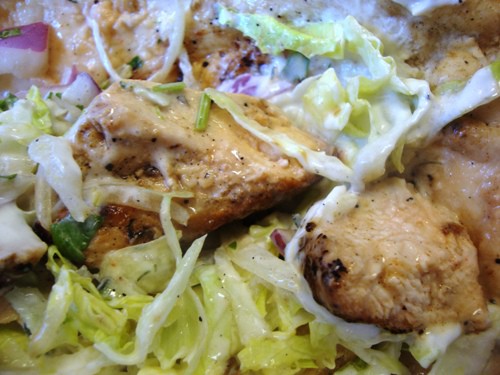 There are a few things that make Tony Dragonas' cart one of the better ones around.  He only uses big, fat chicken breasts which are flame-grilled, then finished on the flattop grill.  That gives the chicken a nice charcoal-grilled taste.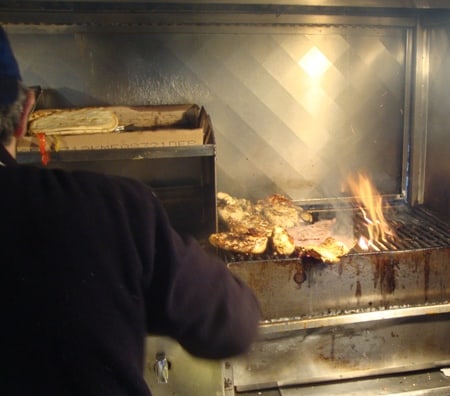 Being Greek, he also uses a yogurt-based white tzaziki sauce instead of the mayo-based white sauces that most of the halal carts serve.  Much better!
I got lettuce and onions on the gyro, as well as white sauce and hot sauce.  For $6, this was a big, sloppy, delicious lunch.  Large chunks of grilled chicken breast were under the lettuce, white sauce and hot sauce.  It got a bit messy, but I gobbled up every bite.
Today's Lunch was very enjoyable.  Madison & 62nd isn't too convenient for me, but with lunch this good, I'll have to make the trip more often.
When I was being served, one of the cooks was putting thick, fresh Italian sausage on the grill to cook.  Now I know what to get next time.