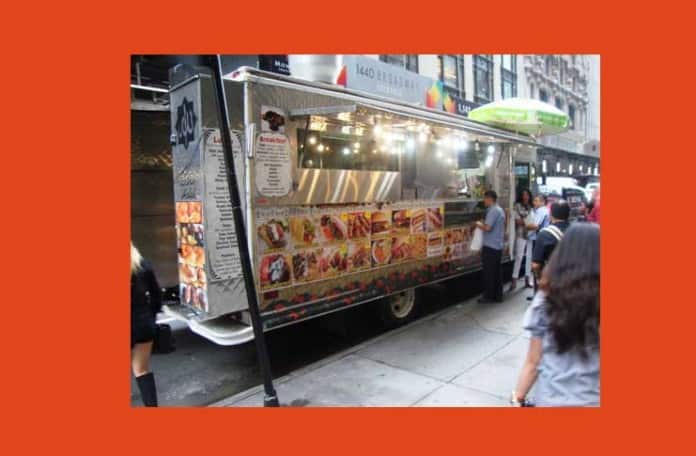 Needing to be near Times Square around lunchtime, we stopped by an old school vendor we haven't been to in a very long time – La Baguette Cafe.
The truck is still on 40th St just east of Broadway, but the awning that made it look (a little) like a Parisian cafe is gone. There is nothing on the truck that says La Baguette Cafe, but the menu and the people are the same.
We were in the mood for falafel over rice, and theirs is only $5, one of the better lunch deals around. After asking for white sauce and hot sauce, we were on our way, although he had to press down on the container lid to close it because the falafel were that large.
Opening the container back at our office, we saw 6 sizable falafel over yellow rice. On the side was a nice looking salad.
There were 2 things immediately apparent on our first bite. The falafel were decent, and the hot sauce was HOT!
The falafel was deeply-fried on the outside, and had an herby taste inside. It could have been a little moister, but we wouldn't call the falafel overly dry.
The yellow rice was ok, if somewhat bland. A little more seasoning would have helped pick up the rice.
Six big falafel balls is plenty for lunch, especially over rice. We won't be hingry for a long time after this lunch.
The salad was fresh, although we don't really like white sauce as a salad dressing unless it's yogurt based. This white sauce is mayo based. We did enjoy the pickles in the salad though.
La Baguette Cafe is basically an old school halal vendor (no twitter or facebook) serving from a truck instead of a cart.
That said, we have always have reliable, inexpensive lunches from here, and La Baguette Cafe remains as one of the better values in midtown.