A Review by Kate E. O'Hara
Amidst the hustle and bustle of Soho, there is an experience that transports you to Italy—Northern Italy that is, the Piedmont Region. San Carlo, Osteria Piemonte, 90 Thompson Street, has a location and a dining atmosphere that fully compliments their superb cuisine.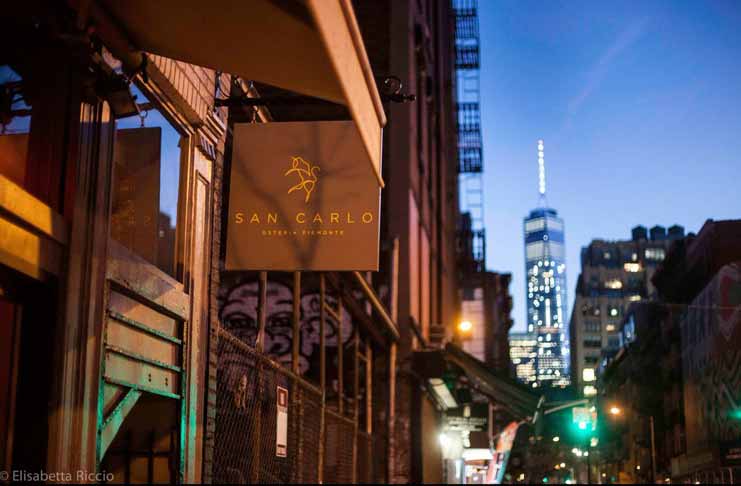 The restaurant itself has an ambiance of warmth and welcome; art lined walls, glow of candles, sleek design of 40+ seats flanked by a small bar, rustic brick, and a magnificent mural of Turin's Piazza San Carlo. Floor to ceiling glass panes line the front of the dining room, opening this time of year out into the cool summer evening. Adjacent on the sidewalk is a bench recently made for the comfort of those waiting for their table. The tree behind the bench is wrapped with lights adding a soft glow to the outdoor area. Directly across the street is the popular Vesuvio Playground. While dining you can hear the faint sound of laughter, and the blur of children swinging, all while a steady stream of pedestrians pass and a take a peek inside.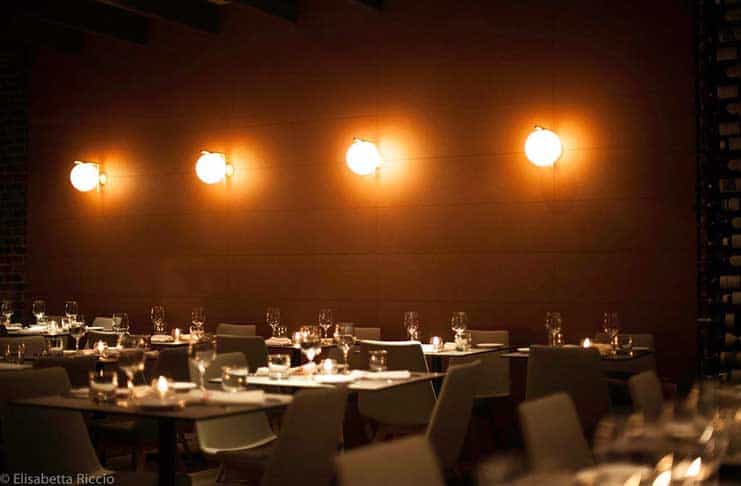 And once inside, your trip to Piedmont begins.
This particular evening my friend Joanne accompanied me. Moreno Cerutti, San Carlo's managing director, greeted us. His friendly, personable style adds to the ambiance of warmth and welcome. He proudly shares, "Piedmont is a rich land full of delicious products…we bring our culture to New York City."
A phenomenal start
Joanne and I began our experience with some wine (would you expect anything less from us?). We opted for a medium bodied red, a Barbera d'Asti that is produced in the hilly areas of the provinces of Asti. It was the perfect start to accompany our first dish; Tonno di Coniglio which translates to "rabbit tuna" and is traditional to the Piedmont region. The rabbit was shredded, and then marinated in olive oil and served with pickled vegetables. The result was phenomenal; tender meat engulfed by the seasoned oil left a velvety finish on the palate.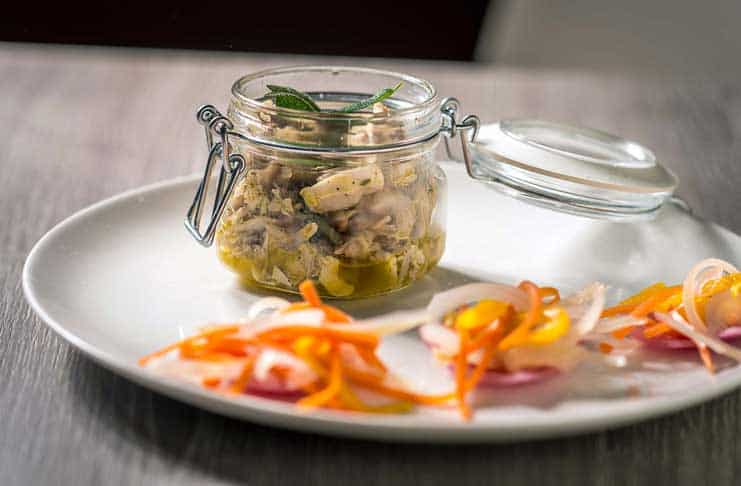 Next, we had Battuta di Fassone, which was beef tartare but unlike any beef tartare I've had before. Fassone is a breed of Piedmontese cattle, with meat that is tender and lean. Preparation for this dish was chopping the beef by hand, speckling with salt and pepper, and topping with the richness of a quail egg. In a word, scrumptious.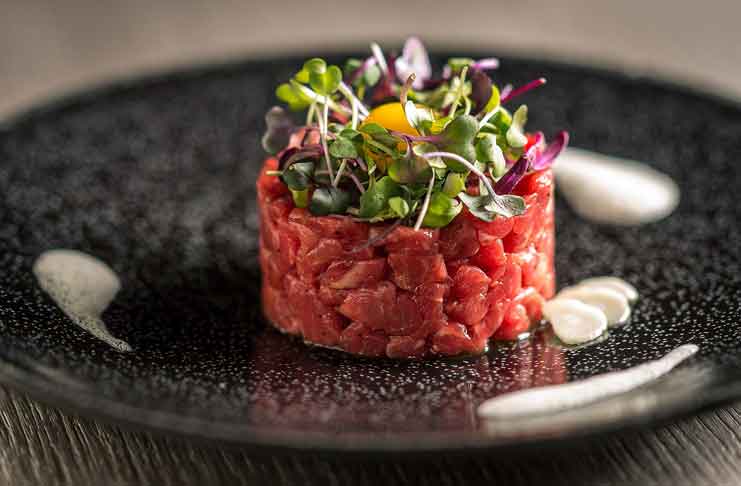 From there we sampled Vitello Tonnato, thinly sliced veal, with creamy tuna sauce, capers and a touch of onion and microgreens. It arrived at the table in four artistically wrapped rose-like packages. The veal was chilled and the taste was accentuated by the subtleties of all the ingredients.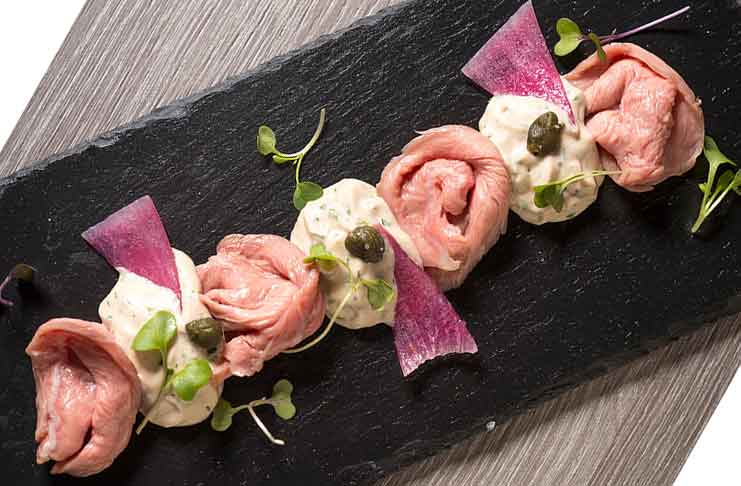 And then, we were introduced to a few of the main courses:
My favorite was Agnolotto Fatto In Casa Al Sugo Di Arrosto, a hand-made agnolotto pasta stuffed with roasted braised meat. Stuffed it was—with exceptional, vibrant flavors. The soft texture of the pasta combined with its contents, literally melted in your mouth. We had the pleasure of speaking with Executive Chef Riccardo Zebro about the dish. He explained the process of searing pork loin, beef and veal, roasting with red wine, vegetables and fresh herbs, and cooking for an entire day. The result was outstanding.
My second favorite (well okay, maybe it was a tie for first) was Brasato Con Polenta Taragna, braised beef cheek, with a buckwheat and corn flour polenta and sautéed spinach. The slight crust of the seared beef brought a new depth of experience when eaten with the thick creaminess of the polenta. Add spinach prepared with olive oil, salt and pepper and an explosion of clean flavors came through.
Throughout the meal, Hugo attentively brought us refills of water and bread, and our waiter Ruben, who was friendly and knowledgeable, suggested white wine for our next tasting. We took his advice and had a glass of Broglia, la Meirana Gavi di Gavi (from where other than the region of Piedmont), which paired beautiful with what we had next: branzino. The mild sweetness of the caramelized crust and flakiness of the delicate, savory fish was wonderful and even more so when accompanied by grilled seasonal vegetables and roasted potatoes.
As our empty plates were taken away, we sat looking out into fading sunlight, sipped the last of our wine, and reminisced in awe about the array of delicacies we had and decided one thing was evident –there was no denying that Chef Zebro's love of Italy and his passion for cooking shines through in every one of his culinary creations.
But before we left, we had to have dessert (of course we did). And coincidently, yet another one of my favorites was on the menu (are you seeing a pattern here?): the classic tiramisu. I had always thought the best tiramisu was one served on a plate, in a square slice. Well, I have been proven wrong. This tiramisu arrived in a concave glass, with a sprinkling of cinnamon and coco topping. The cool, smooth creaminess of the mascarpone, with a burst of coffee from the soaked savoyardi cookies was a perfect blending of ingredients. I further indulged by having not one, but two cappuccinos.
With plenty of summer evenings ahead, be certain to spend one of them at San Carlo Osteria Piemonte. Sit with your wine and look out into the evening. Try one of my many favorites. Indulge in dessert and two cappuccinos. Your evening will be magnifico!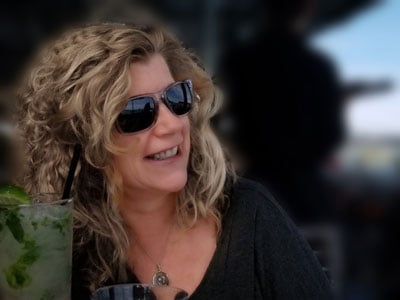 Kate E. O'Hara is a New York based freelance writer and photographer who loves all things food—especially the people who make it and market it. Her writing aims to capture the essence of the food experience; the stories that go well beyond a plate of ingredients. In addition to her love of food, Kate is also known to have a hankering for red wine and craft beer. You can also find Kate on Instagram @foodpeoplepossibilities