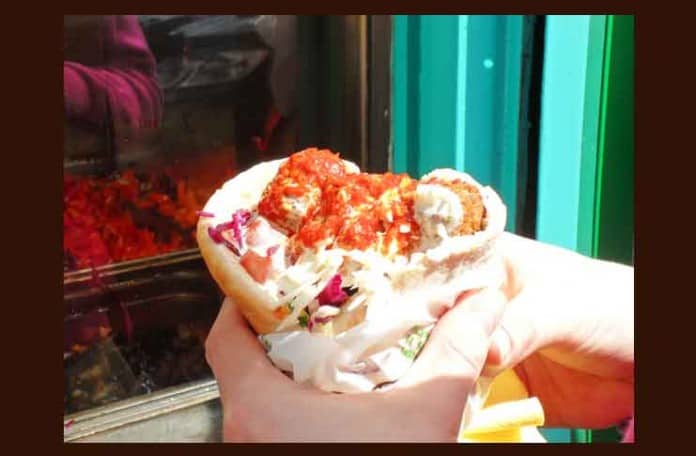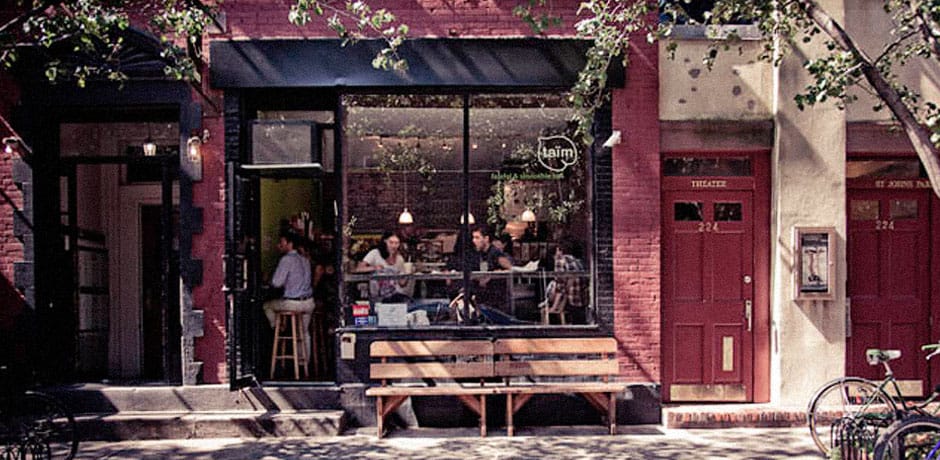 I was over by 7th Ave in the Village around lunchtime, and decided to stop by Taïm since I had never been there before (the restaurant, not the truck).  My wife wanted falafel, and you can't get any better than Taïm, at least according to Serious Eats, who named Taïm as having the Best Falafel Sandwich in New York last year.
My wife went for the regular green falafel sandwich ($6.25), although calling this regular falafel seems like a crime.  I went for the sabich sandwich, which they have occasionally on the truck, but is a regular menu item at the restaurant.
Today's Lunch is a sabich sandwich ($7.25) from Taïm at 222 Waverly Place, just off 7th Avenue and West 11th St.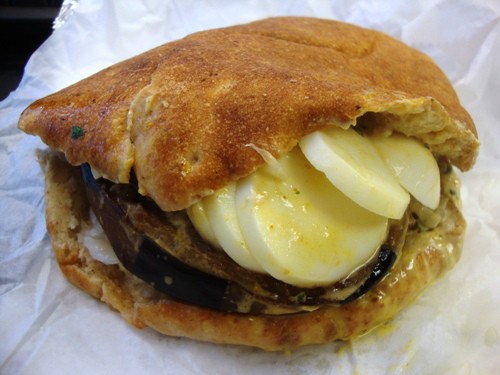 When I unwrapped lunch, I saw this was a jam-packed sandwich – and as vegetarian as it gets.
Inside a warm, soft pita were slices of fried (but not breaded) eggplant, hummus, tahini, Israeli salad (i.e. chopped cucumber & tomato), hard-boiled egg slices, and a slightly spicy sauce called amba that had a lemony, mango taste.  One thing the sabich sandwich did not have is falafel.
It doesn't get any better than this!  In the past, I was never a big eggplant fan, but the sabich sandwich was one of the things that converted me to liking eggplant, as was the eggplant schnitzel from Schnitzel & Things.
The variety of tastes and textures was exceptional – soft eggplant, creamy hummus, eggs with a citrus sauce, chopped cucumbers – all in the same bite!
Today's Lunch was not from a street vendor, but Taïm does have a food truck, Taïm Mobile.
The sabich sandwich was tasty, filling, and relatively healthy compared to my usual lunches.  The sabich sandwich is only on the truck occasionally, so if you see it, make sure to try it…or you can just stop by their store in the West Village.