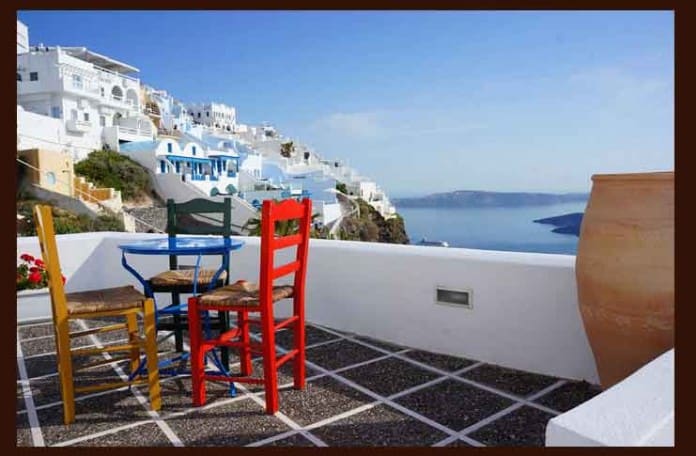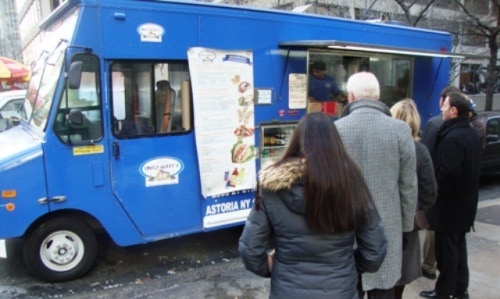 I've been seeing kokinisto every now and then on Uncle Gussy's specials menu and have been wanting to try it, but it's a heavy dish, and I needed the weather to be colder first.  I recently pulled the trigger and headed over to Park Ave & 51st St – and it was a good decision.
In addition to Mom's kokinisto ($10), I also got lentil soup ($3).  I don't usually eat (or spend) that much for lunch, but I've been hearing good things about the lentil soup too, and wanted to check it out.  Time for some down-home Greek food.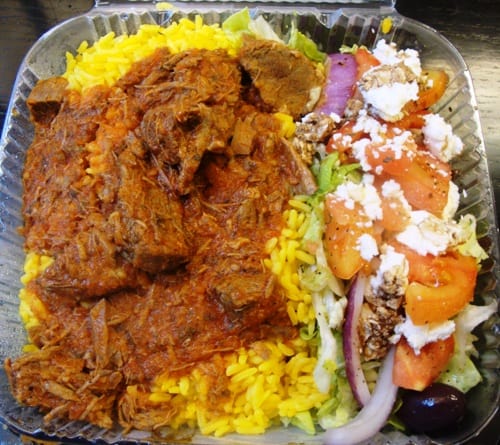 Kokinisto is beef stew in a tomato-based sauce served over rice.  The beef was braised before cooking in the stew, and it was incredibly tender.  The sauce itself had a lot of shredded beef in it, as well as oregano and a little wine.  Very tasty and perfect for the fall or winter.
The kokinisto was served over yellow rice, and there was a fresh Greek salad on the side with tomatoes, feta, red onions, olives and lettuce with a balsamic vinaigrette dressing.
The kokinisto was very warm and filling, with that definite home-cooked vibe.  Luckily, the salad refreshed me enough afterwards to tackle the lentil soup.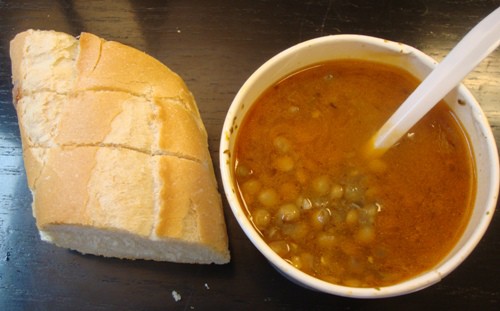 The soup's broth was a vegetable base, and there were tons of lentils, some carrots, celery, onions and Mom's special blend of herbs and spices.  This was another warming dish, and it came with a nice piece of bread to dip in the soup.
Both the kokinisto and lentil soup from Uncle Gussy's were delicious.  The kokinisto was plenty of food for lunch, but I'm glad that I also tried the lentil soup. If you're not too hungry, the lentil soup and a small side dish should work for lunch – but if you're hungry for a big meal, kokinisto is the way to go!
Kokinisto is a special that is not on the menu regularly, so keep an eye out for it.  The lentil soup is available more often.  While Uncle Gussy's is always at Park Ave & 51st St, they do tweet the daily specials, which you can find here.
BTW, another great cold weather dish from Uncle Gussy's is the pastitsio, which is kind of like Greek lasagna.  We had it on one of the hottest days of the summer, but keep an eye out for this dish too.  It's a killer!