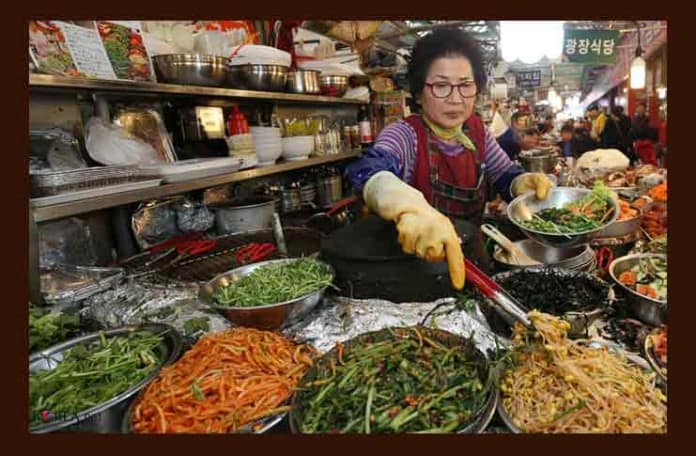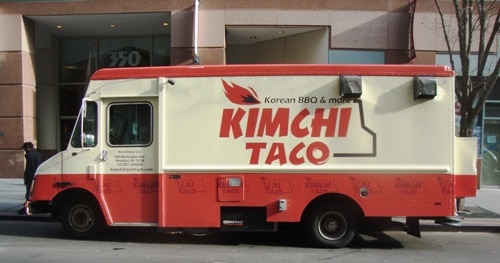 I saw that Kimchi Taco Truck had a new winter special that sounded pretty good – Spicy Beef Soup.  I decided to get the soup as a side dish so that I could try another side dish too.  I've previously enjoyed their kimchi arancini (rice balls), and this time I wanted to try the BBQ Nachos.
Today's Lunch is Spicy Beef Soup ($4 as a side dish or $7 for a meal) and BBQ Nachos (also $4) from Kimchi Taco Truck.
I figured the soup would stay hotter longer, so I tried the nachos first.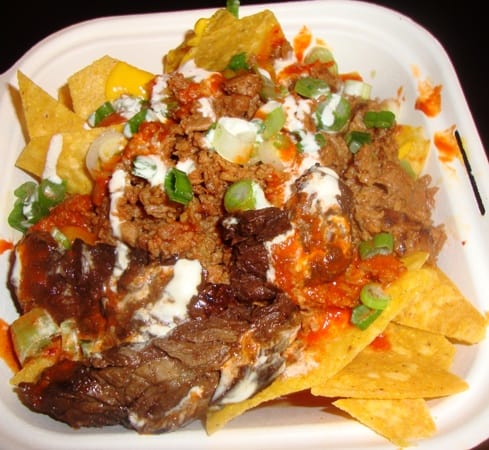 There were a couple of strips of grilled marinated skirt steak, ground spicy pork, scallions, pico de gallo, red onions, crema and cheese over tortilla chips.
This was a really good appetizer. The skirt steak was tender and had that grilled flavor, and the ground pork was tasty too.  With the other ingredients, this was an interesting mix of Korean and Mexican cuisines.  It was spicy, but not overly so.  There was also enough food in the BBQ nachos so it could be lunch by itself for someone with a small-to-medium appetite.
While I really enjoyed the BBQ nachos, about the only downside was the cheese. It appeared to be Cheez Whiz, which I believe they use for the Kim-Cheesesteak.  For nachos, I would have preferred shredded cheddar or jack cheese – but it was still a very enjoyable dish.  Keep in mind this dish might be a little messy for an office.
The spicy beef soup was still quite hot when I opened the container.  In the soup was very tender brisket, bean sprouts, scallions, tortilla strips and red pepper flakes in a hearty, spicy beefy broth.
This was the perfect dish for a winter day.  It really warmed my insides, and the taste lasted for quite a while after eating lunch.
There are plenty of great dishes at Kimchi Taco Truck, and you can see the full menu here.  You can also follow them on twitter here  or on our Mobile Munchies feed here.
If you haven't already, try them out for yourself and let us know what you think. If you have, let us know what you think of the new Spicy Beef Soup.