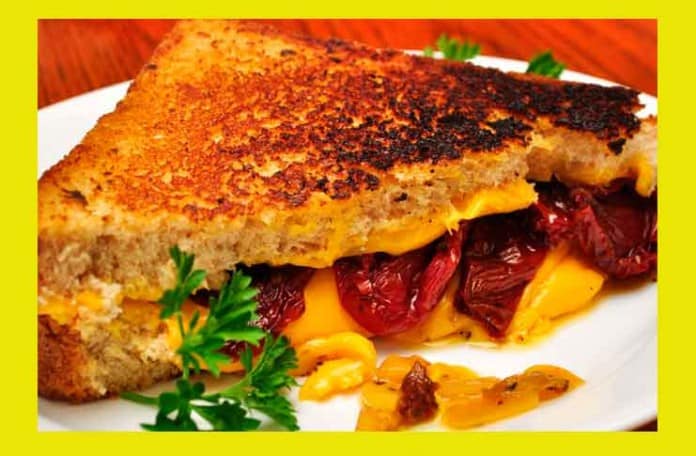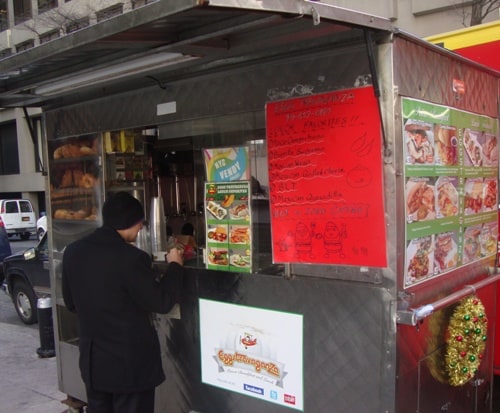 Arturo Macedo and the Eggs Travaganza cart on the NE corner of 52nd St & Park Ave was a finalist for the 2011 Vendy Cup.  I've gotten friendly with  Arturo and his sister over the past couple of years, and have enjoyed several lunches from here.  One of my favorites was the Mexican Wrap, an egg sandwich stuffed with chorizo, potatoes and cheese.
One dish I haven't tried yet is the Mexican Grilled Cheese ($5.50), which I saw Arturo tweet about this morning, and I got a hankering to try.  The power of twitter rears its head again, with Today's Lunch being the Mexican Grilled Cheese.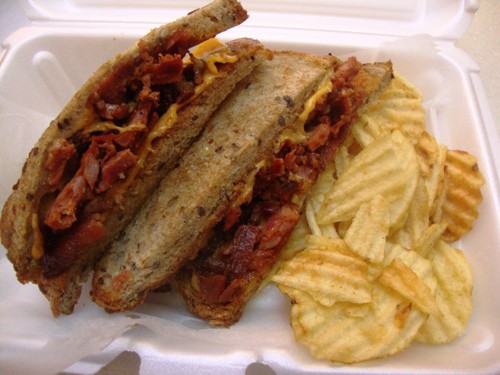 The Mexican Grilled Cheese comes on 7-grain bread.  It was only lightly grilled, but was a nice, hearty bread for this sandwich, which was filled with chopped chorizo, bacon bits, minced jalapeño and tomato (which I asked them to leave out).  You also get rippled potato chips, which are actually one of my favorite snacks.
The chorizo was very tasty, which is not surprising because it is handmade by Arturo's father, who is a butcher.  It's less fatty and oily than mass-produced chorizo, add in some bacon bits and jalapeño and you have the makings of a great sandwich.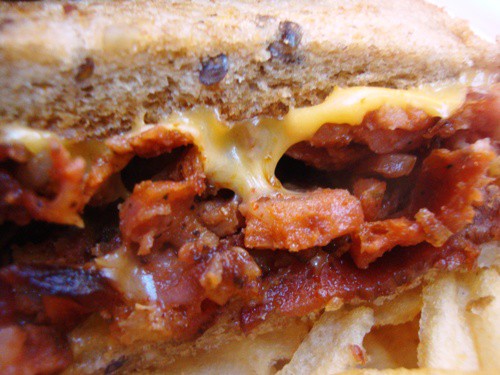 The only weak spot in the Mexican Grilled Cheese was actually the cheese. There were 2 slices of standard American cheese that were ok, but with a larger amount of a better quality cheese, this would be a kick-ass sandwich.  They would probably have to raise the price a bit – but it would be worth it.