By Tiara Budd
This ain't your grandma's cheesecake. In fact, rid your mind of all your past experiences when it comes to chowing down this dessert and free yourself of expectations because Eileen's Special Cheesecake will blow them away each and every time.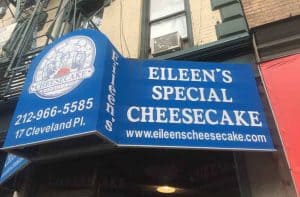 Located at 17 Cleveland Place in SoHo, Eileen's Special cheesecakes are made, filled and packaged with love. This cute and cozy shop is usually packed from door to register with eager patrons ready to get their portion of finger-licking cheesecake. In the back of the shop, you can find Eileen joking with her employees and overseeing to make sure each and every cheesecake is in tip-top shape. Eileen has been baking for 41 sweet years and has enjoyed it to the very last drop. She admits that her favorite part of working in the beautiful store is exceeding expectations of what a cheesecake should taste like. She loves the look of surprise and delight on a customer's face when they take their very first bite into one of her scrumptious concoctions.
While customers go crazy over the Strawberry Cheesecake, Eileen's personal favorite is the Banana. As I stuffed my face with these mini cheesecakes prized at $3.80 each, I had to agree with Eileen – the banana-flavored dessert was superb. A few of my other favorites were the Red Velvet (it melts in your mouth) and the Mango Cheesecake. If you're dreaming of a tropical vacation but can't quite get away, then you should check out the Piña Colada, which will make you feel like you're enjoying a cool breeze.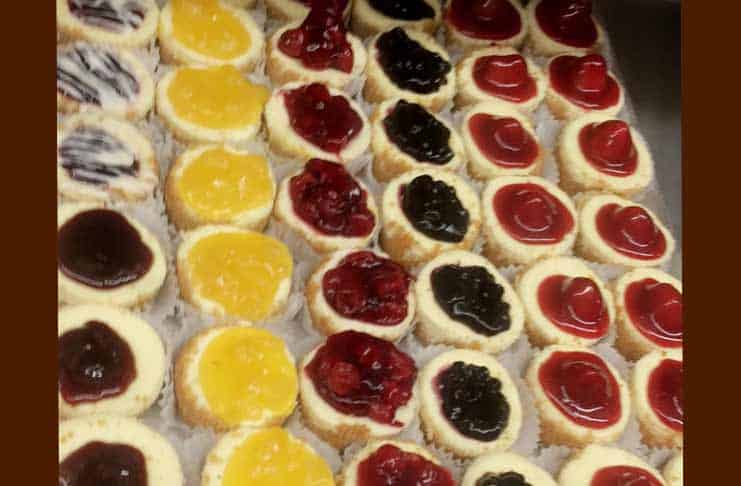 If you're still not quite sold yet, did I mention that tomorrow is National Cheesecake Day (who knew?!) and ALL of Eileen's cheesecakes will be half off in-store. Make sure you head to SoHo before 7pm, since I'm sure there will be a line halfway around the corner when you arrive. Grab a friend, get a spot, and prepare to experience the best cheesecakes New York has to offer. See you there!
For more details about Eileen's Special Cheesecake's visit their website at this link here.
About the Author: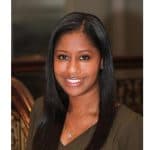 Tiara Budd lives in New York and is determined to eat (and Instagram!) her way through the city. In her free time she loves exploring new neighborhoods, reading books from the library, and traveling all around the country.