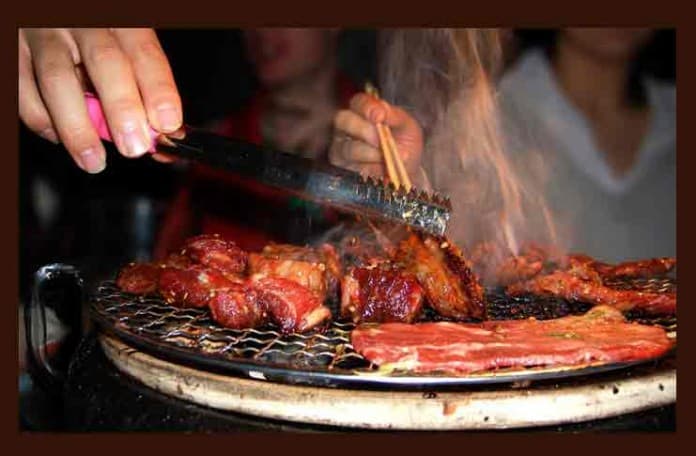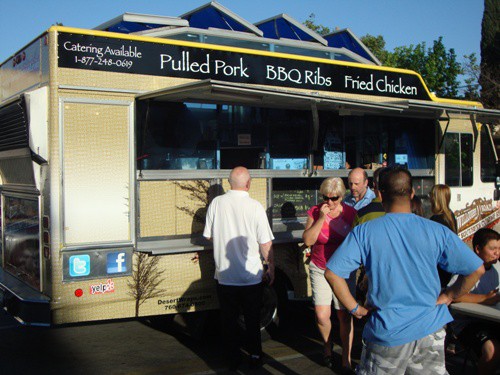 On my last trip to LA, I stopped by the West LA Din-Din-A-Go-Go, where there were about 10 different food trucks.  Last night, I went to the Los Feliz Din-Din-A-Go-Go, where there were about 7 different food trucks.
This time, it was a little easier to choose which truck to try for dinner, since there were a few I had previously been to, such as Canters Deli, Mandoline Grill and Coolhaus (whose NY truck we just had a preview of last week).
The truck with the biggest line was also the one at the top of my list – Willoughby Road.  Their tagline of Classic Southern Cuisine Redefined sounded great, and their menu looked even better.
"A Stop At Willoughby" is also one of my favorite Twilight Zone episodes, so anything with that name gets a try.
How do these sound ?  Curry grits with spicy shrimp; chicken sausage gumbo with cornbread croutons; pork rib platter with mac & cheese & thai slaw; catfish po' boy with bacon, fennel, collard greens and mustard aioli; pulled pork sandwiches; and the dish I ended up getting – fried chicken with buttermilk sage sauce and garlic mashed potatoes. BTW, everything at Willoughby Road was in the $7-$10 price range.
When I opened the container, there was a large stack of fried chicken with buttermilk sage sauce, and it totally obscured the garlic mashed potatoes underneath.
You could see lots of different spices in the breading, which was nice and crispy too.  The chicken was all white meat, and it was thick and juicy underneath the breading.
As I found out at Ms P's Electric Cock in Austin, a good fried chicken coating keeps in the moisture when the chicken is fried.  That was certainly the case here.
The buttermilk sage sauce was excellent too.  It gave the chicken an herby flavor that went really well with it.
The garlic mashed potatoes were some of the garlickiest mashed potatoes I've had.  We make garlic mashed at home fairly often, and I thought we used a decent amount of garlic. These guys used even more – and it was wonderful.
Dinner from Willoughby Road was as good as I hoped it would be.  Crispy and juicy fried chicken and garlic mashed potatoes, and it only cost $8.  Now that's a great dinner!