Prospect Park is a beauty. Regarded as Brooklyn's answer to Central Park, we love every aspect of it. We love its long meadow and Zoo, its large Memorial Arch and paddle boats, its super comfy 3+ miles stretch for running, its dog beach and children's water park, and of course – its delicious Saturday farmers market. We love their fresh fruits and veggies of all sorts, fish and pork, breads and cheeses, and much more.
However, Prospect Park Alliance is now bringing Breakfast Tacos, Donuts, Dumplings and much more to various locations around the Park.
So who's going to serve you at Prospect Park very soon? Well, we're told that the new vendors coming to the Park are: King David Tacos, Carpe Donut NYC and Anton's Dumplings. For more information about Prospect Park's food offerings, visit prospectpark.org/food.
"One of the top requests from park patrons is more food options in the Park," said Sue Donoghue, President of Prospect Park Alliance. "This year we reached out to local businesses to seek interesting and affordable food options for the Park. These new vendors will join our existing vendors, including the Bluestone Café at the LeFrak Center at Lakeside, Smorgasburg Prospect Park, and concessions the Alliance operates seasonally at the Prospect Park Carousel and Parade Ground.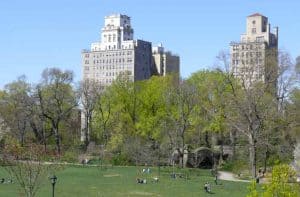 King David Tacos is known for its authentic, Austin-style breakfast tacos. It will be stationed at Grand Army Plaza seven days a week (Mon-Fri, 7-11 am; Sat & Sun, 7 am-12 pm) year-round. The delicious mobile cart will offer three signature tacos made fresh each morning at a central kitchen: BPEC (bacon, potato, egg and cheese), Queen Bean (refried bean (v), potato, egg and cheese), and Or'izo (Mexican chorizo, potato, egg and cheese), with seasonal sides and gluten-free options. King David Tacos is a woman-owned and Brooklyn-founded business, established by Liz Solomon Dwyer, a native Austinite, in June 2016.
Carpe Donut NYC was named Best Donuts by New York Magazine. It will be located at the Vanderbilt Loop (Sat & Sun, 8 am-4 pm). This food truck features hot, fresh, handmade donuts using the highest-quality organic and locally-sourced ingredients. This season, they are featuring the FroDo—a donut ice cream sandwich hand packed with organic vanilla Blue Marble ice cream.
Anton's Dumplings will be stationed at 9th Street and Prospect Park West (Wed-Mon, 11 am-11 pm). This cart offers Russian cuisine, and was created by a group of Russian-Americans who wanted to share their love for pelmeni. In its first year of business, it was named one of the best dumplings by New York Magazine's Grub Street. Anton's offers three kinds of dumplings—potato, chicken, and Siberian—with untraditional toppings including soy sauce, Sriracha and smoked Gouda fondue.
In addition to all that, Mohammed Islam will add a second hot dog cart at Lincoln Road and Ocean Ave, an addition to the location at the Long Meadow Ball Fields.
See you at the Park !