Searching for a few healthy food truck options for lunch? You've reached the right place…Food trucks have been a common sight in big cities like Los Angeles and New York for decades, but in the last two decades, the industry has expanded wildly. Instead of just hotdogs or gourmet pretzels, you can now find just about any style of cuisine in a local food truck. You may have four to five choices outside your office to try for lunch on any given day.
Food trucks are highly convenient, affordable, and provide good quality food to millions across the country. However, if you are on a restricted or minimized diet, you may struggle to make healthy choices at your local food truck. Many vendors try to include a few healthier options like salads or low-calorie vegan dishes for their clientele, but you may want more variety.
It's always important to make good nutritional choices, including your fast food picks. You may want to treat yourself to delicious baked goods from a dessert truck or try Mediterranean food down the block. There are few baking trucks as baking is harder than cooking in a food truck, but you can still find them around to satisfy your sweet tooth. Let's take a closer look at a few healthy food truck options for your daily lunch.
Go Vegan
Even if you aren't a vegan or a vegetarian, that doesn't mean that you can't benefit from their delicious recipes. For example, most food truck vendors include at least one or two vegan-friendly options on their menus. Whether you want to try a vegan burger, vegan chili, or a vegan fried rice bowl, you can be assured that you are getting a low-fat meal. Vegan meals are made with high quality and high protein ingredients like soy, grains, chickpeas, and vegetables. 
Another great one is Vegan Stop. Check out this video to find out more about them:
Mexican Food Trucks
Who doesn't like a bit of Mexican food on the run? If your favorite food truck serves Mexican fare, you can still get a healthy meal with the same rich tastes you enjoy. Instead of getting hard-fried tacos, opt for soft taco options. Stay away from fried rice, and add beans instead. You can choose to fill your burrito with chicken or lean pork to get the great taste with less fat that you love about traditional Mexican Food.
BBQ Food Trucks
Loading up on a stack of ribs or a huge pulled pork sandwich are not the healthiest choices at the BBQ food truck. While BBQ trucks primarily offer various meats, they may have a selection of sides that can be put together as a filling meal. For example, you can get a side of pulled lean pork with a salad, some slaw made with vinegar instead of mayo, and corn on the cob. This type of filling meal will hit the spot without expanding your waistline. You will want to avoid BBQ classics like potato salad, chips, baked beans, or macaroni.
Pizza Food Trucks
If you live in a big city, you have probably stopped at a pizza truck or stand at least once. This quick-to-order and eat meal is the perfect way to enjoy the city. While endless toppings are available for your pizza, you may want to try the vegetarian offerings to help keep things on the healthy side. Loading up your pizza with healthy vegetables like mushrooms, onions, green peppers, tomatoes, and olives gives you the perfect variety of nutrients and tastes. To help you stay healthy, it's best to avoid additional cheeses, deep dish offerings, and greasy meats like pepperoni or bacon.
Grilled Cheese Food Trucks
Nothing is more comforting than a warm grilled cheese for lunch on a windy day. The good news is that gourmet grilled cheese food trucks are now becoming a city staple. You may love a sandwich smothered in cheese and dripping with your favorite toppings, but that's not always the healthiest choice. To help you cut the fat and extra calories, ask for your grilled cheese to be made with fresh Mozzarella and cooked on whole wheat or rye bread. Skip the creamy topping sauces, the starchy white bread, and multiple layers of cheese.
Lobster Roll Food Trucks
Lobster rolls have quickly become a food truck favorite. There are a few ways to enjoy lobster's rich and sweet taste without breaking your diet. Go for the traditional size roll instead of the Jumbo size, skip the chowder and avoid any other fried offerings. Ask for a side of coleslaw or a salad to complete your meal.
Middle Eastern Food Trucks
The nature of many middle eastern cuisines is inherently healthy. Many dishes are made using nutritious vegetables, grains, seeds, and lean meats. If you are in the mood for a bit of middle eastern flavor, try a gyro salad, some rich and creamy hummus and vegetables, or a dish of Baba Ganoush. Try to avoid the shawarmas, gyro sandwiches, and any heavy creamy topping sauces.
If you are lucky enough to have a variety of food trucks available to you for lunch, follow some of these tips to help you make healthy choices for your next noontime meal.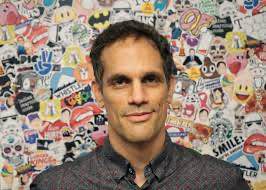 Andrew is the founder and CEO of StickerYou, a global, e-commerce leader in custom-printed, die-cut products that empowers consumers and businesses to create high-quality materials for personal expression, marketing, and packaging.