Back in the day, food trucks were somewhere you went for a cheap, quick, and usually greasy meal on the go. Now, the food truck trend has erupted worldwide, with foodies flocking to them for high-quality and delicious meals from Mexican tacos to gourmet mac and cheese. There has never been a better time to jump on this trend and open your own food truck business. 
There is more to operating a food truck than just cooking up good food. Here are some essential things to consider and top tips to make opening a food truck business as straightforward as possible. 
1. Get Funding For Opening a Food Truck Business
How are you going to fund this food truck? Opening a food truck can run you anywhere from $50k to $200k, depending on the size and condition of the truck, what equipment and supplies you need, plus tack on the licensing fees. Most people will need a loan to cover these costs, but there are also some other funding options. If your credit isn't the best of shape, you can still apply for bad credit loans. On top of that, you can seek out community sponsors, start a crowdfunding campaign, find personal investors, apply for small business administration microloans, or look for financing programs. 
2. Perform Your Market Research 
It's no good having an awesome food truck if you've got no customers. Food trucks are trendy, but it's essential to do research to see if there's a market for them in your local community. Identify if there are specific areas that could use a food truck, such as near an events complex, or sporting facility. Is your local food truck market saturated with burger places, but no Greek food? Use this information to figure out the optimal area, and food type for your truck that will help contribute to your success. 
3. Purchase the Perfect Truck
Your budget will come in to play when you are choosing which model of food truck to purchase. There is a huge range of options from $50k all the way up to $250k, depending on what you're looking for and what you have to spend. You can purchase your truck new or used and either fully customized or stock. If you're handy, you might want to purchase a basic model and customize it yourself. Alternatively, if you've got the budget, you can buy one from food truck dealers like RoamingHunger, FoodTrucks.net and others, who offer trucks that are already fitted with everything you need.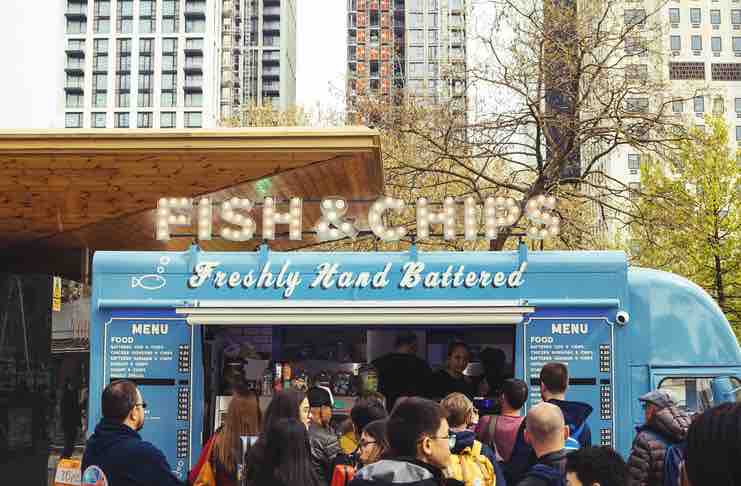 4. Pick Your Food Truck Type
Once you've done your market research, you should have a better idea about what's out there in your local area. Of course, you can move your food truck around as needed, but it's a good idea to start a base somewhere to build up a brand and following. If you find an awesome, high-traffic area where other food trucks are thriving, then take note of what they are selling and choose to sell something unique. 
It's also essential to choose a food type that you are passionate about and enjoy. Just because there are no grilled cheese trucks in your area doesn't mean you should sell it if you can't stand grilled cheese. Be creative and come up with something that is fresh and new that no one in your area is doing.