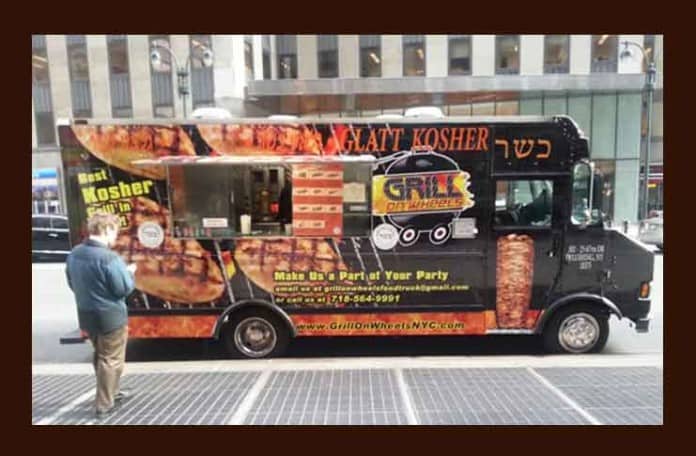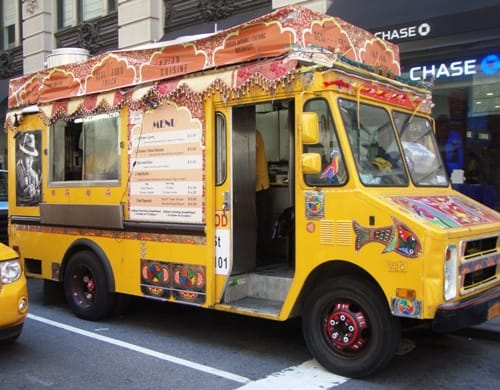 As everyone reading this knows, the popularity of street food has increased enormously in the past year or two.  Whether it's because there's less money around for chefs to open restaurants, people have less money to spend on meals, or the immediacy of having your food prepared right in front of you, the fact remains – more and more people are trying to make a living by preparing and selling food on the street.
We've been asked a lot of questions by people who want to enter the street food business – from how to get permits, to where to park your truck overnight.  While researching one issue, we came across this article on the SBA.gov website entitled "Starting a Mobile Food Concession Business?".  It covers most of the basics, and also includes links to other articles with additional information on this subject.
If you've ever wanted to start a street food business, click through to get an idea of what it entails.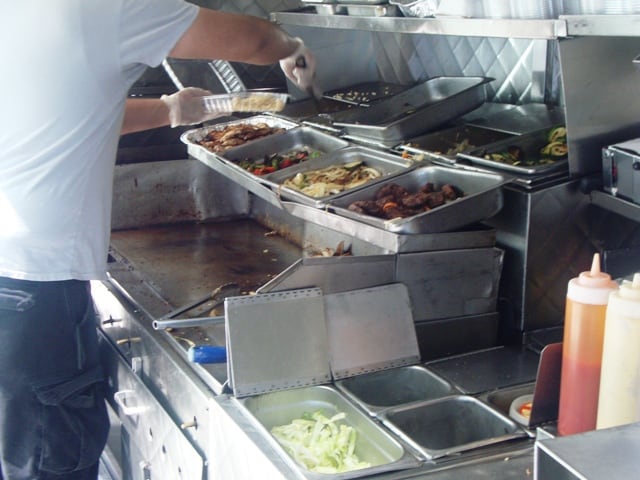 Types of Mobile Food Businesses
Depending on your financial investment and culinary expertise, your mobile food business can operate as a small pretzel cart or a gourmet kitchen on wheels.  Typical mobile food businesses can be classified in three categories:
Catering units – A full-service mobile kitchen is often referred to as a catering unit.  Food cooking and preparation takes place inside the vehicle.  Typical catering unit menus include made-to-order items and grilled foods.  Because the food is made on-site, a catering unit will have to acquire the appropriate inspections and permits from the local health and safety boards.  A new, customized catering truck can cost up to a hundred thousand dollars, though used options are often much less.
Lunch trucks – A lunch truck typically features pre-made and re-heated meals, or resells foods that have been pre-packaged from a wholer.   Typical menu items include various sandwiches and sides.  Lunch trucks, particularly ones that sell pre-packaged food may not need to acquire as many permits.  Lunch trucks are typically a mid-range option in terms of purchasing costs.
Vending carts – In comparison to catering units and lunch trucks, vending carts are much smaller in size (usually hand-pushed or towed), generally do not require experience or skill in food preparation, and offer limited menu options.  The carts essentially serve as a warmer or freezer, offering a simple treat like ice cream, hotdogs, and pretzels.  Vending carts are the least expensive mobile food option, and often cost a few thousand dollars.
Legal Considerations
Permits and Licenses
Getting the proper paperwork is challenging for many businesses, but mobile businesses often have several jurisdictions to pay attention to. Failing to obtain the proper permits could result in fines or even closure. To make sure that you stay in compliance, consider hiring registered agents from reliable companies like Venture Smarter, for example, to help you manage your paperwork.
Taxes
You will likely need to obtain a s tax permit and a tax certificate from your state government's revenue agency.  Compared to brick-and-mortar restaurants, mobile food businesses have extremely low overhead and tax responsibilities.  However, that may soon be changing in many jurisdictions.  Communities across the country are looking at increased fees and taxes for mobile food businesses, to help counter the rent or property taxes that restaurants typically pay.
Zoning Restrictions
While mobile food businesses are very popular right now, keep in mind that popularity does not ensure success.  Mobile food businesses have the luxury of moving to where their customers are, but it's not always as simple as plugging an address in a GPS.  Many cities place restrictions on the number of food trucks that can operate at any given place or time, and some areas ban them all together.   Read more about zoning laws at Business.gov.
Health and Safety
Before you start your mobile food business, be sure to read up on the food and safety laws in your area.  Some cities require any business that prepares food to do so in a licensed kitchen; others require that restrooms or seating areas must be available to customers.  This can be especially challenging for an aspiring mobile food entrepreneur, but it is easier to navigate before undertaking significant investments.  For specific information on laws and regulations in your area, contact your state's Department of Health.
Practical Considerations
Start-up costs and equipment
The equipment and start up costs for a mobile food business vary based on what you are selling.  In addition to ingredients and the vehicle or cart that you choose, you will need to consider the costs for dining supplies (napkins, condiments, utensils, to-go boxes), cleaning supplies, and signage including menus.  Remember to also include estimates for insurance, employees if you will have them, marketing, and maintenance/upkeep costs.  Visit SBA.gov for a worksheet that lists all the various categories of costs (both one-time and ongoing) that you will need to estimate prior to starting your business.
Doing business in multiple states, cities, or counties
It's fairly common for those in the mobile food business to work across state or city lines, depending on the season and proximity to customers. If you are doing business in states other than the one where your business is registered, you will likely need to obtain a certificate of authority, or certificate of foreign business, from those states.  States define "business activities" differently – what's considered doing business in one state, may not be the same in another state.  For detailed information on doing business in another state, read Doing Business in Multiple States at Business.gov.
Storage
An important, but often overlooked, aspect of starting a mobile food business is storage.  Consider where you will park your food truck or cart.  You may need to consult with your local motor vehicles department to understand the restrictions and fees in your area.  You will also need to consider where you will store your inventory, including food and condiments, and how you will stay in compliance with health codes. For specific information on laws and regulations in your area, contact your state's Department of Health.
Seating
Depending on where your business is located, you may be able to offer your customers a small seating area where they can enjoy their food, but be sure to research this option before you invest in tables and chairs.  Seating areas continue to be a hot topic in the mobile food industry.  Many cities restrict or ban seating areas for mobile food businesses.  Check with your local zoning department for the laws in your area.  Search for them on Business.gov