Food trucks have been a part of New York's and of course Brooklyn's, culture for decades. This means we've seen a lot of them come and go. Some rising up and claiming the city's love and attention, and some slowly falling off in popularity with the quality of their menus falling right along with that. So, what are, currently, the 8 awesome food trucks in Brooklyn you should check out without fail? Read on and find out!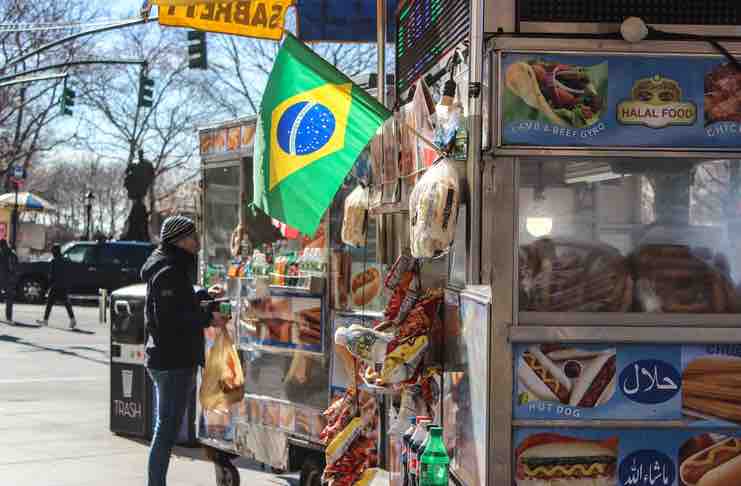 1. Frenchy's Food Truck
If you are planning on starting your food business, then there is plenty to learn from Frenchy's owner, David. His food truck is widely known for its excellent service and menu. He focused on baked goods, offering all sorts of delicious meal options with a couple of sweet baked goods available as well. 
He also sells coffee, and of amazing quality, too. However, what even more people love to comment on is David's friendliness. He'll always chat up a customer and brighten their day, or slip their doggy a treat.
2. Tacos El Bronco
If you put in the time to learn about New York's street food in general, you will quickly learn that we absolutely adore Mexican food. And this love translated into some of the most awesome food trucks in Brooklyn, the first of which is definitely Tacos El Bronco. What sets this particular food truck aside from most others is just how much attention they pay to the tortilla itself. It is finger-licking delicious even without the various toppings, which just make it better.
Want to get a better glimpse? Check out this video:
3. La Unica Birrieria
Another taco place, but one with its own specialization that makes them worth numbering among the most awesome food trucks in Brooklyn. Namely, birria quso tacos! These delicious tacos consist of homemade corn tortillas and a thick, meaty consume that will shock your taste buds.
 If you are into this particular variation on tacos, then you definitely need to pay this food truck a visit. The packaging the tacos come in is also very easy to tote around. So, whether you are planning to just eat on the spot or take it to go for when you hit home, you won't need to worry about your food.
4. Papelon Con Limon
Visit Papelon Con Limon for some of the tastiest arepas, burritos, hot dogs and steak you'll have tried in your life. The menu is admittedly a bit of a mix-up between different cuisines. But no one minds when the food is that good! 
Additionally, the truck has its own brand of attraction aside from the food. Located in a parking lot, it is surrounded by chairs and even sports a screen for playing videos and movies to amuse you while you eat. The owner is extremely kind and friendly, too, which only enhances the experience. 
5. Hard Times Sundaes
Now, if you are down for a good old American burger, this is where you should be headed. Hard Times Sundaes have mastered the craft of burgering, and they are not afraid to make use of it. 
Their food can even, gasp, match or outmatch Shake Shack! And their prices are very affordable, too, making this a perfect place to stop by if you need a quick bite and do not want to go for any fancy options that require three containers to move around. You will get a downright surprising amount of fries, too. 
Even the moving crews from Teddy Moving and Storage recommend stopping by here due to the affordability and the speed with which they can get your order done. All in all, it definitely sends a message when a food truck can number among the most awesome food trucks in Brooklyn just cause of their burgers!
6. Mister Softee Truck
We all love food trucks for their convenience and delicious food. However, it must be acknowledged that not many of them deal with sweet food! Being an exception to this rule is not what got Mister Softee Truck a spot on our list of awesome food trucks in Brooklyn, however. If you love traditional ice cream, made with love and absolutely covered in rainbow sprinkles, then Mister Softee Truck is the place you want to visit. 
The ice cream is perfect, creamy, and soft. So you can really tell that you are not being served pre-packaged goods. They cover all the traditional flavors and do offer some drinks to go with the treat. Fair warning: their ice cream is the draw and far superior to anything you can get off the drinks menu. So do not be too disappointed by the drinks!
7. Birria-Landia
If you want to get food here, you might have to deal with standing in line! Even at the opening hours, which is 5 a.m. this food truck is often crowded with eager eaters. Who all want to get their hands on the food first.
This shows off perfectly how important food texture is since the crispy deliciousness of this food truck is unreal. In addition, they pride themselves on their insistence on using quality beef and no other kind of meat. If that's something that appeals to you, now you know.
8. Peter's Crunchy Red Tacos
Now, as the final spot on our list of awesome food trucks in Brooklyn, Peter's is kind of controversial. They used to have the absolute best selection of spicy tacos in the area. Each order, as repeatedly praised by customers, was 'made with love' and drew people back again and again. 
Before continuing, it should be emphasized that they are still good and well worth recommending. But there is something missing in recent months after the food truck was hit by Covid. Hopefully, things improve again. Since this truck would have been among the top contenders for the number one spot in the past!
Thoughts for on the go
Even with our list of the 8 awesome food trucks in Brooklyn, you should check out, it must be noted that there were plenty of close contenders that are worth a visit. This is just a reflection of the current preferences of Brooklyn. So, do not be afraid to try out all kinds of food trucks! Who knows, you might be able to find a hidden gem.