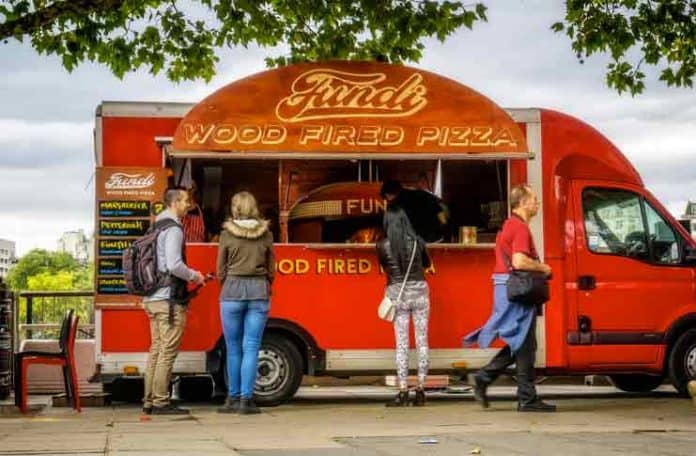 Everyone loves Pizza, right? It's probably the perfect food for events, and the reason why Pizza Truck rental is so in demand these days. We get at least 200 emails per week from people interested in renting out a Food Truck, and around 30%-40% prefer a Pizza Truck.
Pizza is not just comforting and delicious; it also does a wonderful job of keeping people full and happy. So what can be better and cooler than renting out a hyped Pizza truck with a wood-fired oven for your special party? This sort of Pizza trucks deliver the most delicious slices you can find, including Neapolitan-style, Sicilian style, Greek, Chicago or New-York style.
Over the years, our team at NewYorkStreetFood.com has managed to learn a lot about this food truck business, so here are some tips you should remember before you book a Pizza Truck for your next event:
1) Check your Venue: Is it Food Truck ready?
Already have a venue for your special event? Well, that's great if you do, but have you made sure they have adequate space and parking for the Pizza truck (or trucks)? There needs to be enough space for the truck (or trucks) to park without being in the way of anything or anyone. Your guests need to have easy access to the pizza truck, but you also need to have space for your guests to dance and mingle.
2) Food Truck Power
If your venue is going to be indoors, it's crucial that you ask your Pizza Truck catering guys if their food truck runs on electric or propane. Naturally, it's fine if electric, but if it's propane then its definitely not! If this issue is not cleared ahead of time – it can be a make or break situation, so have this checked!
3) TIMING IS KEY
When it comes to special events like weddings and such, no matter if big or small, timing is absolutely crucial. Naturally, we don't want the Pizza truck arriving too late, but we also don't want it pulling out before our guests have been served. Even if you may only want to serve the Pizza from the truck for a certain number of hours, it's advisable to book the truck for earlier arrival time and a later departure. This is especially important if the Pizza truck is situated somewhere in the middle of the venue where its impossible to pull away before the guests are gone…So plan ahead!
If you have special guests arriving from far at your big event – you might want them on time as well. You can book them a special pick up from the airport or even a limo if you're really nice. According to Limo Find, the average cost of limo rental is between $95 to $130 per hour.
4) Check the esthetics
Yes, there are beautifully designed Food trucks out there, but some are also casual or mediocre. Make sure the truck's design fits the tone of your event, and if not – most Food Truck catering companies will re-design the trucks according to your wishes.
Other esthetic elements that you need to watch out for are the staff's attire and the silverware. Make sure the attire is nice and clean (ask for pictures!), and that the silverware fits your style.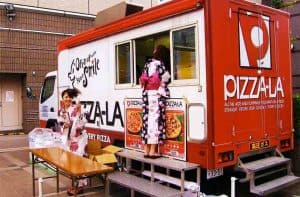 5) Give out cocktails and appetizers
Serving Pizza, in any event, can be a huge success and loved by all your guests, but remember that baking a Pizza can take some time…So how do you entertain your guests while they wait for their favorite Pizza?
We suggest having something like a "Harvest Table" filled with cocktails and snacks. In many cases, your Food Truck caterer will take care of that as well, and provide a nicely designed table with relating snacks, like cheese, olives, grapes, crackers, and more.
You can also request your Food Truck catering guys to fire up different appetizers that'll be passed around during "cocktail hour". Our favorites are pulled pork pizza buns and grilled bacon-wrapped dates J
So, if you're 100% sure you want to go for a Pizza Truck Rental plan – shoot us an email or fill up the contact form here! Our team will answer any other questions you have and we'll be glad to Food-Truck-cater your event!
If you've already booked your Food Truck catering guys – all we can do is wish you lots of fun and happiness on your special event!