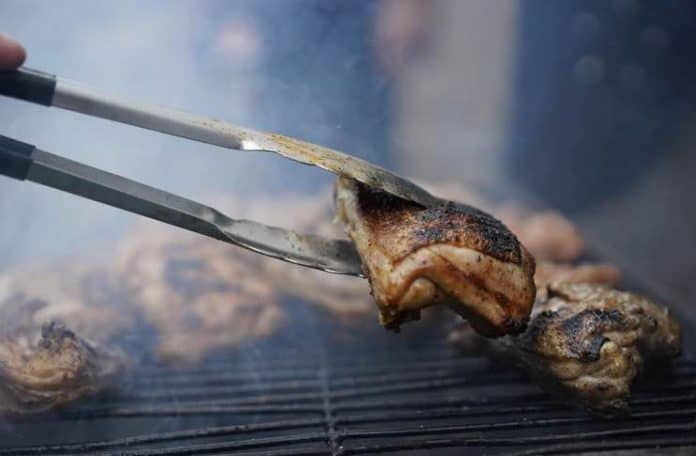 With as many as 12,000 food vendors in New York City, you're sure to find a healthy variety of cuisine from all over the world. However, if you look long enough, you might notice that African food is a bit underrepresented compared to Latin, or even Asian cuisine – unless you're in Midtown, Manhattan. Whether you live in the Big Apple or you're just visiting, Divine Flavored Nigerian food truck is well worth the visit.
The DF Nigerian Food Truck: How it all began
Located at 828 2nd Avenue in Midtown, Manhattan, you'll find the DF Nigerian food truck – a colorful beacon usually parked in front of the Nigerian Embassy. Known for serving traditional Nigerian dishes, this food truck was brought into the world and is run by Godshelter Oluwalogbon and his wife – though not without a lot of hard work.
After coming to the United States in 2001 from Nigeria, Oluwalogbon, originally from Ghana, began working at a restaurant called Zabars on the Upper West Side. In 2005, he started a part-time catering business called Divine Flavored catering, later running it full time in 2010. However, after delivering many meals to the Nigerian consulate, and even selling meals from the back of his car on the street, the DF food truck came to be in 2015 and is continually growing in popularity.
All about the Food
While the DF Nigerian food truck serves traditional Nigerian cuisine, the food is meant for everyone. With everything from a Nigerian salad to fried dough balls called puff puff, fried plantains, and ogbona soup (beef stew), it's hard to not find something to like. The truck even caters to vegetarians, offering meal options like Ghana yam and honey beans. However, if you wish to try a classic, many customers swear by the well-known dish Jollof rice, which is served with a choice of chicken, goat or fish.
While sous-vide is on trend in many establishments, to the extent that many people are trying restaurant cooking methods at home, many African dishes use traditional methods, and the DF food truck honors these techniques. The popular dish, Asun, for example, involves chargrilling goat meat. The meat gains the flavor of the grill, resulting in a completely different flavor from meat cooked with a sous-vide method. And, while African food is known for its spicy heat, Oluwalogbon has balanced that out to accommodate those who aren't so crazy about a spicy kick – though it is available for those who are.
Award-winning quality
As if customer's testimonials weren't enough, the DF Nigerian food truck has proved it serves award-winning quality African cuisine by literally winning an award. The DF Nigerian food truck won the Vendy awards in 2017, a competition amongst New York City's food vendors on Governor's Island. After the well-deserved win, the truck rose in popularity, and their food can now be delivered through apps such as Grubhub.
Street food is part of the unmistakable New York foodie culture, though it's definitely a great idea to try street food from around the world without leaving the city. If you ever find yourself near the DF Nigerian food truck and decide to try some traditional African cuisine, it's no question that you'll be back for more.