Are you searching for helpful tips for marketing your food truck? You've reached the right place. Marketing a food truck is quite different than marketing a brick-and-mortar restaurant. When you're a mobile food business that moves from one location to another — a few good marketing tactics can be crucial.
Before I delve into a few helpful tips we've collected from some of the best food truck businesses in NYC and some marketing experts, did you know that the food truck industry is estimated at $2 billion in yearly revenues? It's been growing at nearly 8% every year over the last five years, compared to a measly 2% growth in the restaurant industry.
The main reasons why the food truck industry is outperforming all the rest is mainly because of the lower costs involved, the mobility (food trucks are not bound to one location), and the millennial hype around it (according to recent data, the biggest chunk of food truck consumers are aged between 18–34).
However, as the industry grows faster, so does the competition. New food truck owners and existing ones need to constantly be on the edge of the latest marketing tactics to grow their business and survive. Here are a few of the current marketing tactics and tips you should follow.
Focus on Impeccable & Creative Food Presentation
Why do I start with food presentation? Well, it's probably the most important element in Food Marketing in the digital age we are living in. Most of us are constantly on our phones these days, either on Instagram, TikTok, or Facebook, browsing endless feeds of nonsense (ok, some is educational and important, yes).
As a food business owner, your dishes will eventually reach the online sphere, either by customers, bloggers, or yourself. The only way you can really stand out and get some social media attention is by focusing on impeccable and creative food presentations. 
Put a lot of your time into planning and creating good-looking dishes. Yes, of course, they need to be delicious, but they also MUST be instagrammable. It's key for marketing your food truck.
A fantastic-looking dish that is shared by a blogger or even just a regular customer can suddenly become viral on social media. It can be a gamechanger for your food truck. However, even without a viral post of your dish and becoming a famous food truck overnight, your customers will share great-looking dishes, making your food truck stand out. 
How to create a fantastic-looking dish? Use white disposable containers. This will allow your food to stand out. Add some colorful garnishes that will add an appealing visual to the dish, like exotic herbs or an edible flower. It may seem insignificant, but it can completely change an image.
Master Your (Carefully Chosen) Social Media Channels
Yes, I know, you probably saw this coming, and you heard it before. How being active on social media is so important these days, bla bla bla. I will discuss my favorite platforms that I think are key for food trucks, but far more importantly, I want to emphasize how crucial it is to focus on just a few (try two, maybe three) "chosen" platforms.
Many food entrepreneurs mistakenly think that they need to be active on every single social media platform out there. They end up spending tons of time (and money!) on ineffective social media marketing. Instead, choose two or three social media platforms that are the most relevant to your food truck. 
How to choose the right ones for you? Well, it should be a hype platform and growing and where your target market is active. Facebook, for example, is not the place where millennials are spending their time these days, so I wouldn't recommend spending your marketing budget there. It doesn't mean you shouldn't create a Facebook page and share all the info about your food truck.
Instagram or TikTok?
Instagram is probably the perfect platform for any food business. You'll definitely want to focus your efforts and budget there. What about TikTok? Well, if you have the tools to create engaging short videos showcasing your food creations — then OF COURSE! Go ahead and make short clips of making your meals and taking yummy bites.
However, this needs to be a long-term commitment, so if you can't be sure you can create videos daily, I'd suggest focusing your time on other platforms.
Twitter & Yelp
How about Twitter? Yes! Twitter is an excellent marketing platform for food trucks. In addition to showcasing your food dishes, Live Tweets is a great tool for sharing location updates with your followers as you move your truck from one place to another.
Twitter is also a powerful tool for building your brand (our next section below). If you plan it well and come up with unique, funny, and strong statements, you'll be able to make your brand stand out.
Lastly, I'd recommend setting up a Yelp account. No matter what you do, customers will be reviewing and rating your food truck on Yelp. Don't let them take control of the narrative. Be active and encourage your loyal customers to post a good review. 
Secondly, get a "Find us on Yelp" sticker and make sure it's visible in every corner of your truck. Thirdly, post your own (super polished!) photos on your Yelp account. Yes, customers will be posting their own pics, but these are usually of low quality. That's why I started this article by focusing on impeccable and creative food presentations. If you do that well, then your dishes may still look good in low-quality pics 🙂
Build a Food Truck Brand
As I mentioned above, the competition is growing fast in the food truck industry. Without a well-defined branding plan (and execution), your food truck won't be able to stand out.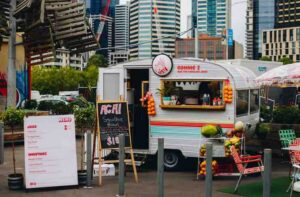 Focus on building a good story for your food truck. Answer the questions of who is behind it, why you ended up here, what the food is all about and how you connect to it, and more. Build a story that people can connect to, especially millennials.
Then, move your focus to the visuals again. Create a unique but simple logo with a great (short) memorable tagline. Use fonts that relate to your cuisine, style, and mood. Come up with unique dish names that will match your brand. Dish names are shared A LOT on social media, probably like food pics, so make sure they sound great.
And of course, decorate and design your food truck with cool graphics that will help define your brand, and attract customers (!). Remember, your food truck design will be a mobile advertisement driving through town every day, so make the most out of it.
Use Food Truck Apps For Extra PR Power
Today, almost every major city has its own food truck apps that help residents find their favorite food truck on any day of the week. These apps let us know where any food truck is parking, at what times, what their offerings are today, and more.
So many residents use these food truck apps daily to get the info they need. So, it's vital to have your food truck registered on the popular apps. Naturally, you'll need to constantly update the apps with your current location, menu, etc.
Remember, promoting your food truck on a popular food truck app that has good traffic ensures that any message you have is directed at potential clients. 
Boost Your Website With Food Truck SEO
I'd assume you already have a website for your food truck business. If not, I suggest developing a website asap (or hiring someone to do it for you, it's not that expensive these days). Why do you need one? As mentioned earlier, most of your clients will be millennials, and ALL of them are online.
A basic website can help disseminate all the info you need to convey, like your location schedule, menu, and opening hours. It also provides space to showcase a few great photos of all your dishes. Finally, it should include branding items like a well-designed logo, mission statement, blog, and more.
After building your website, you'll need to move to the food truck SEO part. This means Search Engine Optimisation, in other words, the technical work put into making your website rank on Google's search engine results. 
Let me explain. If you own a Korean Food Truck in NYC, for example, you'd want your website to pop up high in the search results when people are searching for "Korean food truck in NYC" or "Korean street food in NYC." 
To achieve this, I suggest hiring an SEO specialist (there are tons of freelancers online), but if you take an SEO crash course you can probably do a lot by yourself. 
By now, you should be well-equipped with the tips on how to market your food truck business. If you follow even one of these, you're bound to see results, be it positive customer feedback or a significant increase in revenue. 
If you need funding for your food business, consider looking into lending platforms such as GetCash.com. All you need to do to take out a loan is fill in a secure online loan application, and then you get matched up with vetted lenders willing to lend even to those with not the best credit score. On average, it takes around 24-48 hours to get approved for a loan.