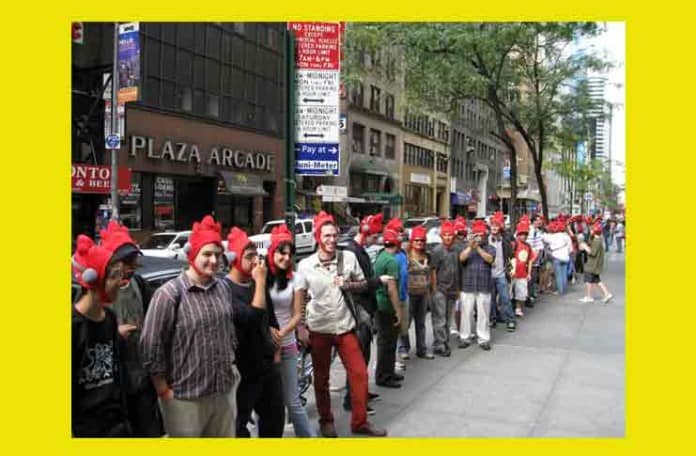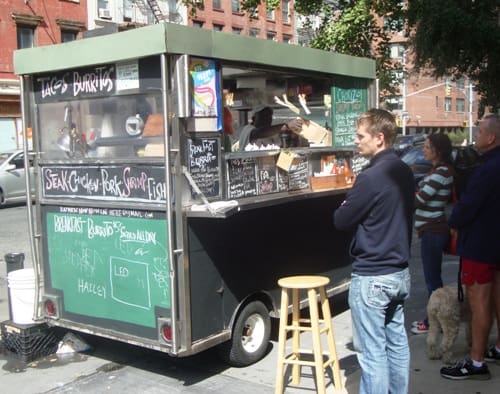 The Vendy Award people seem to come up with a few surprises each year, and one of this year's was the nomination of Eat Here Now Now Eat Here in the Rookie of the Year category.
If you already knew about them, it might not have been a surprise, but I only heard about them recently in a New York Magazine article on the abundance of great new restaurants on Hudson St in the West Village.  Since I live on Hudson St, I was planning on checking them out soon, even if they weren't nominated for a Vendy Award.
The cart is owned by Stan Tankuesley, who told me he was previously involved with Tortilla Flats, and one of my all-time favorites, the original Brothers BBQ (when it was on Houston St, before it moved around the corner to Varick St).  I remember the original Brothers BBQ very fondly.  It just wasn't the same after it moved.
Now Stan has this cart selling breakfast burritos all day, as well as tacos with steak, pork, chicken, fish or shrimp. I also saw a spinach quesadilla on the menu.  Stan told me he was very happy with the cart as opposed to the restaurants he was previously involved in.  He said it was much less stressful.
The cart is under the High Line at 16th St & 10th Ave Mon-Fri from 9am-4pm. On weekends, its on Hudson St at West 12th St from 9am-4pm.
I asked Stan what he recommended, and he said a breakfast burrito ($5), which was perfect for a Sunday around noon.  I also ordered a shrimp taco ($5) just to try it.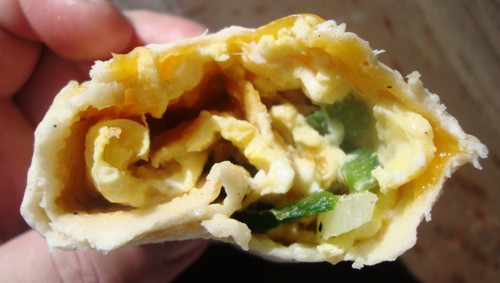 The breakfast burrito had eggs, onions, cheese, grilled poblano peppers and a mild hot sauce that was pinkish-orange.  I told Stan that I like it spicy, and he added a hotter sauce to my burrito too.
It took a few minutes because everything is cooked fresh to order.  When I unwrapped the burrito a few blocks away and took a bite, it was delicious!  Breakfast burritos are not like regular burritos.  There are no beans or salsa – its only eggs, cheese, peppers and onions.
The additional sauce made this nice and spicy, but you can stay with the mild hot sauce if you're not into spicy food.  Either way, you should give it a try, because it was excellent.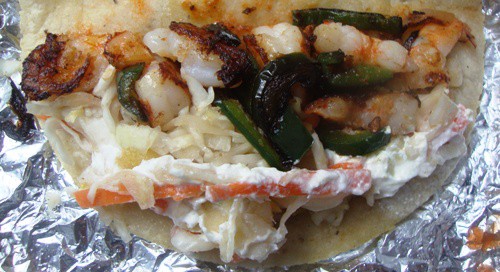 The shrimp taco was a little busier than the burrito, with grilled shrimp, grilled jalapenos, a cabbage slaw and some crema.  If the burrito was for breakfast, this was more for lunch.
The shrimp were grilled until browned, but they were still tender and juicy, and juxtaposed nicely with the crunchy slaw.  The slaw had a sweetness to it, almost like there was a touch of honey added to the mayo.
The sign on the cart said the tortillas were from Nixtamal, the excellent tortilla maker in Queens, and they added a quality corn tortilla to the mix.
I look forward to trying some other offerings from Eat Here Now Now Eat Here next weekend at the Vendy Awards.  I love fish tacos, and hope they will have them at the Vendys.  If not, I can always walk up Hudson St one weekend.
You can follow Eat Here Now Now Eat Here on twitter here, although we have already added them to our Mobile Munchies twitter feed.