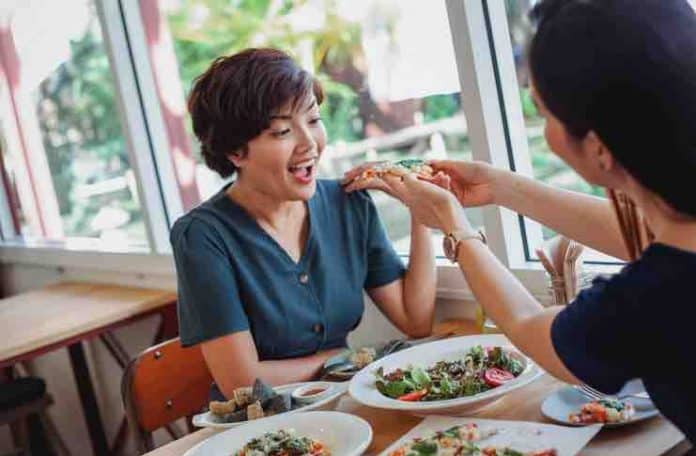 New York City is known for many things, one of which being its street food, the famous food trucks, and carts. Street food is rampant no matter what part of the city you're in, and you'll encounter a wide variety of options on every corner. It's ideal for cheap, fast, on-the-go meals that are conducive to that high-speed New York City lifestyle, making it a necessary experience for all tourists. In this post, we'll discuss 3 of the most popular street foods in NYC. We didn't do any polling for this, but these will definitely be in the top 10 of any poll.
Most of the food stands you'll find in the big apple abide by the appropriate HACCP steps, but it is still good to be aware of quality health and sanitization standards just as you would at any restaurant.
Here's our special list of the 3  most common, popular street foods you'll find in NYC – that are a must-try.
The 3 Most Popular Street Foods in NYC (according to NYSF only)
1. Halal Food
For the unversed, halal food does not refer to food from a particular ethnicity, but rather food that is prepared and cooked under permissible, or "halal," practices, a spectrum of lawfulness as defined by the Quran. This classification can be applied to all food, but in New York City, halal street food is often referring to cuisine from West Asia.
Halal Guys is a very famous street food chain that can be found all over New York City and beyond, spanning to different cities across the country. However, if you want an experience more unique to NYC, there are still plenty of West Asian, North African, halal stands that are just as great!
2. Pizza Slices
Perhaps the greatest gift New York City has to offer is its dollar slices. Italian food and pizzerias are abundant in New York, and whether they are upscale ballroom-style restaurants or food trucks on the side of a busy road, they all produce some of the best cuisines the city has to offer.
Pizza slices in this city are proof that price does not equate to quality, as they are some of the most delicious and widely beloved food choices for miles, and they are commonly just one or two dollars. 
The NYC dollar slice is exemplary of what people in the city seek out — food that is delicious, cheap, and ideal for an on-the-go lifestyle. For an NYSF review of a great pizza place in NYC – check this post.
3. Hot Dogs
Hot dogs are probably one of the most popular street foods worldwide, not only in NYC. But what's more American than a New York-style hot dog? There are food stands all over New York City that grill the perfect hot dog and sell it for cheap. They have every topping and condiment you could dream of, as well as sodas, snacks, and other essential side dishes for hot dogs.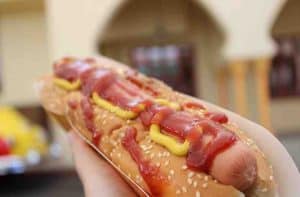 Just as the street food genre is a rite of passage for New York City tourists, getting a hot dog is exemplary of the NYC experience.
Hot dog stands are so common, they are some of the most franchise-heavy food trucks in the city. Nathan's Hot Dogs is a good example of a food truck placed side by side with other mom and pop-style businesses, but they're not the only ones — simply a testament to the city's love for hot dog food stands.
Final Thoughts
The above mentioned are just 3 of the most popular street foods in nyc. There are plenty of more delicious street food out there. Experiencing street food is a rite of passage for any New York City venture. 
There is such a wide variety of high-quality street food that there is no reason to overlook it during your travels. It is also much cheaper than most food you will find in the city, making it accessible and ideal for saving on cash.
Whether it's halal food, a dollar slice, or a New York City-style hot dog, there are plenty of street food options you should embrace during your time there. Consider turning your attention from the high-end, Michelin-star restaurants, and delve into the full range of options New York City has to offer.