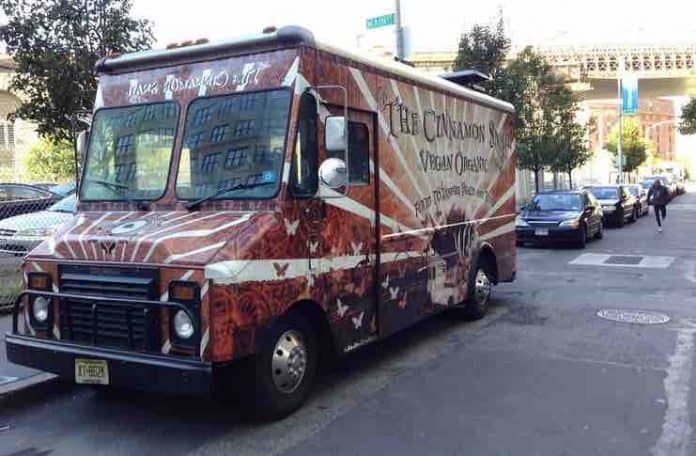 Street vendors selling everything from hotdogs to oysters have been doing business in New York City for over 200 years. Today, you can still easily find and enjoy these traditional dishes. But remember to also keep an eye for these delicious contemporary street food trends.
Vegan food
Vegan options in NYC are ever upgrading and expanding. The Cinnamon Snail is a vegan food truck with a menu that's varied, flavorful, and value for money. Get the blue corn pancakes with pine nut butter and maple syrup for breakfast. Or ask for the beastmode burger deluxe at dinner time — a chili seitan burger grilled in maple hickory bbq sauce, with jalapeño mac n cheese, smoked chili coconut bacon, baby arugula, and chipotle mayo on a grilled pretzel bun.
And Sans is a new vegan pop-up in Carroll Gardens run by a former Eleven Madison Park sous-chef. Expect mouthwatering dishes including plum terrine served with orchard fruit jelly and brioche, lasagne, and even a revamped TV dinner featuring mushroom farce, peas and carrots, and vegan pomme purée. The dessert menu includes caramel ice cream with chocolate crumble, green apple sorbet with preserved lemon and apple cream, and Vodka glazed donuts.
Specialty items
Expect to see an influx of unconventional items on the menu at your favorite food trucks. Vendors are following in the footsteps of Ryan Hibbert Riot Hospitality Group, a successful hospitality management company, and working hard to give their customers what they want: unique and memorable dining experiences. In particular, trucks at Seventh Street Truckyard are selling homemade ice cream doughnut sandwiches made with locally-sourced ingredients, as well as pizza topped with alligator, snake, and wild boar meat.
You'll also find plenty of fancy drinks like homemade lemonades, specialty teas, and ice cream floats selling for roughly $5 or $6 each. Alternatively, Coolhaus Ice Cream Sandwiches is a popular food truck stocked with monster ice cream sandwiches in a variety of interesting baroque, artisanal flavors. You can order ice cream, such as blueberry-ginger, balsamic fig and mascarpone, and fried chicken and waffles, and pair it with the likes of red-velvet, peanut butter Cap'n Crunch, or Snickerdoodle cookies. Don't forget to ask for hot toppings — sea salt caramel or Mexican chocolate sauce are good choices.
Cold coffee
Cold brew and traditional iced coffee are becoming increasingly popular with New Yorker's looking to cool off from the summer heat. Parkers Coffee in Brooklyn has created an Espresso Mint Julep — a refreshing yet complex caffeinated beverage. It's made with basil-mint syrup, textured milk, and a double shot of espresso served over ice. Also found in Brooklyn, Two Hands coffee shop is launching an alcoholic iced latte that includes Mr. Black cold pressed coffee liqueur this summer. Or, you can grab an iced matcha from The Elk for a tasty dose of antioxidants and less of a caffeine hit.
However, if you prefer to stick with a classic iced coffee, head to Periscope Coffee, a full-service coffee cart and hidden gem located on 123 Pearl St. Here you'll find flash-frozen iced coffee and iced lattes with vanilla, caramel, mocha, and hazelnut flavorings available. They also do oat, almond, and soy milk.
CBD-infused food and drinks
CBD-infused food products are sweeping the city. CBD (or cannabidiol) won't get you high, but it can aid relaxation and potentially relieve pain. In NYC, you can head to MatchaBar (Soho) to sample their new beverage, the Honeypot Latte. The ingredients include Calendula, Honeypot CBD-infused organic raw honey, and their famous ceremonial-grade matcha sourced directly from an independent family farm in Nishio, Japan.
There's also Sweets by CHLOE. (Bleecker St.), a vegan counter-serve pit stop with its own line of CBD-infused baked goods. "Mary Jane", a chocolate ice cream cake with CBD frosting and green sprinkles, and the "A-to-CBDey" cookie laced with pretzels and marshmallows are some of the delicious, CBD-infused treats on offer. Organic soft-serve pop-up, Kokus (226 Lafayette St.) creates healthy coconut ice cream made with simple, quality ingredients and gut-healthy probiotics and enzymes. The owner adds a few drops of CBD oil to one of the delicious chocolate ice cream toppings.
Have you tried any of the above street food trends? If so – please share with us your experience!