It takes a lot of time to get to know a city after you first move there. And the acclimation period can be downright nasty, especially when trying to find good places to eat. It's a path filled with disappointment and bad-tasting food, so we'll do our best to avoid it! Here's a newcomer's guide to New York City's most popular street food to get you started!
Waffles
Waffles are, beyond any doubt, one of New York City's most famous street food! And why wouldn't they be? Waffles are a great pick for both a treat and a quick breakfast. Especially if you pair them with the goodies from one of the specialty coffee shops in NYC. Taking number one in waffle quality is, unquestionably, Wafels & Dinges. They can be found throughout the city in several locations, so keep an eye out! Not far behind are waffles from Hot Mini Cakes, a small family food cart found at SE Corner of Grand St & Bowery, New York, NY 10002, and Ling's Sweet Mini Cakes, a cart found in Chinatown.
Barbecue
Now, barbecue is admittedly a rather broad term. Still, New Yorkers make it work by making some of the most delicious variants you'll likely come across! While some people still swear by Texan barbecue to the exception of all else, New York City can at least give the state a run for its money. If you happen to come across Mighty Quinn's Barbeque, or Jamrock Jerk, make sure to try their BBQ! Now, the first and last names on the list are food trucks. But Might Quinn's has several branches throughout the city and is rather accessible, too!
Pizza
There are a few things as good to munch on while doing something, such as searching top movers' databases in NYC when you need help with storage or moving to join forces with top experts, such as pizza! And New Yorkers are well known for their fondness for this delicious food.
Naturally, New York City doesn't disappoint and presents us with three contenders for best pizza truck! Giannetto's Pizza, Groundling Pizza Co., and the simply named NYC Pizza Truck all sell some top-quality slices. The first two also work as caterers, so if you need large amounts of pizza for some reason, you know where to get it!
Hot dogs
Who doesn't like hot dogs? They are easy to take with you and nibble on the way to work, and they keep rather well if you need to wait till your lunch break, quickly making them one of New York City's most popular street food. If you want to learn a bit more about New York street food and find new delicious hot dog options, then we have another three suggestions for you!
Oh K-Dog, New York Hot Dogs, and Billy's Hot Dog Cart all offer unique experiences and a relatively diverse menu! You will never regret a hot dog purchased from any of these stalls.
Grilled cheese sandwiches
Grilled cheese sandwiches are another example of easy food to consume on the go, setting the theme for what New York City's most popular street food is like. However, this is hardly a bad thing when the food is this delicious!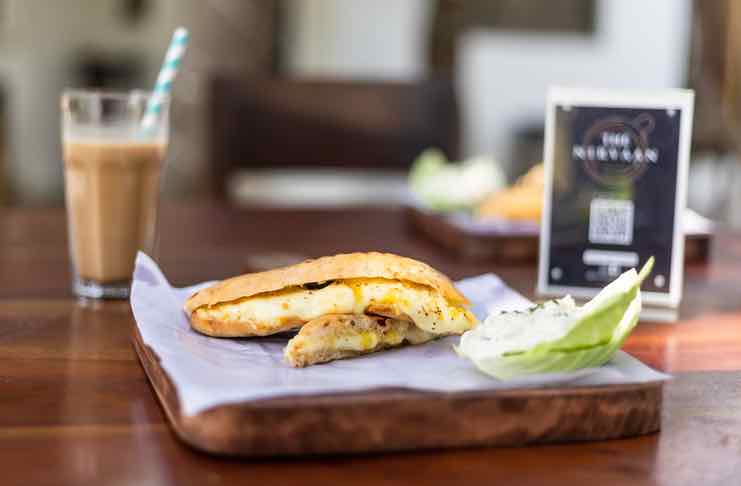 Your best bet for getting a delicious taste of grilled cheese would be Uncle Gussy's, Morris Grilled Cheese Truck, or, making a repeat appearance, Wafels & Dinges! It may seem shocking to find a single food truck in two different categories. But their grilled cheese sandwiches are almost as good as their waffles, and that says something!
Subway Sandwiches
Subway sandwiches are highly customizable, delicious, and easy to pick up quickly, especially if you are currently in the process of looking into the best New York City neighborhoods. If you are trying to find your perfect spot and are, therefore, trying to explore the city, you should not do it on an empty stomach! Once again, NYC provides a decent variety of culinary options.
First, we have the Grey Dog, at Spring St 6, Taim, also at Spring St 6, and many more. Each place has its own twist on the classic, and all of them have some fantastic selections other than sandwiches. So, make sure to fully explore their menus for maximum deliciousness!
Tacos and tortillas
Tacos and tortillas have long been some of the most popular foods in nearly every state, so it's no surprise that they'd be among New York City's most popular street food. Now, bundling them up might seem careless, but places that make one tend to make both. First on our list is Los Tacos No. 1, found in the Chelsea Market.
If they decide to expand, they'd likely become one of the best chain restaurants that started in NYC! Then, we have Otto's Tacos, in East Village, with their freshly made corn tortillas and delicious filling. Finally, we have Tacombi at Fonda Nolita in Elizabeth St, and their diverse and exciting menu will likely catch you by surprise the first time you visit them!
Ice cream
While not strictly 'food,' ice cream makes it onto our list of New York City's most lovable street foods by virtue of its popularity. And boy, do New Yorkers know and value their ice cream trucks! Sometimes, as Mister Softee proves, classics are the best. Mister Softee has been a staple ice cream truck in New York City since the 1950s, and it shows!
Carvel Ice Cream is another delicious staple of NYC, with an even longer history dating back to 1929. Rounding out our selection is Van Leeuwen, offering selections of both traditional ice cream flavors and versions completely free of any animal or dairy products for those who can't or won't eat them.
Final comment
We hope you've found our newcomer's guide to New York City's most popular street food interesting and helpful! Now that you know a bit about your options, you can take the time to properly scout out the city's restaurants and eateries at your leisure.