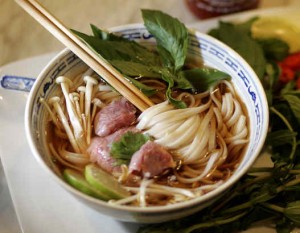 Kathy Gold owns a cooking school in Haddonfield, NJ (outside of Philly) and teaches a popular class for home cooks on preparing street foods.  The recipes she uses are classics or interpretations of foods eaten on her travels that she remembers fondly.
The following pho recipe is based on a family recipe that was given to Kathy by her friend, Hien Ngo, a former Miss Vietnam.  Hien and her younger brother came here in one of the first waves of immigration from Vietnam, and Kathy worked with her at the Bistro Francais in Washington, DC. [Phila Enquirer]
Makes 4 to 6 servings
For the broth:
4-5 pounds beef bones (do not use marrow bones)
1 teaspoon fennel seeds
2 cinnamon sticks (use Vietnamese for the best flavor)
1 cardamom pod
3 whole star anise
3 whole cloves
2 teaspoons whole coriander
2 tablespoons canola oil
1/2 onion, peeled
3-inch piece of peeled ginger, sliced
Water
1 teaspoon sugar
2 tablespoons fish sauce, or to taste (I like Three Crabs brand)
To finish the pho:
1 pound rice stick noodles
1/2 pound beef, sliced as thin as possible (see note)
Recommended garnishes: a good selection of fresh herbs, such as Thai basil, cilantro, mint, etc., thinly sliced lime wedges, thinly sliced chilies, mung bean sprouts, and Sriracha.
1. Fill a large pot with water and bring it to a boil over high heat. When it comes to a rolling boil, add the beef bones and boil for 10 minutes.
2. While the beef bones are boiling, heat a small skillet over medium heat and toast the spices until fragrant, about 2 to 3 minutes. Take them out of the pan immediately and add them to the empty slow cooker. In the same skillet, add the oil and deeply brown the onion and ginger. Add them to the slow cooker.
3. After the beef bones have boiled, drain and rinse them. Add the bones to the slow cooker. Fill the slow cooker with fresh, cool water to about 11/2 inches below the rim of the cooker. Add the sugar and fish sauce. Cover and set the cooker on low for 8 hours. Taste and season, if needed. Strain the stock through a cheesecloth-lined strainer, discarding the solids.
4. When you are ready to serve, bring the broth to a boil in a clean pot. Fill another pot with water and bring it to a boil. Cook the noodles according to the directions on the package, and drain.
5. Place the thinly sliced steak in the bottom of your serving bowls and fill with the hot broth, which will cook the beef. Add noodles to the bowls; each diner adds preferred garnishes.
– From chef Kathy S. Gold of In the Kitchen Cooking School
Notes: You can use any beef you like: sirloin, flank, tenderloin, etc. Freezing the beef for about 20 minutes will make slicing easier.