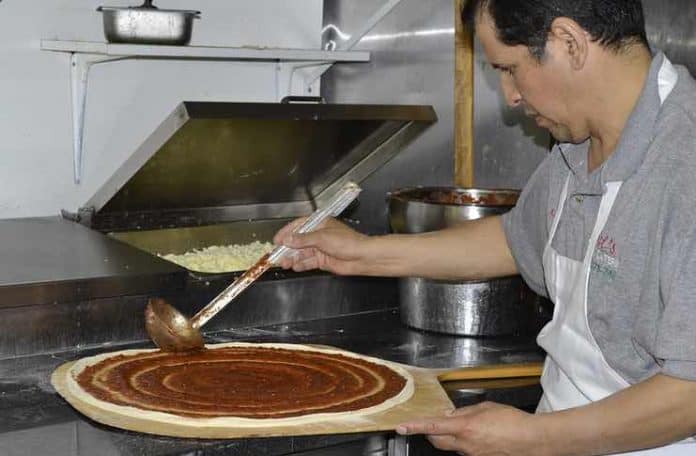 Pizza is quick to whip up even on a lazy day. Garfield's Roy's Chicken pizza is a delicacy that leaves everyone wanting more. This pizza with its signature Garfield pizza base adds a twist to a routinely basic pizza, by adding some funny shapes and flavor.
This pizza is also a relatively good option for weight watchers, as it's very rich in vitamins and minerals. The high protein is good for muscle recovery, and after a workout at the gym (or at home), you can enjoy the pizza without feeling too guilty. 
With minimum carbs and high protein, this is the perfect "pick me up for a long and hungry day". This pizza is simple to whip up and can be fun to make during summer family barbecues or as a unique way to bond with your child.
The toppings on this pizza consist of marinated chicken, sprigs of thyme drizzled with olive oil and Oregano, and a bunch of fresh farm vegetables. You can get Garfield's dough cutter from Etsy or Amazon.
The recipe below will show you how to make a flavourful Roy's chicken pizza with all the right fillings:
Ingredients for Roy's Chicken Pizza Recipe
For the dough:
1 ½ cups flour

1 tsp yeast

Warm water
For the chicken:
Four chicken breast cutlets

1 tsp paprika

1 tsp ground cumin

1 tbsp garlic paste

½ tsp kosher salt

½ tsp black pepper
For the sauce filling:
Canned tomatoes

One clove of garlic

½ tsp of sugar

2 tbsp Italian seasoning

2tbsp truffle oil

Pinch of salt to taste

½ tsp farm pesto

½ tsp dried Oregano

½ tsp dried Rosemary
For the toppings
1/2 cup shredded Mozzarella

1/2 cup shredded Parmesan

One large red pepper

One large yellow pepper
Instructions
Preheat the oven to 400 degrees.  Line your pizza tray with parchment paper after spraying it with cooking spray.
Cut the chicken cutlets into strips and mix them with all the ingredients. Cover with cling and marinate in the fridge for a minimum of two hours.
In a bowl, warm up some water around two-thirds of the container on the stove or microwave. The water should be above room temperature to ensure it activates the yeast. Whisk the yeast and a dash of salt into the water mixture and combine.
Gradually fold the flour into the mixture and mix with a wooden spatula until it starts to form. Use your hands to knead the dough until it forms a ball. Turn the mixture to a floured surface and knead for an additional ten minutes, or until the dough is firm and stretchy. Place the dough back in the bowl and cover it with a cling film. Let it rest for around one hour.
For the sauce, grind the garlic clove in a food processor. Add all the remaining sauce ingredients and gently puree them until smooth. At this point, your sauce is ready for use. Remove the sauce and place it in a jar.
After this, take the dough and gently roll it with a rolling pin to a width of not more than 15cm. Use your Garfield dough cutter to shape the dough and place it on a baking tray and continue to spread as thin as you can. You can alter the thickness depending on your preference. Perforate the dough all around with a fork to ensure no air bubbles remain trapped inside.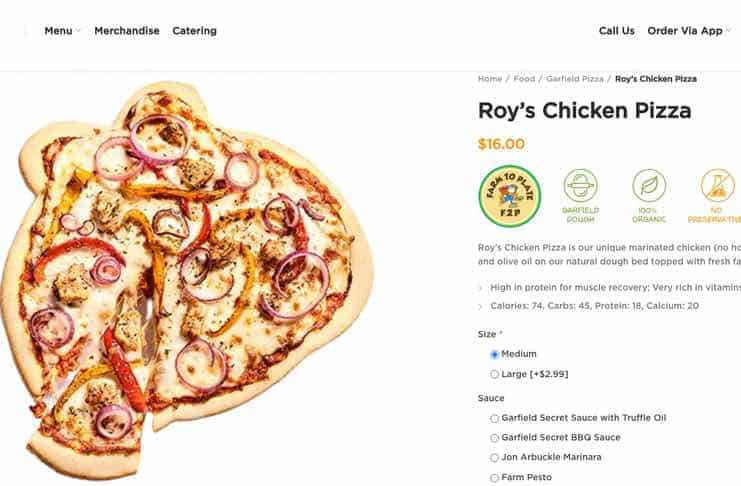 Heat some olive oil on a wok and fry the chicken strips until cooked through. Remove and set aside. 
Take the dough and generously spread the sauce onto it. Add the chicken strips, the peppers, and cheese. Sprinkle some black pepper on top.
Bake for about five minutes, or until the cheese melts.
Remove from the oven, cut, and serve.
Additional tips:
There is no need to cook the sauce after processing it. The sauce is best used as it is. This will save you time in completing the entire recipe.
Cooking pizza doesn't have to be costly. You don't have to go shopping for toppings. Instead, raid your fridge to see if there is anything you can add to garnish. Mix it up to experience a myriad of flavors and tastes. Versatility amplifies cooking; therefore use any ingredient you would like.
Chicken should not be mixed with red meat products to prevent cross-contamination.
For better pizza results, turn up the heat of your oven to a high temperature. This brings out a well-defined crust and leaves a smoky flavor.
If you happen to have a lot of more dough left, you can refrigerate it for use at a later date. Just make sure to cover the mixture well with a cling film before placing it in the refrigerator. This can be used for other recipes as well.