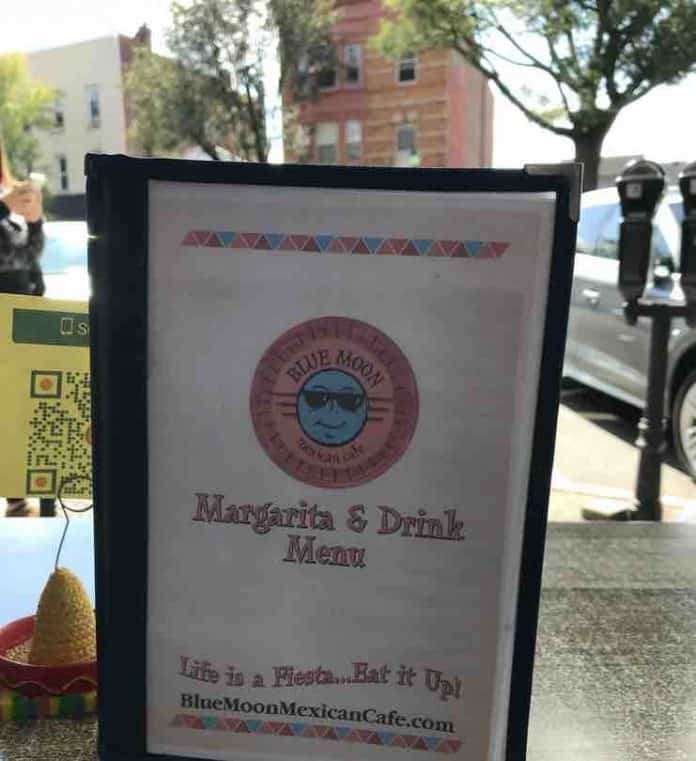 By Ron Rossi
Authentic Mexican food is more than tacos and salsa. It can be anything you can imagine or might want to have that moment. Consider Mexican dishes: churros, elote, barbacoa, posole, and more. There are so many recipes to dive into! 
A great way to eat healthily at a Mexican restaurant is to choose freshly made foods that are totally different from a chain-based brand. Instead of ordering a chimichanga or taquito, opt for steak, chicken, or shrimp fajitas. Fajitas are much healthier than fried items but are just as filling; they taste even better when flavored with peppers and onions. You can make smart choices to get a healthier and more satisfying meal. 
Introducing Blue Moon Mexican Cafe in Englewood, New Jersey
That is the reason we visited the Blue Moon Mexican Cafe in Englewood, New Jersey. Sitting right on Palisade Avenue, Blue Moon Mexican Cafe is right in the location everyone can visit any day of the week. Available for lunch and dinner, this place offers experience and a menu that makes you curious, especially if your desire is for a good, well-made Mexican meal. 
We walked in and met with the manager, Helen. She had been here for the 2 years since they had opened. She told us all about the history and the direction that Blue Moon was taking. The top mark was for a dish that was fresh and tasty. This was made directly for you. Not something that was frozen. It was fresh and prepared for you when you were there. 
We sat down with our Blue Moon Mexican Cafe menu of traditional entrees. From appetizers to entrees to a dessert. For large orders or a small collection of dishes, it was all there for you to select from.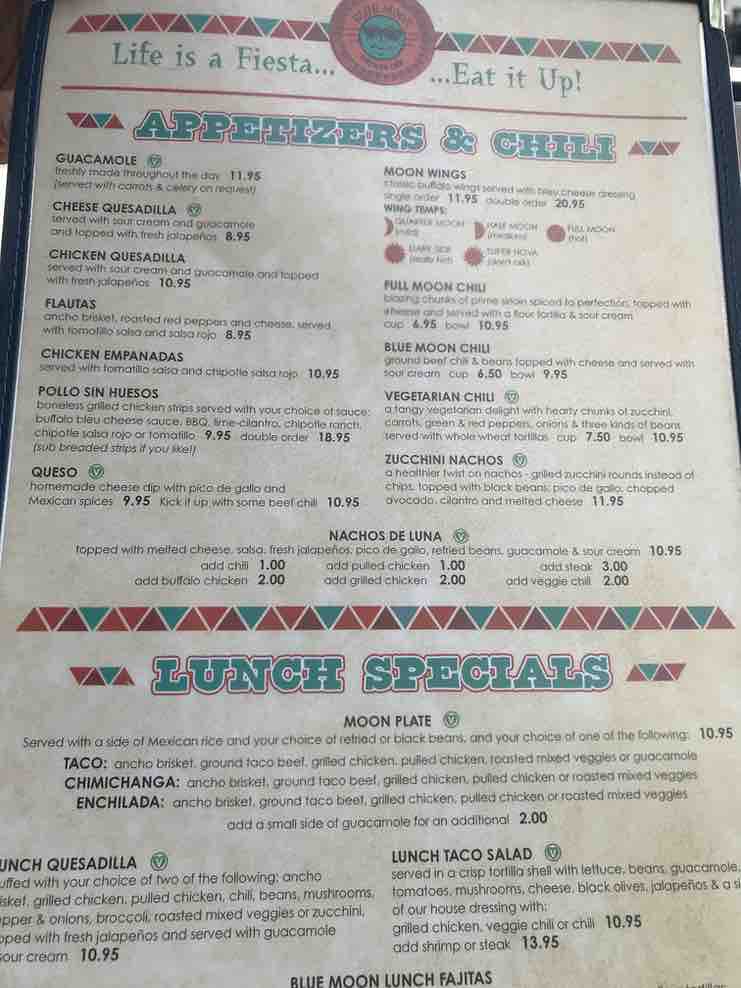 Staring with Guacamole and Cheese Quesadilla
After looking through the Blue Moon Cafe menu we decided to start off with Guacamole and a Cheese Quesadilla as appetizers. As we do not always eat fresh and raw onions, the Guacamole was freshly made for us without the onions. 
It took an extra minute to do this for us, but it was worth it. Fresh and tasty. You can feel you were enjoying what was presented which was both tasty and large. It could be enjoyed between two of you with no problem. 
As for the Quesadilla, it was also fresh and warm and filled with cheese. That alone was enjoyable. But it was served with a side order of sour cream that was a wonderful addition. The combination with the Guacamole was ideal to start the meal.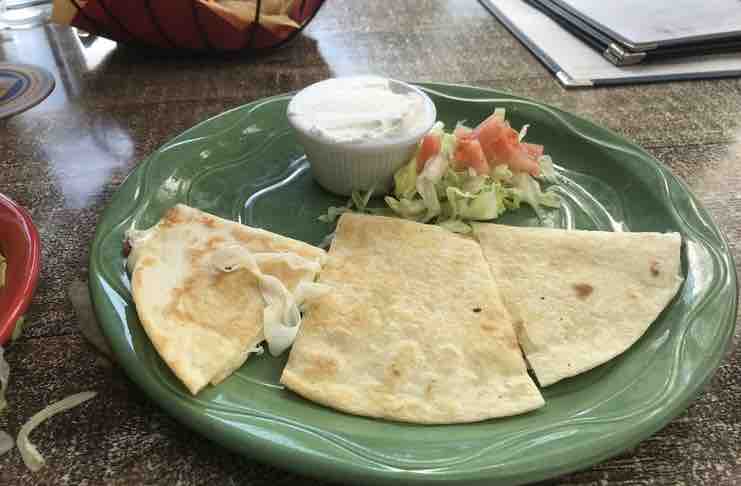 Enjoying the Lunch Taco Salad and Blue Moon Fajita
Once we finished the team brought out our entrees. First, we had a Lunch Taco Salad that was freshly made with lettuce, tomatoes, cheese, peppers, mushrooms, and brown rice inside a toasted taco shell. This was topped with grilled shrimps that were warm and coated with light olive oil. This was a wonderful dish to have. It was not only tasty but also light and refreshing to enjoy bite by bite.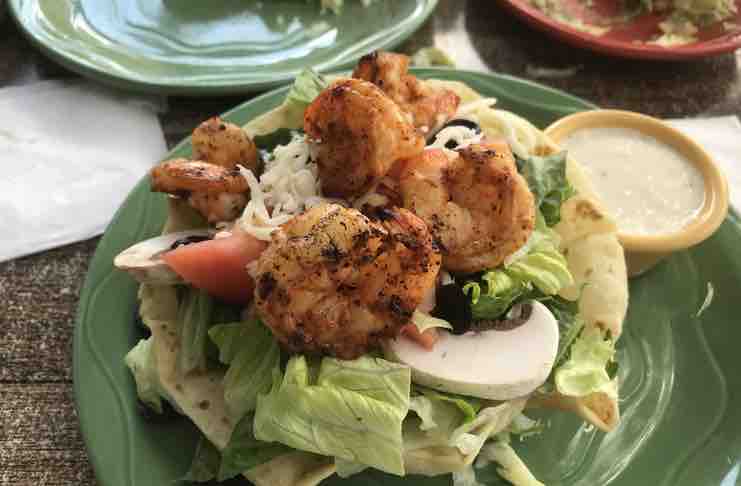 The other entree was the Blue Moon Fajita. Made with onions, peppers, refried beans, Mexican rice, avocados, salsa, sauteed jalapenos, and melted cheese. The dishes seemed to be never-ending. Then came two fresh flour tortillas and sour cream. I selected grilled chicken for this dish, but you could have had steak or shrimp if you wished. 
This meal was perfect. There was a good combination to eat either rolled in the tortilla with sides or have it right on the dish in a delightful combination. Either way, you took your time to enjoy the dish. It was warm, tasteful, and prepared in such a way that it was homemade.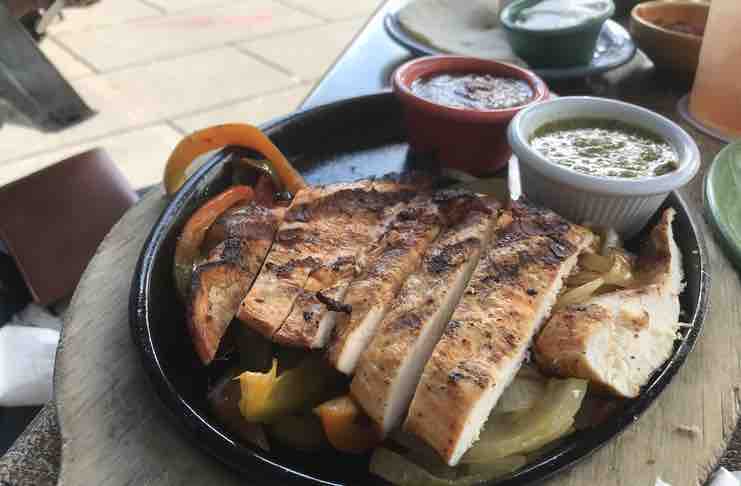 Talking with Helen we stated at the same time, it was like being at home where a family would be cooking the meal for you while you were there. That is how it tasted for us. 
A White Sangria accompanied us throughout our Meal
While we were at Blue Moon Mexican Cafe we also had a White Sangria as our drink to accompany this fine meal. It too was freshly made and filled with wine and lemons, limes, and orange. It was a wonderful cocktail that complimented the meal from the appetizer to the entree. 
At the end of the meal, we had to have dessert. Instead of asking for the menu, we asked our waiter for his suggestion. We asked him to select what he would have after our meal and surprise us. He agreed to do so and off he went. 
The Dessert: The Waiter Came Back with Something Truly Wonderful
Five minutes later he came back with something truly wonderful. It was called the Luna Cake. This was a combination of a warm chocolate cake topped with vanilla ice cream and topped with even more whipped cream and chocolate syrup.
Talk about heaven. This was perfect and could be shared by two. A perfect flavor that was light and creamy after the entrees and flavors we just had.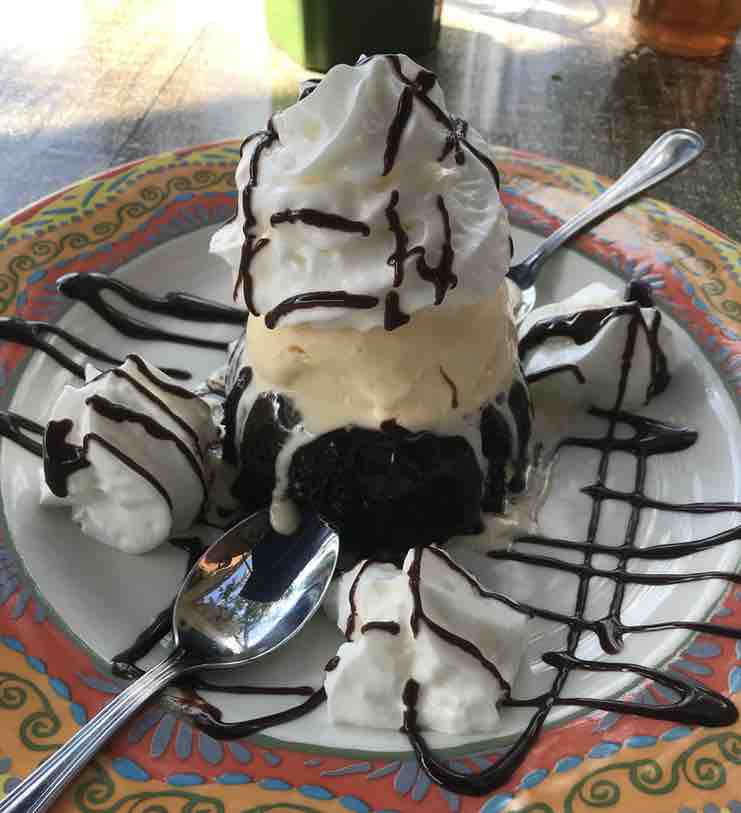 As the visit moved forward we did spend time talking to the team. Helen told us that in today's world things are different, but they do keep their way of creating their dishes for the visitors, which is still the same. It is always based on their style and the way the consumer's requests. 
We even learned that they are creating special events at their location including weekend Brunches, baby shower events, and even Halloween events for children that stop by to create items for the holiday. 
Healthier Food with Bright Bold Flavors
Blue Moon Mexican Cafe is for their community and their neighbors. Mexican food is, in most cases, healthier than common chain-restaurant offerings. Traditionally speaking, Mexican food has bright bold flavors of citrus and chilies and herbs. It's not just heavy food. 
This was a wonderful place to be for lunch or dinner. The prices are ideal when you place your order. The plates are large and filled with fresh tastes and items. There is enough to have while there and to bring home with you. A great way to live in today's world. 
I do want to thank the team. Helen was great to talk with. I also want to mention our waiter, Carlos. He was good to speak with. And his selection for our dessert was
perfect. A great choice and experience we received based on his tip. That is a great way to be in a restaurant where the team can help make the decisions with you. Their input is perfect, especially if you want something different than usual. 
Blue Moon Mexican Cafe is not your typical Mexican restaurant. It is not a major chain of places. Instead, it is friendly, homey, good, with lots of flavorful food, and very tasty. There is even a great price with what you order. 
We recommend it to any group of people, visiting during special hours or occasions. It's well suited for a romantic environment or a fun meal with a bunch of friends. Blue Moon Mexican Cafe is worth a visit when you want to enjoy a wonderful Mexican meal. 
LOCATION: 
BLUE MOON MEXICAN CAFE 
23 East Palisade Avenue 
Englewood, New Jersey 
Phone: 201-541-0600
Want to read more of Ron's reviews? Check his review of Artistic Pizza NYC and of Lefkes Estiatorio in New Jersey.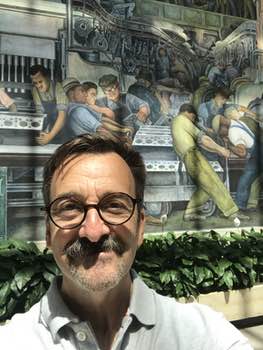 "The Jaded Traveler". Ron Rossi was born and raised in New York. A globalist at heart, Ron is a marketing director by trade, and has lived and worked around the world including Asia, Europe, Africa, and South America. Food is one of the best ways to learn about a country, a people and a culture. So, Ron is always looking for the best in mid-range to budget and street food. He is always on the hunt for a good meal anyone can afford. It is the food of the average citizen that excites him. And with having visited close to 100 countries on 6 continents so far, there have been some pretty good meals.