By Ron Rossi
Situated not far from New York City, and with beautiful weather in the summer, Lefkes Estiatorio offers pure culinary delight in terms of fresh and locally sourced food. One of our best restaurants here in Englewood Cliffs, New Jersey highlights classic Mediterranean cuisine, that offers an array of options hailing from other parts of the world. Cooked by skilled and passionate hands in the warmth of a high-class dining establishment, the elite gastronome can enjoy a meal fit for the desire we want. 
Lefkes Estiatorio has stepped ahead in terms of taste and presentation. The head chef serves a menu that changes according to the seasons and his creative imagination. The food is artful and packed with exquisite flavors, and touched by a hint of exoticism. It is revered for its innovative and playful cuisine that draws on Greek tradition. At times, only serving the best and freshest seafood available, the menu changes as often as the sunsets. 
The Lefkes Estiatorio Mission: Simplicity, Elegance and Exquisite Organic Food
Despite the few years since being founded, the restaurant's mission has remained the same: simplicity, elegance, and exquisite organic food. The fish served to diners is line-caught by a group of local fishermen, delivered daily, and seasoned with authentic, clean, and simple ingredients. Enjoy fresh salads, goats' cheese with marmalade, perfectly cooked fish from the Greek seas, as well as amazing tarts for dessert. Excellent flavors, a modern interior, and reasonable prices make this one of the best meals you'll have. 
We made a reservation prior to arriving in today's world. But, this would be a normal process when attending a fine restaurant for a meal. No matter when you visit Lefkes you can attend for Brunch on Saturday and Sunday, or visit for Lunch or Dinner any day. In fact, no matter when you plan on attending, be prepared to receive a great meal while you're there. 
We arrived for a lunch meal. The host brought us to our table and provided us with the menus and the bar menu. This was wonderful. They also brought us a dinner menu to review and if we wanted something special for lunch. The list on all menus was correct. It was a good variety that you could select from. So, after a few minutes of making a decision, the waiter stopped by to select our order and to make recommendations if we wanted something special. 
We decided on the 3-course Lunch menu. This provided us with an appetizer, a main entree, and then the desert. We also requested a special Calamari order that had been lightly breaded. It was to be served with a sauce to compliment it. We also asked if they had a Sangria as a beverage for lunch as well. We were told this was not normally on the list, but for the day they would make us a special order if we wanted it. The bartender would make it special for us. We decided to get that too.
Then we waited while they brought out the arrangement for the table. It was a beautiful day outside on the patio as we watched guests enjoying their meals. The choice was various and delightful.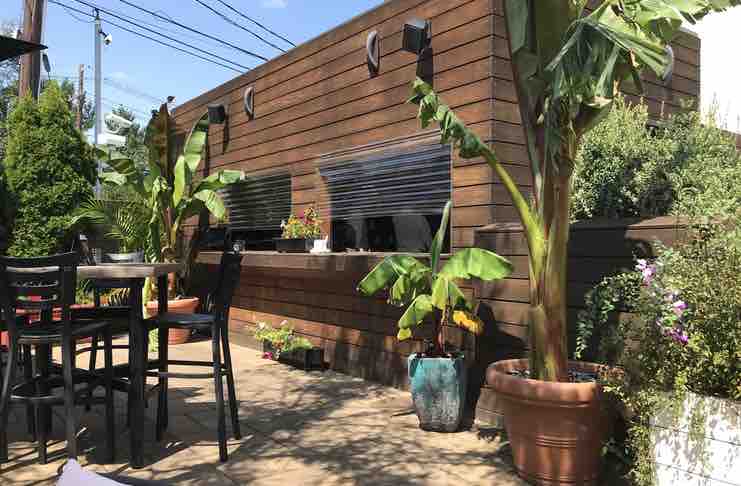 First came the Sangria. It was white, light, and filled with fresh strawberries. One sip and it was wonderful. Fresh, mild, and just the right mix to be enjoyed with a meal. Next, that came out was the Calamari. This fried calamari is tender pieces of calamari soaked in buttermilk, then coated in seasoned flour and deep-fried to light golden brown perfection. A quick and easy appetizer option that's better than what you'd get in any other restaurant! It was light and enjoyed with or without the red sauce that was served on the side. As we finished this, the next course arrived.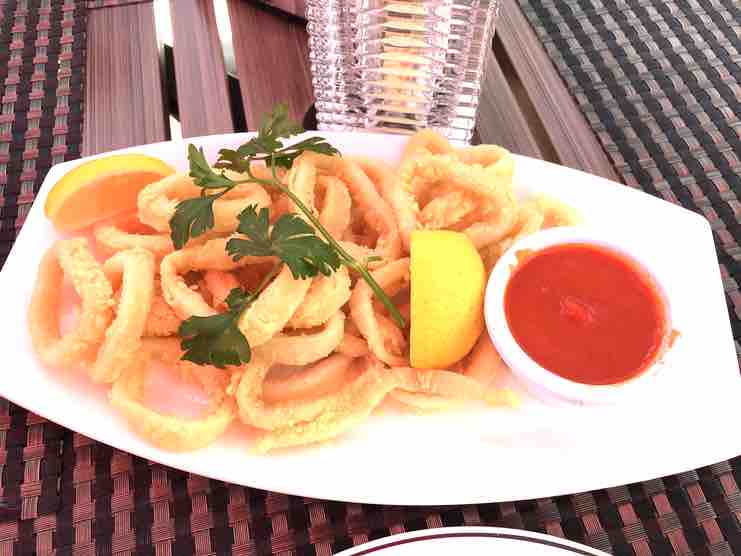 The Appetizers at Lefkes Estiatorio
First up was an order of Spinach Pie with a side order of tzatziki spread alongside. The pie was fresh and handmade. It contained real spinach that had not been frozen. This was fresh from the garden and ready for the meal. 
It was tasteful and delightful. For an appetizer, we also had the Greek Salad. But this was not typical. If you go to a traditional older Greek restaurant you know this is filled with lettuce, tomato, olives, feta cheese, and more. 
Yet, this time Lefkes took it a step higher. It was the same, but different. There were truly fresh large tomatoes that were placed with some thin peppers, olives, and a nice size piece of feta cheese. It was dipped with a light olive oil marinade. When you look at it you can see how fresh it is. But then you tasted it and realized it was new, delightful, and had a light flavor that was easy to eat and enjoy. It was not an ordinary flavor, but one that was new and enjoyable.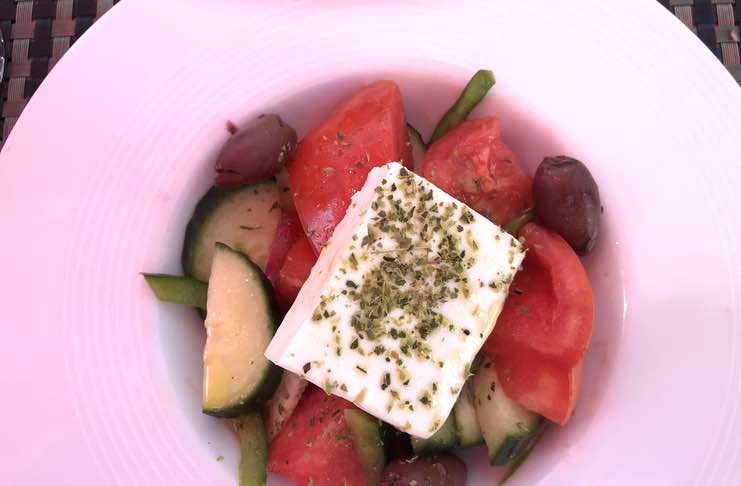 The Entree Was a Step Above 
To start the meal this was perfect. And then out came the entree. This was now a step above. The meal was a good flavor that was also fresh and impeccable. If you ordered it as medium then it was that. It was not less, and definitely not more. It was what we love. 
We had an order of Grilled Salmon, along with an order of fresh vegetables. It was a good and healthy lunch. One bite out of the salmon was perfection. It was ideal, and a good size. And it tasted as if it was fresh from the ocean. The fish came with a small seasoning, but not one that over handled it. It was there. And the vegetable mix included fresh cauliflower, carrots, and broccoli. The flavoring was light, maybe a little butter to coat it. It was direct. 
We also had an order of Chicken Kebabs along with rice and fresh spinach mixed together. It was a large plate and served with some gyro and more traditional tzatziki for texture and flavor. The chicken had been grilled on a skewer with some pepper and onion mixture on the item. It was a good combination that provided flavor, texture and a touch that was unique and traditional.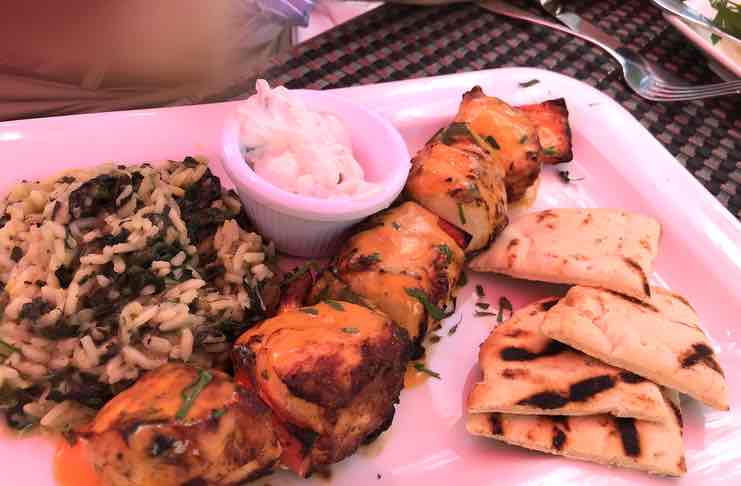 It was delightful as we cut a piece of chicken and took a bite. I even tried some tzatziki on a few bites and it was delicious. Nice, different, and something you wanted to eat. Then, when you had the rice (which had been roasted) along with the fresh spinach you had an item that could have been a separate meal by itself. This was new and unique. 
For us, this was an entree that took time to enjoy and savor. And we did. When you are watching other items go through to the other guests in the area you realize that there is more to try if you had the time. But we had one more course. Dessert. 
The Dessert at Lefkes Estiatorio
With this portion, you received the dessert that you did not have to order. The team brings it to you when the table is cleaned and you are ready. For this time we had a Greek Baklava, which had a scoop of fresh vanilla ice cream topped with a little honey. This was delightful. It was just right. It was simple, sweet, and just right. A size that was fresh, interesting and did not fill-you-up after the meals you had prior to this. Everything was the right amount that was filling and perfect. It allowed you to enjoy everything and feel complete.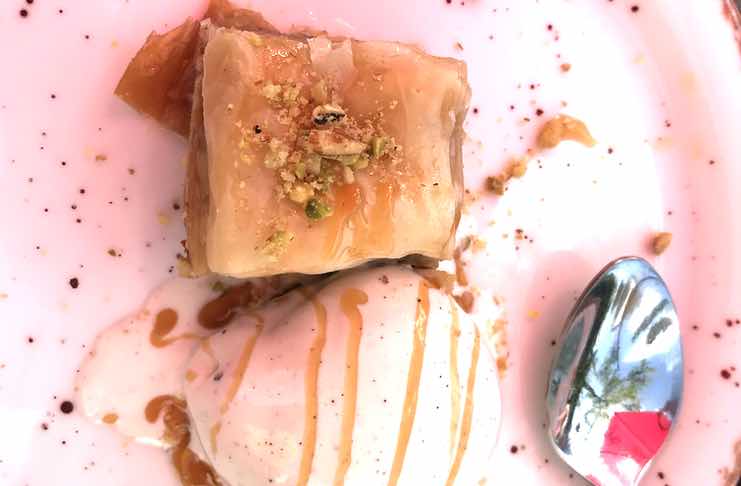 We enjoyed this dessert to complete the meal today. It was just right on all levels. Especially this time. It made us want to prepare for another visit and soon. This would be a new place to attend as it was unique, exciting, and delicious. That is why you want to attend. And why you might want to bring family or friends to enjoy an evening out at a great place to have conversations along with a special meal. 
That was the meal. 
Lefkes Estiatorio. It is a Greek restaurant, especially one that is more upmarket and elaborate than a taverna. It has a simple flavor and style. It is just enough. It has a grand presentation which is well done. All items go together. It is fresh, has spice and taste. It is European food and style with the family and friends we saw there. 
The team is wonderful and experts. The Chef is perfect. Excellent with every course that is made. This is the top. The items from the bar and wine menu are ideal. It is not the ordinary you expect. It is special, different, and brings the flavor needed here. We also met with the owner – Georgia Dumas. She was delightful and spent time talking to us, and everyone there. 
Lefkes Estiatorio is a good place to spend time and have a good meal. You can even have a special event there if possible. We even talked to Georgia about holding a party for our daughter after she is married in a few weeks. Times have changed this year, but next year we can have the event at Lefkes. We were even able to go inside and look at the locations. Perfect for what is required for over 100 guests. Ideal. 
This is a good place to be. I will rate it 5-STARS for this visit. It was perfect. And to use a line we have heard from expert restaurants, Lefkres would use "the layout is easy." That is for everything. 
Enjoy this today. And for a time to come. 
Where? 495 Sylvan Ave, Englewood Cliffs, NJ 07632
Want to call? 201-408-4444
Want to read other reviews of Ron Rossi? Check out his review of Ssundaze and of Ikebana-Zen.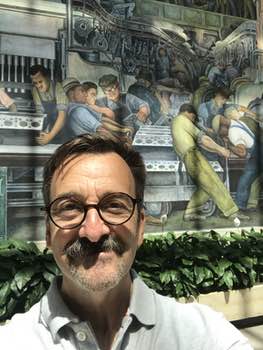 "The Jaded Traveler". Ron Rossi was born and raised in New York. A globalist at heart, Ron is a marketing director by trade, and has lived and worked around the world including Asia, Europe, Africa, and South America. Food is one of the best ways to learn about a country, a people and a culture. So, Ron is always looking for the best in mid-range to budget and street food. He is always on the hunt for a good meal anyone can afford. It is the food of the average citizen that excites him. And with having visited close to 100 countries on 6 continents so far, there have been some pretty good meals.