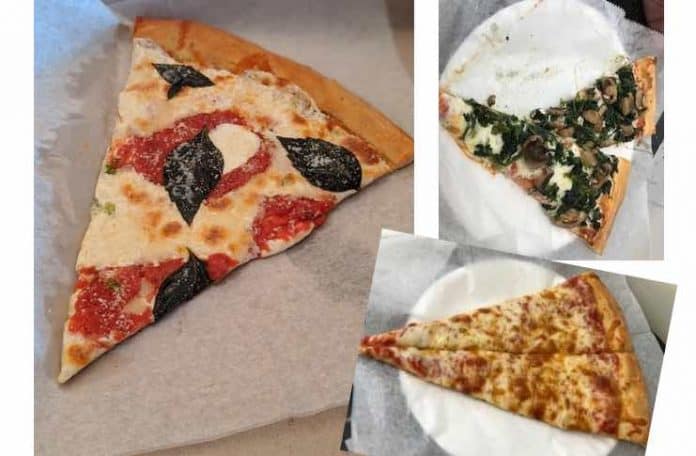 By Ron Rossi
Pizza is pizza. Some are good. Some are bad. And others no one might worry about. It is pizza. 
But, when you find a pizza that is good, warm, and fresh, it is something you want to sit with for some time. To have it delivered in front of you. A slice that you can look at and then take a bite out of. It can be a cheese pizza. It can be something a bit more complex with spinach, cheese, garlic, olive oil, and some sauce. There is a good fresh combination to choose from. 
This is why I love this (relatively) new place, Artistic Pizza NYC. You will find the only shop on West 3rd Street in the village in New York. Founded just over a year ago (before everything happened in today's world), Artistic Pizza NYC has been in the small shop located behind Washington Square Park and just off of 6th Avenue. 
The chief chef – Sagor – is one of the friendliest pizza chefs in the city. He meets you when you walk in, and talks to you not only about the pizza he has there but also about new slices you might want to try. 
It is better than most pizza shops in New York City, or anywhere. When you listen and then decide, everything is possible. Today, we ordered a few cheesy slices to try. We started with a traditional Cheese slice. We then asked for a Mushroom and Spinach slice that included cheese and a light tomato sauce. This was then followed with an all-White slice of mozzarella cheese and a white sauce. There was no tomato sauce or anything else. 
Then, to try a bit more, we had an all Vegan slice of Mushroom and cheese. But, things did not stop there. The last slice they offered was a traditional Margarita slice with fresh tomatoes, fresh basil, and fresh mozzarella. That is it.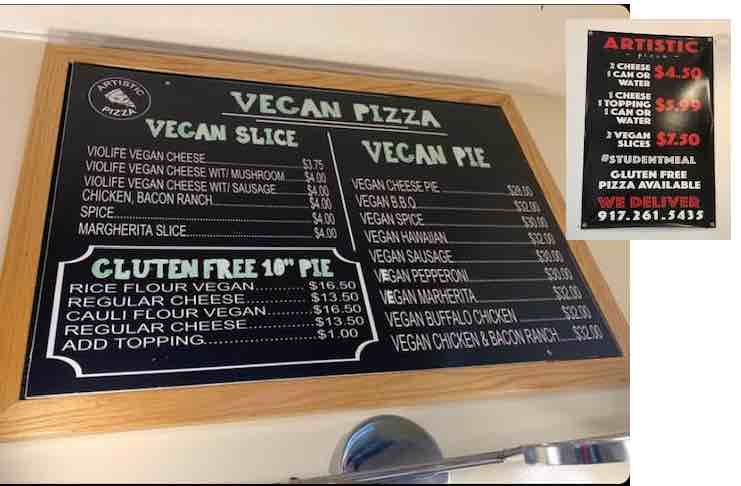 THE PIZZA. Oh my gosh. Perfectly crunchy, chewy, cheesy, delicious goodness. The pie was perfectly designed with the right amount of crust cooked to perfection. The red sauce is rich and flavorful. Cheese and all toppings were high quality. 
We had a variety of flavors and choices. I finished my wife's meals with my meals and when I reached for my last few bites I told her she could only have one bite and had to give it back, and I would be finishing my other slices regardless. 
Next was a Mushroom and Spinach slice. It was fresh and flavorful. The spinach was as if it came from the garden. It was tasty and original. Nothing was hiding as you took a bite from it. The mushrooms were fresh as well. You notice that nothing is overcooked or old. It is fresh from the garden to the pizza slice you have. That is great. 
We then followed with the all-White slice. Made with fresh dough, shredded mozzarella cheese, ricotta cheese, and then some pecorino romano cheese as well, this pizza is super simple to make. You can add some spice on top or have it alone. It is a wonderful complement to any other pizza slices you are having. 
Next up we had the Vegan slice of mushroom and vegetables. This is a new fashion here. It makes it simple for those who waste what they want to eat. The recipe is simplified, yet prepared the same way as a traditional pizza. Just put it together and let it cook. We did notice it seemed to have a little less spice than what we are used to. But it was fresh and tasty. It was a good combination with the white slice or the plain cheese pizza. The two went well together. 
Finally, we had the traditional Margarita slice with fresh tomatoes, fresh basil, and fresh mozzarella. This is nice and different. A little seasoning. A nice flavor and taste. The freshness that can bring you along with it. This was delicious. And a great way to end our selection of flavors, tastes, and feelings for the new pizza we were having today.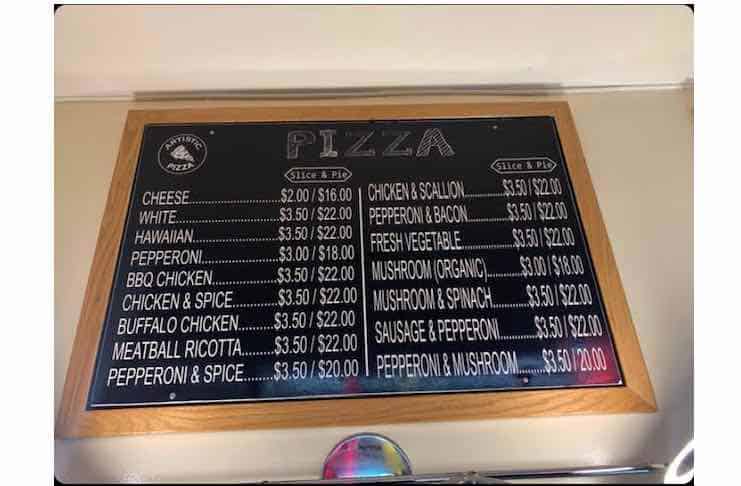 As for the chef/co-owner, Sagor seemed genuinely and humbly appreciative when we expressed our enjoyment of his food. If we were local this place would be a Friday night staple and I would be dragging friends down here for lunch on the regular. 
For as well run as it is I can't believe they only opened in 2019. There is so much potential here. One version shop is to eventually expand a bit. Maybe one side is a traditional pizza. The other side is all Vegan. Two types in one place. This is great. 
Sagor also mentioned that the eventual plan is to add more styles and grow. Think calzones. Things salads. Think of a new dish here and there. 
Finally, the prices and combinations. Everything is reasonable here. What is very nice is that Artistic Pizza NYC does offer a special rate to college students who are attending many of the colleges and universities nearby. Including NYU. It is a great deal for 2 slices and a soft drink for one low price just for a student. A wonderful idea for those that need to be attending school throughout the year. 
Artistic Pizza NYC. It is a small shop with a great (small) team. They were excellent. I tasted a good share of the product and we liked being there. In fact, next time we are in their neighborhood, we shall go back to Artistic Pizza NYC for a few new slices, and a soft drink, while speaking with the team. The shop was great. We'll be back. 
LOCATION: 123 West 3rd Street, New York, New York, 10022 PHONE: 917-261-5435 CHEF/ CO-OWNER: Sagor