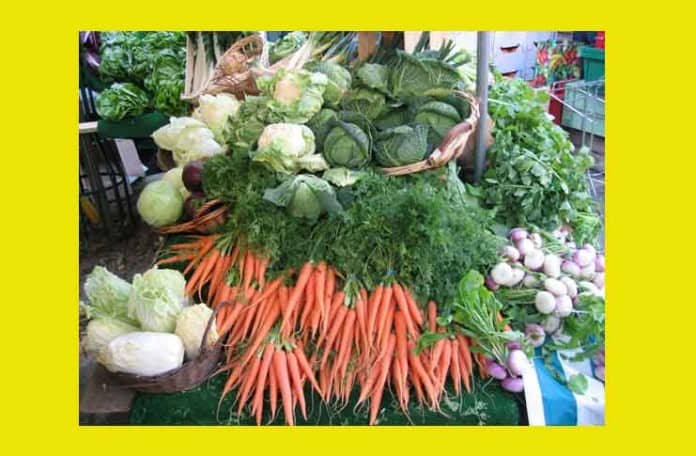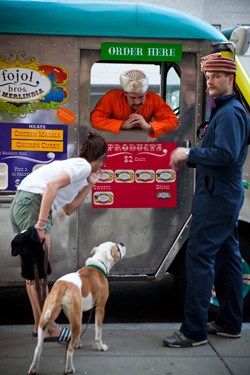 Express Night Out in Washington DC picked through the local food truck scene looking for a way to eat some good, healthy street food without murdering their diet.  Their findings:
Sauca, which serves up flatbread wrap-style sandwiches, boasts that its medi veggie sauca — stuffed with saffron rice, homemade hummus, kalamata olive spread, tomatoes and dill yogurt sauce — is filling without tons of calories.
Sauca prides itself on an array of 22 made-from-scratch sauces, which customers can add to their sandwiches. Waistline watchers should go straight to the charred tomato salsa. Made with onions, grilled tomatoes, garlic, peppers, cilantro and olive oil, "it has the least amount of fats" of all the sauces, says founder and owner Farhad Assari.
Another downtown favorite on four wheels, the Fojol Bros. of Merlindia sell hearty Indian cuisine that might not immediately register as diet-friendly. But co-owner Peter Korbel says the veggie-heavy items on the menu are actually quite nutritional. His top recommendation is the palak paneer entree, which packs a punch with antioxidants and iron (from the spinach) and protein (from the cheese). None of the Fojols' dishes contain ghee, the clarified butter that's often used in Indian cuisine. They serve rice, but not naan — so there's less temptation to over-indulge on carbs. "We try to be as authentic to Indian cuisine as possible, but our chef is pretty health-conscious," Korbel says.
Track down the zero-emissions On the fly carts for locally prepared, natural and organic foods, including light sandwiches and salads. Co-founder Christopher Lynch recommends the locally produced chicken sausage and hatch green chile sandwiches. Another super source for salads – the Sweetflow Mobile truck, which peddles a rotating menu of the salads sold by Sweetgreen shops and fat-free frozen yogurt. [Express Night Out]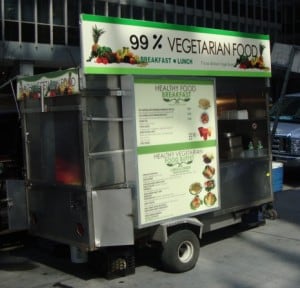 In New York, there are plenty of options as well.  Most of the street carts offer grilled marinated chicken over rice.  If you decline the white sauce, and just get the hot sauce or no sauce at all, that should work.  There are many places that serve this, but we especially like Carnegie John's grilled chicken.
Tacos can be pretty healthy too, if you just get chicken, pork or veggies, cilantro and pico de gallo on the tortilla.  Don't get beef, cheese, crema or avocado on it.  Calexico Carne Asada in NYC and The Taco Truck in NJ are both good options.
Vegetarian food is another way to eat healthy, as long as you stay away from butter, heavy creams and rich sauces.  Most Indian carts, such as the Biryani Cart, have several vegetarian options, and the NY Dosa Cart is strictly vegan, as is the Cinnamon Snail truck in Hoboken.  I don't know if 99% Vegetarian Food is vegan, but they are 99% vegetarian. (Just don't ask about the other 1%.)