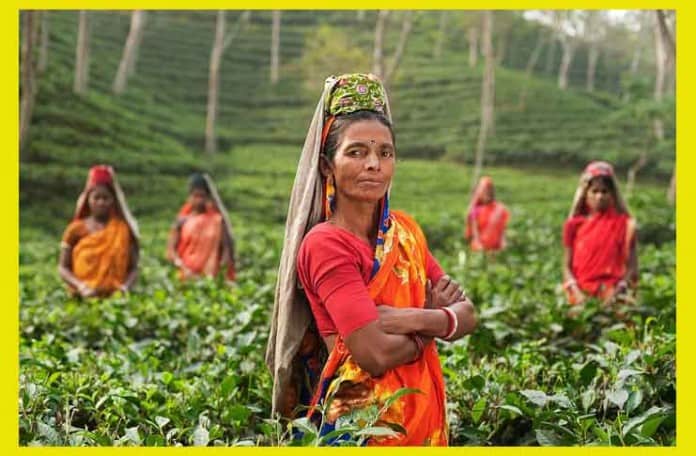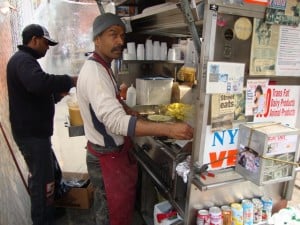 One food cart I have been wanting to try is the NY Dosa Cart, winner of the top 2007 Vendy Award.  NY Dosa Cart is run by Thiru Kumar from Sri Lanka, who is vegan, but you don't need to be a vegan to enjoy his food.  I'm a pretty big carnivore, and this was a great lunch.
Thiru is a friendly vendor who works on the south side of Washington Square Park (West 4th St at Sullivan St) and is well known throughout the NYU community.  Thiru told me he has been serving dosas there for the past 11 years.   A dosa is a crepe made from rice, wheat or lentils that is filled with potatoes, veggies, etc, or nothing at all.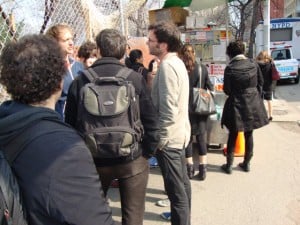 There was a line of around 8 people, and it took 10 minutes to get to the front of the line to order.  Most of the people I spoke with were regulars.  Not having been there before, I asked Thiru what he suggested, and he said the Special Pondicherry Dosa, which was a crepe of rice and lentils filled with potatoes and veggies.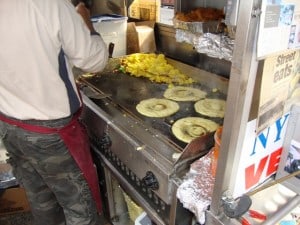 Thiru poured the batter on his grill, after a minute added some potatoes, lettuce, sweet red pepper and onions, and folded it beautifully.  Just before folding it, he asked how spicy to make it, and I said medium spicy, at which point he spread a red paste on the food.  After it was folded, he cut it into a few large pieces and put it in a lunch container with 2 smaller cups.  One was filled with sambaar, a brown semi-spicy sauce with potatoes on the bottom.  The other one had a coconut chutney sauce.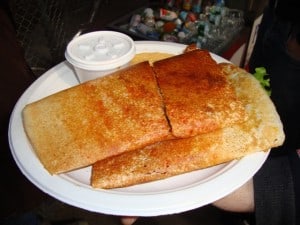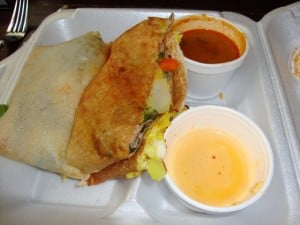 It was a little tricky picking up the dosa, but once I figured it out, each bite was full of flavor.  The curried potatoes, crunchy veggies, lettuce, pepper and onions inside the dosa was wonderful.  Medium spicy was plenty spicy, and I like heat.  Very spicy would have likely been too much.  I tried some of the sambaal, and it was good, but the coconut chutney was even better.
Today's Lunch was a 9.5 out of 10.  If I was a vegan, it would have been a 10 out of 10, but a small piece of me still wanted some chicken in it.  Definitely a place to recommend, and I'll be going back there again soon.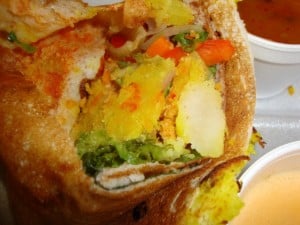 The NY Dosa Cart doesn't have a website, and it's pretty tough to find their menu online, so here it is. Enjoy!