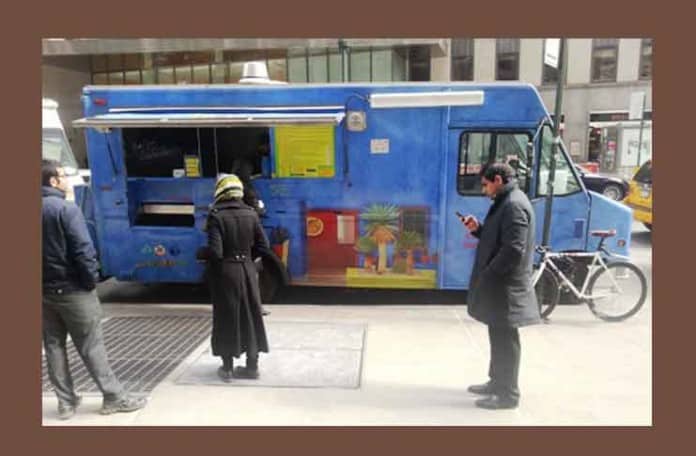 Can it get any nicer out? Sunny, 60's and perfect.  Enjoy some great street food from the carts to the right and the trucks below.  Just don't forget your shades before heading out.
fritesnmeats – Hey Hey FiDi! We missed u & judging by calls we got u missed us too! Were here today! Water & Broad. Taking preorder til 1130. 917.292.9226
StreetSweets – St Sw is on 50 st just of of 6th Av (btw 6&7av).
schnitzeltruck – Morning midtown east. Tis a nice day out to schnitz and be happy. 54th ad Lexington today @ 11:30. 347-772-7341 for 3 order minimum.
CupcakeStop – Broadway & Spring w/ Red Velv,Funfetti,Nutella,Oreo,Van Choc,Choc PB Swirl,PB Cup,Toffee,Ban Strawberry,S'mores,Key Lime & Drunken Raisin!!
4 new tweets. nyccravings – King and Hudson! Ready by 11:10!
schnitzeltruck – The schnitz mobile is stuck in traffic. I wish the schnitz mobile could fly. 54th & lex a little later than 11:30. More like 11:50. Sry
TheTreatsTruck – 11:30-3:30 45th and 6th Ave, 4-6:30 5th Ave btwn 21st and 22nd!
waffletruck – Happy we've moved! We're now on 52 btwn 6 & 7 til 4:30pm. Sing us a 90s alternative rock song substituting in the word dinges=1 free dinges.
RickshawTruck – Awesome Friday Sunniness. Get your dumplings out of your aeron chairs. MIDTOWN 45th + 6av + also serving at CHELSEA MARKET 9av + 15th. 11-3p
CalexicoCart – Finally… Friday!! Both carts are out. Today's special is Braised Beef Brisket served in a tangy roasted jalapeño sauce. Enjoy!
BistroTruck – It looks like we are staying in today as well due to the mechanical problem…we'll keep you posted …
New Jersey Food Trucks
thekrave – 4/23 – 12:00-2:15, Hudson between York & Grand. 12:00-2:00, Hudson & Essex, Inside Liberty Towers Gourmet….
TheTacoTruck – Lunch today in Hoboken @ 1st St and Sinatra Dr from 11:30-2:30. Get your tacos and the nice weather before it is…
Make sure you check the pink Mobile Munchies twitter feed on our homepage before heading out.  You never know when a film shoot, broken water main, police, or something else will make your favorite truck move locations.  Wafels & Dinges already had to move once this morning after parking.