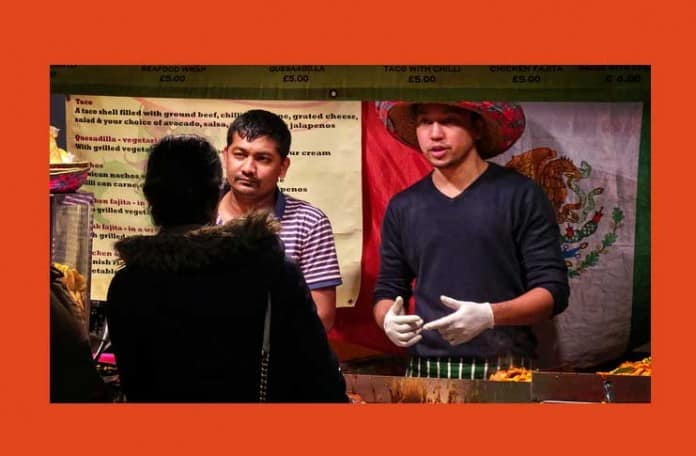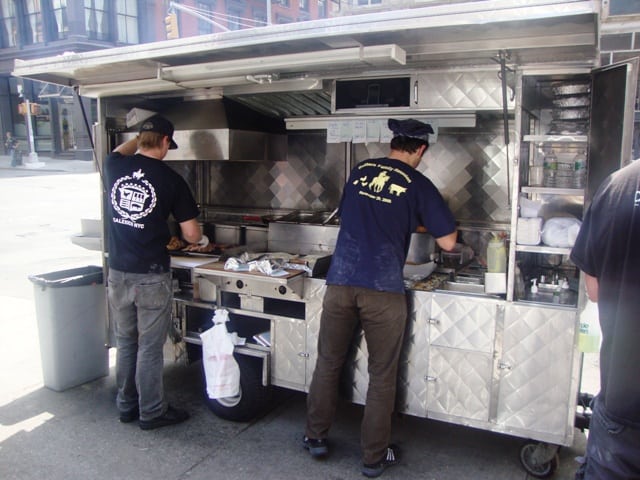 With the decent weather, I went downtown for some tacos from the Calexico Carne Asada cart, the 2008 Vendy Award winners.  They have 2 carts – one with a full menu on Wooster St just north of Prince St and one with an express menu on Broome St just west of Crosby St.  They also recently opened a restaurant in Carroll Gardens, Brooklyn last year that just won the Time Out Readers Choice Award for 2010 for Best New Mexican restaurant.  The Vendley Brothers are on a roll (or is that a tortilla).
The cart with the full menu (Wooster St) often has a wait of around 30 minutes, so I went to the express cart on Broome St.  There were around 12 people waiting for their orders but the line was only 2 people.  I ordered 3 tacos – one carne asada ($4), one pollo asada ($3) and one chipotle pork ($3), all without pico de gallo, as I don't usually like tomato.  He said it would take around 10-15 minutes, which was pretty accurate.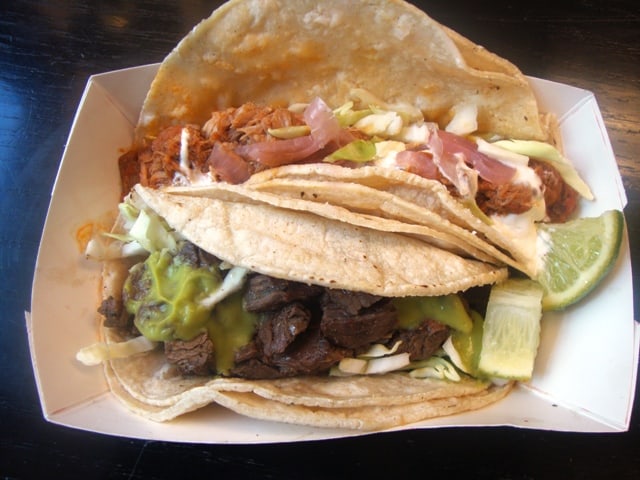 When my order was ready, there were only 2 tacos included – the carne asada and the chipotle pork – even though I ordered 3 tacos.  The bag felt pretty heavy and I didn't really have time to wait for the pollo asada taco to be made, so I gave him $7 and headed back to my office.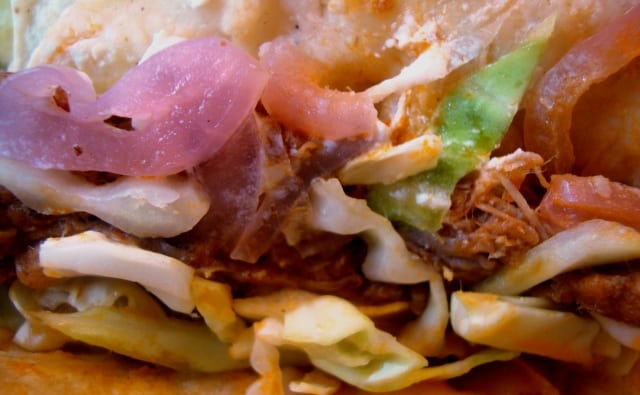 First up was the chipotle pork taco, which had pickled onions, shredded cabbage and crema (similar to sour cream).  I squeezed on some fresh lime juice and took a bite.  Very tasty taco.  The pork was somewhat like pulled pork with a smoky flavor and a little spiciness (not a lot), but certainly not a ketchup-y or sweet flavor that pulled pork can have.  The pickled onions were an inspired choice, and the taco was very enjoyable – but on my second to last bite, some grease came out the far end and landed on the carne asada taco.  Oops!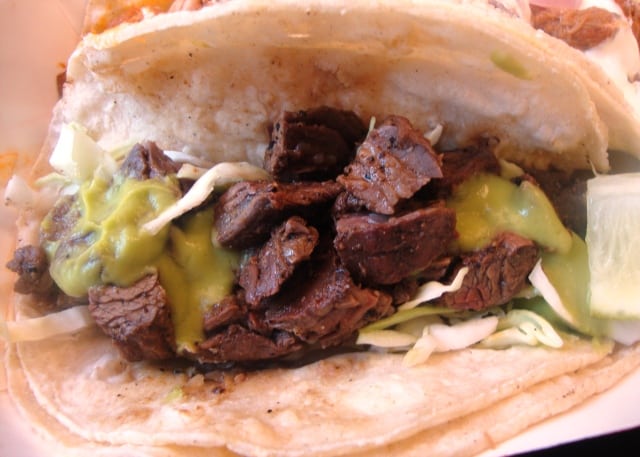 I cleaned up the carne asada taco, squeezed on fresh lime juice and took a bite.  What greeted me was the wonderful taste of grilled marinated skirt steak with avocado crema on top.  Both the marinade and grilled flavor were quite pronounced.  This was yet another example of a food vendor with a dish in their name (carne asada) where that dish was awesome.  The only thing that would have made it better was some onion, either raw or grilled.
The carne asada taco was great but not spicy at all, so I added some hot sauce to the last bite.  They offer packets of Cholula hot sauce on the side of the cart, but I must say, it was better without the packaged hot sauce, which obscured the grilled taste of the beef.
The Calexico Carne Asada cart has some of the best street food around.  Today's Lunch gets a 9.5 out of 10.  The carne asada taco was excellent, as was the chipotle pork taco.  But they lose a little for the (small amount of) grease dripping out of the pork taco and for messing up my order.  It turned out that 2 tacos were enough for lunch, but I did order 3, and wanted to try the pollo asada taco too.
A lot of people seemed to order burritos, which were $6-$8, and they also have "rolled" quesadillas for $5-$7.  I may try one of those next time.