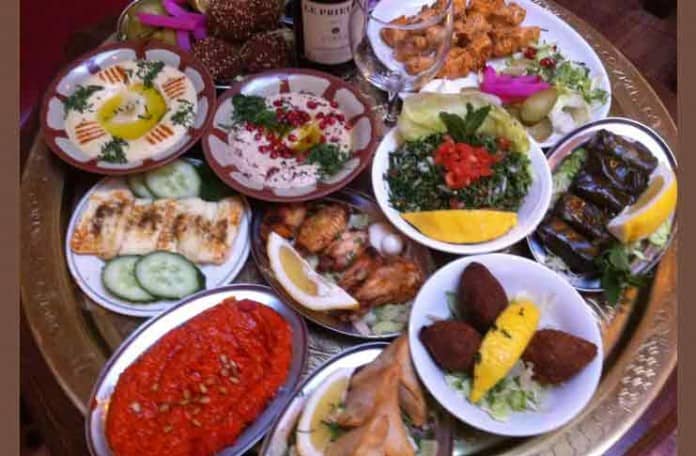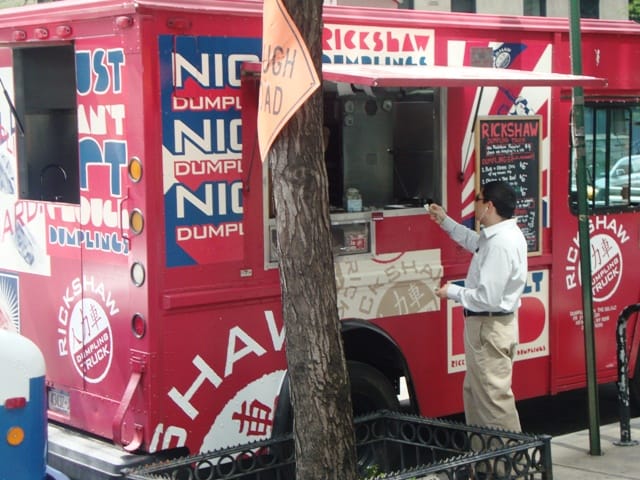 It was another crazy day, so I didn't have time to go anywhere but right near my office for lunch.  Being by 57th & Broadway, there aren't a lot of good food trucks or carts around here, but the Rickshaw Dumpling Truck parks on 57th St & 8th Ave every Wed (this lunch was yesterday).
I've had Rickshaw dumplings several times, and while I can't say they are the best dumplings you'll ever have, with the lack of Chinese restaurants in this area, they have become my go-to place for dumplings.  My favorite so far were the thai chicken & basil dumplings, but I've also had the edamame dumplings and the shrimp dumplings.
Today's Lunch was pork & chive dumplings, their daily special (yesterday).  You get 6 dumplings for $6, and I also got a side of cold chili-sesame noodles, which was $3.  I also asked for some hot sauce, which included in the bag.
With dumplings, the wrapper is important, and I liked the wrapper on these dumplings.  They weren't paper thin, but they weren't too thick either, and had a springy (but not chewy) texture.  The filling was minced pork and chives, and I could see some minced bamboo shoots, too.  The filling was a bit bland.  It could have used some soy sauce in the pork and chive mixture, but a little dip into the soy-sesame dipping sauce, and everything was fine.  The dipping sauce was good, but a little hot sauce in the dipping sauce made it even better.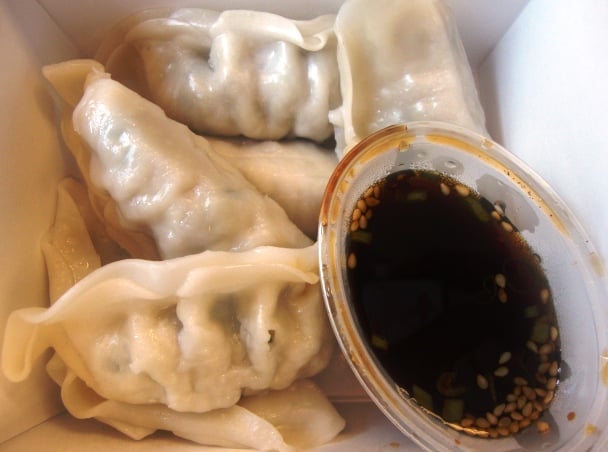 The cold chili-sesame noodles is a nice side dish.  There are carrots, black sesame seeds, black pepper, a few bean sprouts and scallions. There is a slight spiciness to the noodles, but I asked for some hot sauce on the side, which was great added to the noodles.  If you want a hot sauce with some heat, this is it.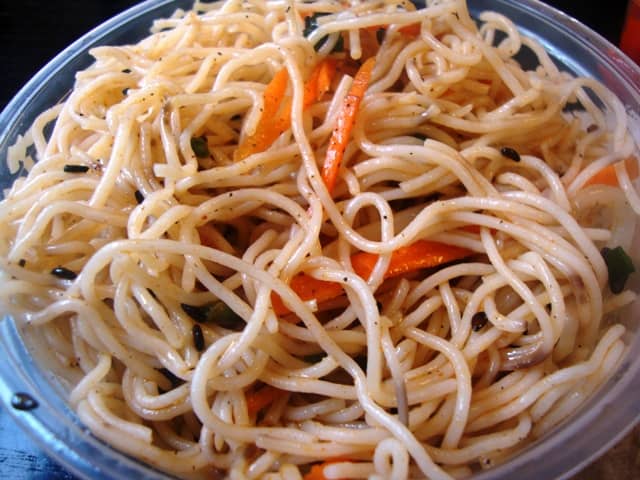 Today's Lunch gets an 8 out of 10.  You will find cheaper dumplings and possibly better dumplings at your favorite Chinese restaurant, but Rickshaw Dumpling Truck is what's near my office, and they are quick and decent dumplings.