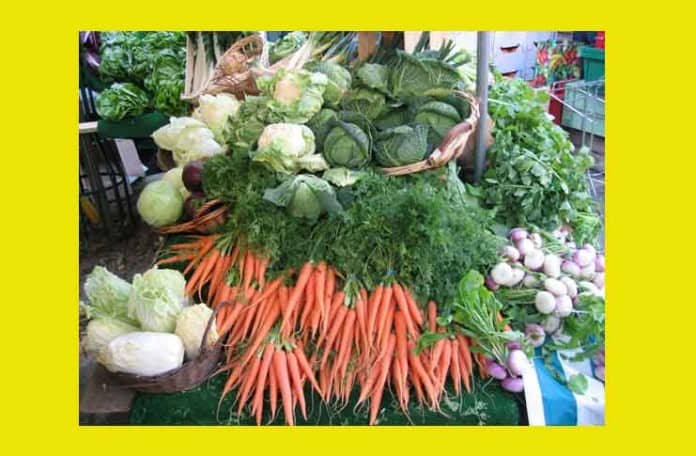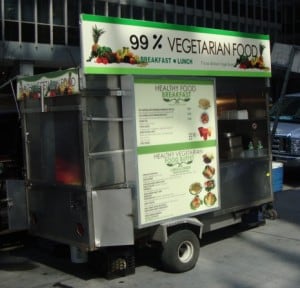 UPDATE – The 99% Vegetarian Food cart has moved downtown to the corner of Broadway and Liberty St.
I wanted to try something different for lunch today, so I stopped at the 99% Vegetarian Food cart on the north side of West 52nd St, just west of 6th Ave (between 6th & 7th Ave).  I'm a notorious carnivore, but have walked by this cart a few times and it smelled and looked real good.  They have been in business for around 4 months, and they told me things were going well.  Although there's no line in the picture, there was a steady stream of people stopping by for lunch today.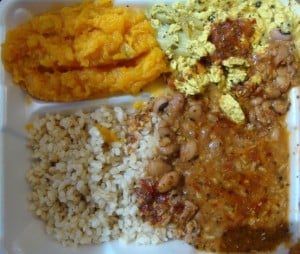 They have veggie "burgers" and veggie "chicken" grilling in the cart, but I'm not a vegetarian, so I couldn't quite bring myself to order fake meat.  Inside the cart, they also have a lunch "buffet" for $6, which gives you a choice of any 4 items from a choice of around 10 items.  The buffet looked and smelled really good, and it became Today's Lunch.  I selected the brown rice, vegetarian chili, scrambled curried tofu and mashed sweet potatoes.  He asked if I wanted hot sauce, and I said to put some on the chili and scrambled tofu.  Of the items I didn't choose, there was a pasta and sauce of the day, and a couple of other things I can't recall.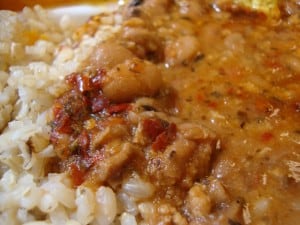 First up was the chili, which I put over the rice before eating.  It was tomato based, full of beans, and had a bunch of herbs and spices.  It was pretty good with the hot sauce, which picked up the flavor a bit.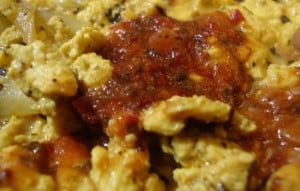 Next up was the scrambled curried tofu, which doesn't sound that good, but it was very similar to scrambled eggs in look, taste and texture.  It was very enjoyable, but it was already a bit spicy from the curry powder, so next time I won't get hot sauce on it.  This dish was the biggest surprise.  I generally like tofu, and this looked like scrambled eggs, but I wasn't expecting it to taste like scrambled eggs.  Good job guys.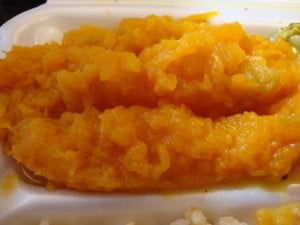 Last up was the mashed sweet potato.  I've always loved sweet potato.  It's one of my favorite things about Thanksgiving.  But I must say, this was one of the best mashed sweet potatoes I've had.  It was smooth and chunky at the same time, and somewhat sweet, but not in a sugary way.  Definitely my favorite dish of the meal.
Today's Lunch was a strong 9 out of 10, and would probably score higher among vegetarians.  When I get tired of street meat, 99% Vegetarian Food will ably take its place.  Next time I'll have to ask about the other 1%.