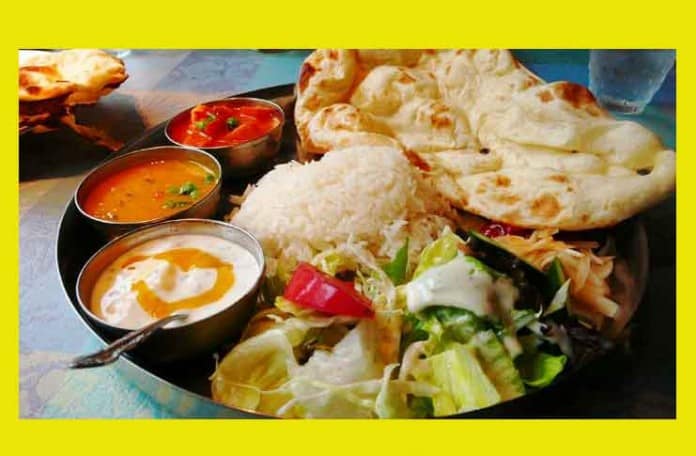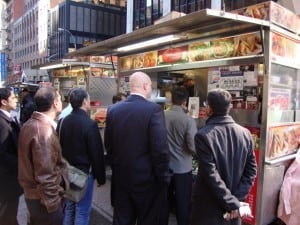 Today brought the first harbinger of spring to New York, and it was busy on the street food scene.  Since it was almost like a celebration outside, I decided to go to the Biryani Cart, the People's Choice Vendy Award winner from the 2009 and 2008 Vendy Awards.
I was originally thinking of getting their namesake biryani, but the daily special caught my eye.  It was a combo of grilled salmon and shrimp over rice.  I've been eating a lot of meat lately, but love seafood, too.  This was just the opportunity I was looking for.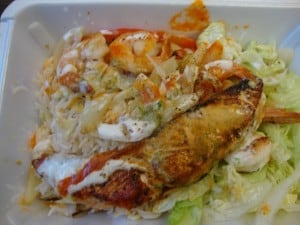 There was one long, thin piece of grilled salmon, with drizzles of hot sauce and white sauce over it.  There also appeared to be some black sesame seeds on it.  It was perfectly grilled and delicious.  A bit lighter than I usually have for lunch, with a little kick from the sauce.  Excellent.
The shrimp was also perfectly grilled, and had a slight sesame flavor, too.  There were 4 nice-sized shrimp in the platter, and the sauce gave them a little kick, too.
As always, the basmati rice at Biryani Cart is really good, as you would expect.  They also included a small salad, but it was just some shredded lettuce.  Not their strong suit, but nobody goes to Biryani Cart for the salad.
Today's Lunch was a pleasant change of pace after stuffing myself on Saturday at a wedding. (Can't get enough of those cocktail hour hors d'oeuvres.)  The grilled salmon and shrimp combo over rice ($7) was as close to perfect as it can get.  IMHO, Today's Lunch gets the first 10 out of 10.