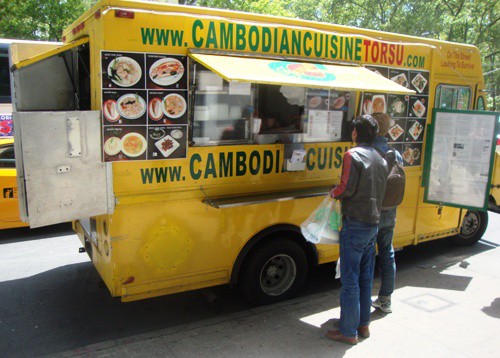 Ever heard of Char Kway Teow? Well, one of the more interesting food trucks in NYC is Cambodian Cuisine Torsu.  The owner, Jerry Ley, and his wife Christine, came to America 30 years ago as penniless refugees from Cambodia.  On my first visit to the truck, Christine told me that "torsu" means "don't give up" in Cambodian, and the slogan over the truck doors says "On The Street Looking To Survive".  They've had some difficult times, but have not given up.
Jerry's passion is cooking Cambodian food for people.  The truck first came out a little over a year ago serving only dinner from 6-11pm by the NYU Welcome Center.  They were off the road over the winter, and are now back serving lunch around the Flatiron District and dinner by NYU.
On this visit to the truck, I went for #10 on the menu, Char Kway Teow koke for $5.95.  I also wanted to try an appetizer, and got a #3, mchoo soup ($3.95).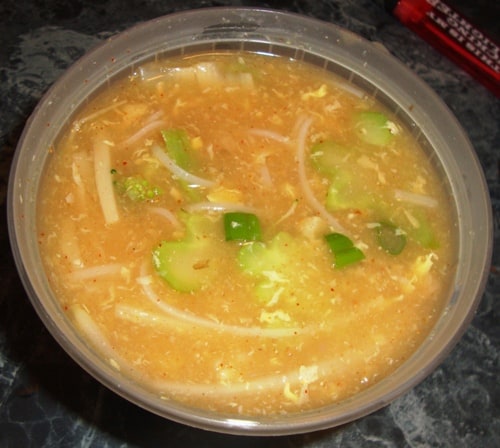 I started with the mchoo soup.  If you want to know what mchoo soup tastes like, imagine if egg drop soup and hot & sour soup got married – that's it.  It was pretty vinegary, had a bunch of egg in it, and was spicy.  The broth was thick and had a few big pieces of tofu, sliced bok choy, scallions, bamboo shoots and vermicelli noodles.
The Char Kway Teow koke was a sauteed wide rice noodle and chicken dish with lots of additions.  By additions, I mean small pieces of scrambled egg, cabbage, garlic and a few green vegetables like baby bok choy and Chinese broccoli.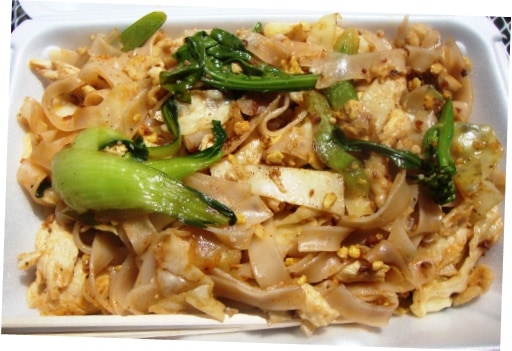 The sauce was a little spicy, but not overly so.  With plenty of sliced white-meat chicken, noodles, greens and egg, I really enjoyed this lunch.  I didn't need the soup, the noodles were plenty, but I wanted to try two different things.
The best way to find Cambodian Cuisine Torsu know is to follow them on twitter account here or our Mobile Munchies twitter feed.  They are usually by NYU for dinner, but are still trying different areas for lunch.