Cute Charcuterie
Charcuterie boards used to be reserved for wine farms and the fanciest of upper-class get-togethers, but these days the humble charcuterie or cheese board makes an appearance at most parties, in one form or another. If you're looking for a cheese curated board for your next party, you could order one online to take all the hassle out of the process for you. If, however, you want to go it alone and step into the wonderful, wide world of cheese and charcuterie, then we have all the info you'll need, right here. Read on for our seven simple steps to the perfect cheese board, and thank us later.
The Board
You can't have a cheese board without a board, now can you? The bigger the better, if you ask us. Most cheese boards are wooden, but really there are no rules here. If you have a huge, beautiful serving dish that you just never get to use, why not use that instead of the standard board? You'll also need little sauce dishes to serve any sauces or dips in. Serving them straight out of the containers that they came in is a big no-no. You want your guests to leave the party and talk about how gorgeous the serving ware was, not how tacky the plastic containers looked.
You'll also need to have napkins, toothpicks, and little side plates for your guests to load up with all your delicious cheese!
Keep It Simple
It might be super tempting to get a little crazy with your cheese boards, especially over the holidays. Instead of going for pumpkin-spiced this or cranberry that (unless it's cranberry and brie!), stick with the classics. Sure it's really fun to carry the theme of a party through all the way to the food, but the classic is always better. You're more likely to have guests really enjoy the food if you just keep it simple.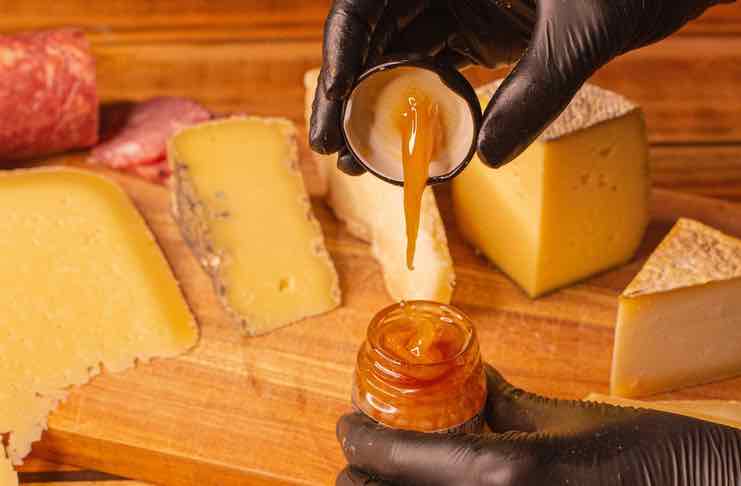 Work in Patterns
When you set out the cheeses, dips, and charcuterie on your board. Don't just dump all of one thing in one spot and all of the other things in another spot and call it a day. Imagine that your cheeseboard is a zen garden and you've got the rake! Arrange the cheeses, crackers, meats, fruit, and veggies in interesting patterns. Not only is this lovely to look at, but it might also convince your guests to try interesting food combinations that they'd never thought of before.
The Cheese
Obviously, this is the most important part of any cheese board! While we stand by what we said about keeping it simple, simple doesn't mean boring. When you're curating a cheeseboard, you should have about four different types of cheese for guests to choose from. Here are our recommendations.
Soft Cheese: These are the gooey, spreadable, creamy cheeses that everyone adores. You could try a baked brie, crumbly goat's cheese, fresh ricotta, or buffalo mozzarella.
Blue Cheese: These are the ones that the less cheese savvy hosts usually stay away from, but don't be scared! Blue cheese is pungent, yes, but delicious as well, and no cheese board is complete without it. Try Roquefort or Stilton, or gorgonzola if you're feeling gunshy. Here's a nice list of great Blue Cheeses. 
Aged Cheese: These are usually more along the line of what you might eat on a regular day: try Parmesan, Gouda, or Gruyere.
Firm Cheese: Hello Manchengo and Asiago! It's your time to shine.
The Meat
While a cheese board is called a cheese board for a reason, no party nibbles would be complete without meat! These are pretty easy to decide on: things like prosciutto, salami, and mortadella always go down a treat.
If you have non-meat-eating friends attending the party, be sure to separate all the snacks so that no meat touches anything else, and have vegan "meat" substitutes available.
The Fruit and Veggies
Adding fruit and veggies to a cheeseboard isn't just about health, it's about mind-blowing flavor combinations as well! Adding fruit, vegies, olives, dips, and honeycomb to the board offers a plethora of different flavor options for guests to select from and try.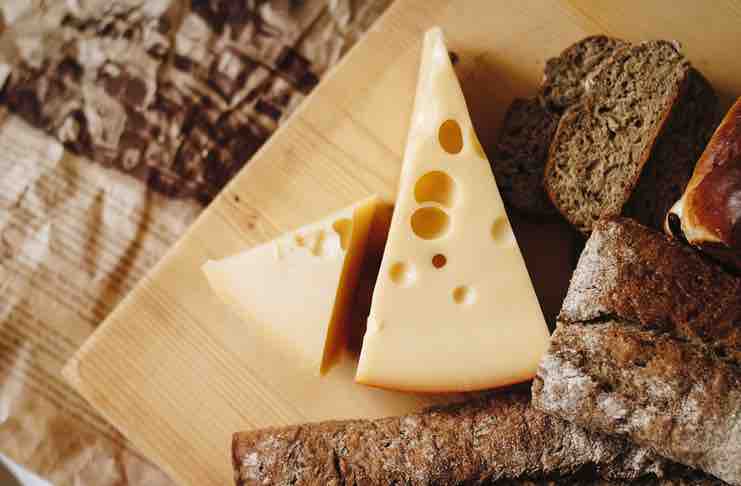 The Crackers
The cracker should never be the star of a cheeseboard. A humble water cracker is usually the best option, as it provides a neutral base on which guests can showcase their combination of cheese, meat, fruit, veggies, or dip.
Wrap Up
If you follow our seven simple steps, the perfect cheese board is only a few minutes away. Good luck and bon appetit!
Want to read more of our latest posts? Learn what are the different types of Butter that exist today.