Living in a metropolis as large as New York, often known as the City That Never Sleeps, has numerous perks. It is also the melting pot of different cultures, so there also won't be a shortage of different cuisines to try. The streets are always busy as this is the home to over 8.3 million people. This is what makes it so tight in space.
If you find yourself craving BBQ, you might struggle to enjoy one in the comfort of your home as the New York state grilling laws might prohibit you from doing so. You should check it out before lighting up your grill to enjoy that sauce-slathered meat you have been craving.
So here are some ways to enjoy BBQ in New York City:
1. Know Your Grilling Laws
If you're living in New York City, it's common knowledge that there's a shortage of space to accommodate a proper grill to enjoy your BBQ. While it's not entirely banned from having BBQ in your apartments or condos, the residents should comply with specific rules to avoid safety hazards in your living space. These rules depend on what type of barbecue grill you will use, which is regulated by NYC Gas and Fire Codes. Here are some safety standards you need to follow depending on your grill:
Propane grills use liquefied petroleum gas in cooking. It's highly combustible, so storing LPG larger than 16.4 ounces can be a source of a severe fire hazard. It is unlawful to use this on a roof, roof deck, balcony, or courtyard if you live in a residential building with more than two apartments.
This is legal to use at all apartment buildings' terraces or backyards. But it's prohibited on a roof or a balcony. As long as your charcoal grill doesn't exceed 10 square feet, you can operate it as long as you're near a fire extinguisher or water source.
Natural gas grills are legal to install and use at all residential properties as long as they're only used for personal use, not commercial. It should also be installed by a professional plumber and regularly inspected according to the gas code. Same as the charcoal one, it should not exceed 10 square feet in size.
Installing, using, and maintaining these barbecue grills is lawful on all residential premises, including roofs, terraces, balconies, and yards. The only downside of this type of grill is it uses a hefty amount of electricity.
2. Try Different Foods To Grill
Now that you have a place to cook, it's time to grill your meats according to your liking to enjoy them. Barbecuing is more than just tossing meat on the grill. Many pitmasters are dedicated to this craft. So here are some tips for incorporating into your next meat grilling session:
Marinating your meat before grilling it can provide even more flavor. For beef and pork, you can use a dry rub. For chicken and turkey, preserve a layer of fat to retain moisture.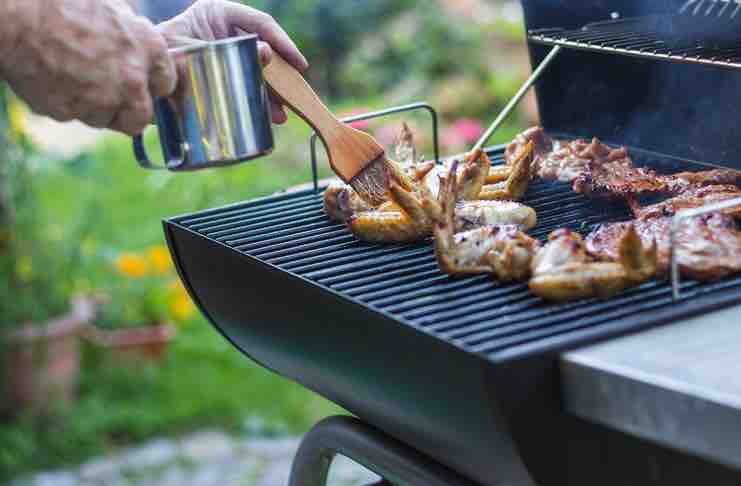 For thick cuts of meats, it's best to grill them over direct heat. To test their doneness, use a meat thermometer because you can't tell just by looking at it on the outside.
Aside from the meat, you can also grill vegetables and fruits to have side dishes. Seafood is another excellent alternative for pork, beef, and chicken. Remember to use foil when grilling vegetables like potatoes because it takes a lot of time to cook because of its density. 
It would be best if you parboiled it first to get it fully cooked. You can barbecue it directly to the grill if you're aiming for the grilled marks. Barbecued fruits like bananas and pineapples are great as desserts. Here are some more grilling tips you should know.
3. Grill BBQ In Parks
One way to enjoy BBQ is having a cookout in New York parks. You can invite your friends to have a picnic while you enjoy cooking with the scenic view. But you have to note that some parks might have specific requirements like permits, so you have to book beforehand. 
They also prohibit open fires, propane, and ground fires. Instead, use charcoal in the marked drums in the park to cook. Make sure also to bring water to extinguish the fire after grilling. Aside from that, you have to keep the grills away from trees at least ten feet away to avoid catching fire to the overhead branches.
Where do we love grilling in NYC? Our favorite Park in NYC for BBQ is definitely Riverside Park, which stretches from 72nd St. to 158th st and overlooks the Hudson River. There are designated BBQ areas at West 145th, and for leisure that comes after the meat – do some kayaking or canoeing.
Other great parks for BBQ in NYC are Randall's Island Park, Ferry Point Park, and Queensbridge Park.
4. Visit NYC's BBQ Restaurants
When you think of New York and its local cuisine, what probably comes to mind is New York pizza and its famous bagels. While smoked brisket and juicy spareribs are widely known for being the specialty of the South, NYC did not fall behind from having the best BBQ restaurants. They specialize in various barbecue styles, including regional and global. They also offer grilled hotdogs and sausages if you're into that. Here's a list you should keep.
Final Thoughts
New York City is a melting pot of different cuisine, ranging from Western, Asian, Caribbean, etc. If you're craving that unique, smoky, black grilled, charred marks on your meat, there are various ways to grill. But if you don't have a place to grill, you can opt to go to a restaurant to satisfy your hunger.
Grilling is a serious business in NYC because of the potential fire hazard. You can't just grill anywhere you like, so check the NYC Fire and Gas Codes first before doing anything. It's better safe than sorry.
Business woman. Traveler. Self-Declared Host. If you're here, you know the amazing, hits-the-spot feeling of good coffee. The key to my heart (and to keeping the engine running) is coffee, and I've sipped and savored A LOT of coffee over the years and around the world. I'm on a mission to bring great coffee and the warm fuzzy feeling of coffee culture into your home and life, every cup, every day, every time.