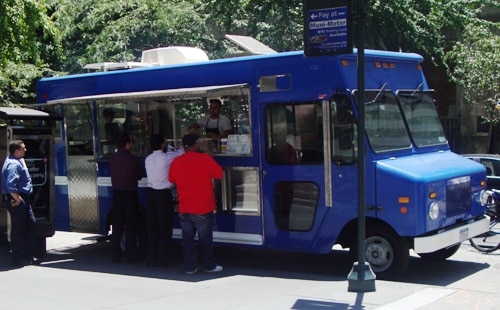 We all know Uncle Gussy's Truck, a food cart on the corner of Park Ave & 51st St since 1971 (and upgraded to a truck last year) has delicious homemade Greek food. While their regular menu is enjoyable, we are always on the lookout for their Daily Specials. They usually cost a couple of bucks more than regular menu items, but we feel it's worth it.
A recent special was shrimp souvlaki with pineapple habanero salsa for $11. In addition to shrimp and rice, you get a large Greek salad.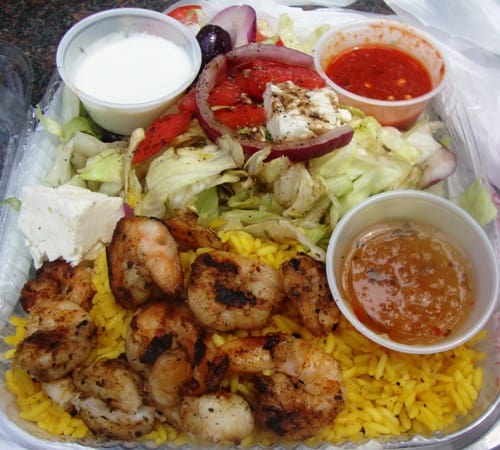 Opening the container, there were about a dozen small-to-medium shrimp served atop a huge mound of yellow rice. The shrimp weren't big, but there were a lot of them. The shrimp had that tasty charcoal-grilled flavor we all know and love.
There were 3 sauces available at Uncle Gussy's for this dish: pineapple habanero salsa, tzaziki sauce and hot sauce, and I tried each one.
In my opinion, the pineapple habanero salsa was perfect for this dish. It was thick, sweet and spicy, with small chunks of pineapple. The fruit played off the charcoal grilled shrimp really well.
We love the tzaziki sauce at Uncle Gussy's Truck, which is thick, garlicky, and actually made by their Mom, but it was not the right sauce for shrimp. If you get chicken or lamb, definitely order the tzaziki sauce.
The hot sauce was nice and hot, and was good for a couple of shrimp, but a dozen shrimp dipped in hot sauce isn't my idea of a great lunch. Hoever, with chicken or lamb, the combination of their tzaziki sauce and hot sauce is a tough one to beat.
The yellow rice was plump, and you could tell it was made with some chicken broth instead of just water.
If you like Greek salads, Uncle Gussy's is the place for you. Lots of lettuce, tomato, red onions, olives, roasted red peppers, blocks of feta cheese, balsamic vinegar and oregano. Come to think of it, a Greek salad with grilled chicken would be a great lunch to order here.
Uncle Gussy's is on the SE corner of Park Ave & 51st St, as they have been since 1971. Check their Twitter here or our Mobile Munchies twitter feed to see their Daily Specials.
If it's a hot day, you can also get Greek frozen yogurt for dessert at their new stand called Pago, right next to the truck. If it's not hot, homemade baklava made by their Aunt Georgia is also wonderful.