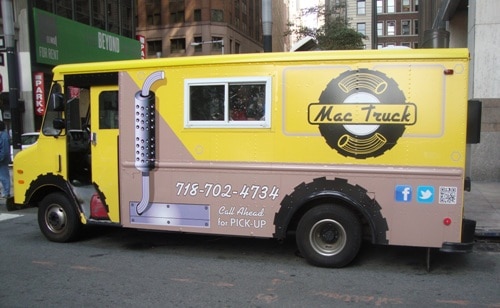 It was a cold and wet day yesterday (like today) and the Mac Truck was only 2 blocks from my office, on 55th & Broadway. We can't think of a better way to warm our insides on this bone-chilling day than with a Buffalo Chicken Mac and Cheese.
Dom has made a few minor changes to the menu. Now he offers small and large sizes. The classic mac & cheese is priced at $6/$8  and the specials are $8/$10.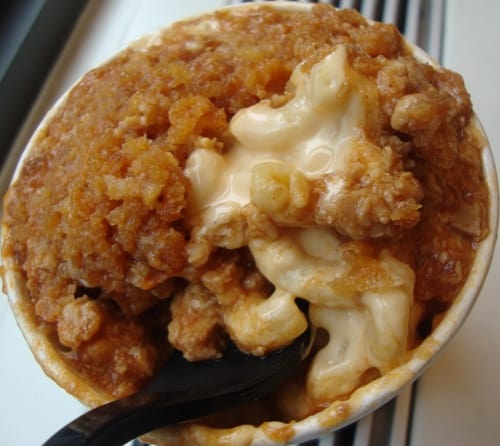 You know they care about the customer at the Mac Truck because when you place an order for one of the special macs, the first thing they do is put some of the special ingredient on the bottom of the cup.
Then they add mac & cheese, then more of the special ingredient is added on top. This gives you plenty of flavor all the way through, to the bottom of the cup.
The Mac Truck's buffalo chicken was tasty. It was tangy and vinegary, but also slightly sweet. Nice job on the buffalo sauce.
The chicken itself was minced into very small pieces. This gave you plenty of buffalo taste, but not much of the chicken flavor. One thing we would suggest is making the buffalo chicken pieces small bite-sized.
But the main reason to go to the Mac Truck is for their (duh) macaroni & cheese. We previously explained the 3 cheeses used in the sauce, and the secret ingredient used as a base towards the end of our NYSF First Look. It's worth a read to see how the Mac Truck gets that deep, rich flavor in their mac & cheese.
As we were waiting on line, it got pretty long behind us, but Dom told us he is working on that problem. He recently ordered a significantly larger truck that will be ready some time in April.
They aren't going to 2 trucks, but are moving to a larger truck, which should help the preparation move faster. If there was a line of a dozen people in this crappy weather, it will get much worse once it starts warming up.
To find the Mac Truck, check Twitter here or our Mobile Munchies twitter feed.
We would love it if the Mac Truck made 55th & Broadway a regular stop on Thursdays.  That way we can try a bacon cheeseburger mac & cheese next time, which sounded off the hook.