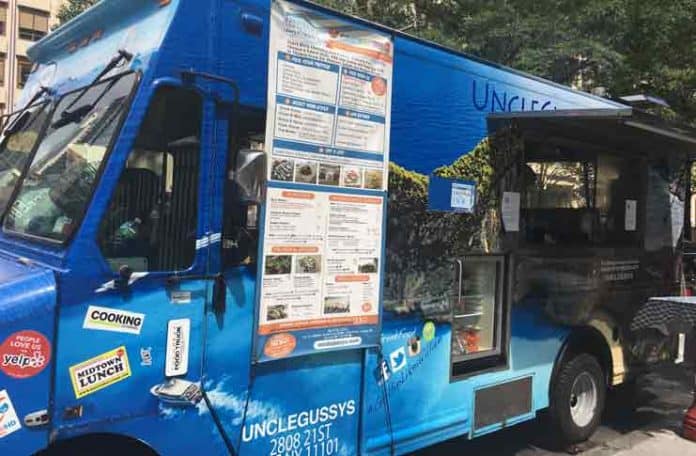 I recently had some friends in from out of town, and in addition to showing them the sights of New York City, we made our way through the streets sampling the multitude of cuisines Manhattan has to offer. In our travels, we stopped by Uncle Gussy's Greek Food Truck for some traditional Greek fare.
Uncle Gussy's has been a neighborhood fixture at 345 Park Avenue and East 51st since 1971. It started as their uncle's food cart which vended hot dogs and pretzels, but now co-owners Nicko and Frank have been vending from their distinctive bright blue truck, complete with a line of customers, for the past 8 years.
We arrived at Uncle Gussy's after the lunch rush, but there was still a steady flow of regular customers getting their fix. I say fix because our meal was nothing short of addicting.
At the suggestion of Nicko we had the souvlaki– and what a good suggestion it was. Inside a doughy, lightly toasted pita, and under fresh lettuce and tomato, sits the most delectable treat: marinated pork shoulder, which has been grilled, not a flat grill as Nico noted, but on a barbeque which enhances the flavor, leaving each bite to melt in your mouth. Really, it did. And, since it was prepared by Nicko's mother Katerina, it truly captured the Uncle Gussy spirit of fresh and homemade.
What brought this dish together was what Nicko and Frank consider their "specialty"—the tzatziki sauce. I agree. It was traditional Greek, with a creamy yogurt base, but there was something else included– a "secret ingredient" which they say is "our Greek mother's love and passion." Given that, there truly isn't another sauce like it.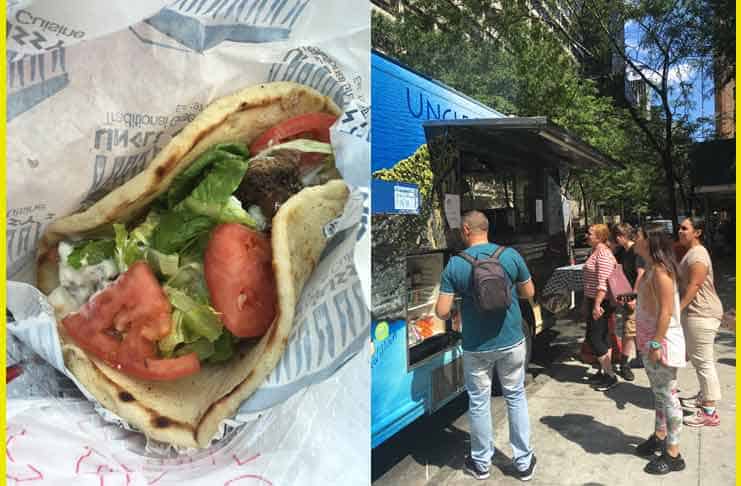 As if all of this wasn't tasty enough, our souvlaki was accompanied by an order of fries. But these were not just any fries, these were seasoned fries—Gussy style; cut potatoes, deep fried then tossed with Greek oregano—both the taste and the aroma were incredible.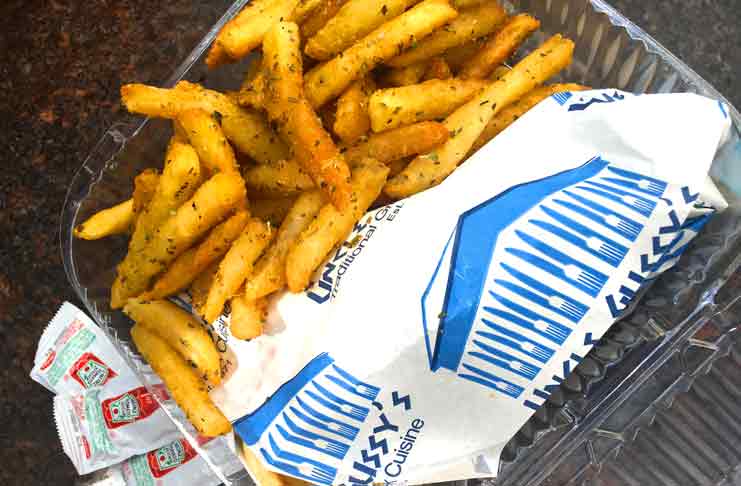 If souvlaki and fries aren't what you're craving, Uncle Gussy's also has daily specials, as well as sandwiches and burgers in addition to their regular menu selections of Greek dishes. And, Uncle Gussy's Greek food truck has made their mark in the digital age: on their website (https://unclegussys.com) you can skip standing in line and order online through Grubhub or Seamless. You can also signup for updates and specials, or follow them on Facebook, Twitter, or Instagram. Oh yes, one more thing—they cater for parties big and small. (Contact us for more details!) With all those options, now there's no excuse for not to giving their "fresh, home cooked, Greek cuisine" a try.