Whether it's a slice of cheesy pizza, a double-decker burger, or a nice-looking salad, food is one of the most Instagram-able things after cats! As proof, #food has over 483M posts and it's closely followed by #instafood (220.6M posts). This means that, as a restaurant, you already have several strong communities of people who love the food at your disposal.
Instagram is a powerful platform for visual marketing strategies as it provides users with a nice promotion toolkit. And, even though you still can't post links in comments or captions, you have tools such as stories, hashtags, comments, video, and image posts. 
Each of these tools is powerful if used as part of a well-designed marketing strategy. So, if you think about putting your restaurant business on Instagram, you're not wrong. Still, if you don't think things through, not even Instagram can boost your brand image and bring more customers your way. So why not start with a few tips that are most likely to produce an impact?
1. Define Your Target Audience
Regardless of how good and popular a social media platform is, you can't succeed if your content doesn't have a specific target. It would be like shooting darts in the dark and hoping some of them will stick to the wall. 
So, start asking a few questions, such as:
Who do you want to attract? (youngsters, working adults, people who want to enjoy a fancy dinner, and more)

Do you cater to a specific diet? (vegans, vegetarians, meat-eaters, low-calorie dieters, and so on)

What is your local demographic? Most restaurants aim to attract locals since these are the customers who will most likely return. 
Also, think about the people in your audience most likely to be on Instagram. The platform is most popular with 18 to 34 years old but it also has users from other age groups. 
2. Define Goals & Objectives
What are you trying to achieve with this campaign? 
Most businesses on Instagram want either to increase awareness or get more customers (or both, in some cases). However, just saying you want more customers it's not enough to build a strategy. Design your goals and objectives using the SMART framework (Specific, Measurable, Attainable, Relevant, and Timely) – this will help you understand the type of content you want to create. 
3. Hire an SEO Professional
Instagram is not always easy to understand and control, but it is one of the most popular social media platforms in the world. 
So, if you want to take full advantage of the opportunities it offers, it's best to find a professional SEO service to get more online visibility in New York City and help you out with making new content for the right audience. 
4. Performance Metrics Monitoring
Instagram Insights (the native analytics) does a good job of providing you with insight into how your campaign is doing. However, you need to know which metrics matter for your business and how to interpret the results.
For instance, if you want to increase awareness, you should follow metrics such as post impressions, reach, and follower count. On the other hand, if you want engagement, look at the number of likes, comments, and shares your posts get.
5. Action Buttons
Business accounts on Instagram have more features than regular accounts, so if you want to attract new customers (as opposed to just spreading awareness), it makes more sense. For instance, you can use action buttons to allow users to reserve a table in your restaurant or place a food delivery order. 
Also, you can use these buttons to present your menu and have interested users interact with various items. This way, you can also assess which menu items are more interesting for online users.
6. Story Highlights and Covers
Instagram users can organize their stories into collections (Story Highlights) and share them as new content. This way, you can re-use the stories that gathered a lot of interest and get more out of reusable content. 
In the case of a restaurant, you can organize your stories in deserts, mains, recipes, funt evenings, events, and so on. Plus, you can give your account a bit of a more professional look if you use Instagram Story Highlights icons, category titles, and covers.
7. High-Quality Content
You are running a restaurant, so it's only natural your posts will be about food. However, nowadays, anyone can take an artistic foodie picture and upload it online. So, if you want to stand out (and you do), you have to find new ways to impress the audience with images that tell a delicious story.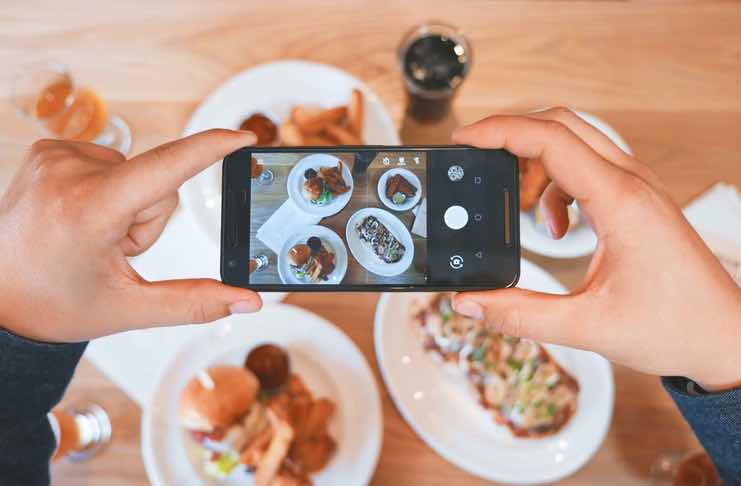 Of course, it also helps to know how to build a social media following and who your target audience is. Overall, it's crucial to create content that's visually attractive and stimulates users' desire to come to your restaurant and try the food and the atmosphere. 
8. Tell a Story in the Caption
While your images should stop a user's scrolling, your captions should make them want to lick their fingers. An image may be worth a thousand words, but your caption can add to those. 
Also, you need to use the caption for hashtags, but make sure to not overdo it. Think of hashtags as salt in the food – you don't want too much and too little doesn't have the wanted impact.
9. Nurture Connections
Keep in mind that Instagram is a network where you can meet a wide range of business owners, creators, and even investors. So, in order to strengthen your brand, keep an eye open for professionals and businesses that can help with that. Who knows – the connections you forge online can always become something interesting in real life!
10. Stay Up to Date
Social media (Instagram included) likes fresh content but it's also important to monitor and understand the progress of your campaigns. Use the Insights section and your own Google Analytics (on the website) to understand if your goals are being met. Also, check the data for any trends you might have missed but could be used for marketing purposes. 
Looking for a few more tips? Watch this useful video:
Wrap Up
Instagram is a fantastic platform for visual content, but you have to keep working on your campaigns if you want to stand out from the crowd. Also, expect to meet your competitors here as well – most popular restaurants have well-designed Instagram accounts.