Searching for a shortlist of the best Craft Cocktails in NYC? You've reached the right place. Many people claim that New York City, or Manhattan to be more specific, is the heart of the craft cocktail universe. Why you may ask? Well, according to some experts, the modern craft cocktail scene that we all know today started out back in 1988, when the iconic Rainbow Room at the Rockefeller Center reopened.
It was there, where a new bartender by the name of Dale Degroff, created a variety of crafted cocktails filled with classics from the Prohibition era, mixed with delicious ingredients and using advanced techniques. During this time, just on the other side of town at the Odeon, bar owner Toby Cecchini was creating the famous Cosmopolitan cocktail – a vodka martini with cranberry and lime, and triple sec.
Today, NYC is practically flooded with unique bars and restaurants where you can find delicious craft cocktails. Some of these classics represent the Big Apple's one-of-a-kind personality, while others are just exceptionally delicious. In this short list, we chose only five of our top favorites, so here they are…
1. The Manhattan Cocktail by Le Coqtail
Our first in line is actually the first speakeasy-style and ready-to-drink craft cocktail. Founded by Andy Irukulla, and created in collaboration with some of the best mixologists and experts – The Manhattan Cocktail is made from fresh, house-made aromatic bitters, premium Rye Whiskey, and house-crafted Vermouth. It's delicious!
Andy came up with Le Coqtail after traveling around the globe and noticing a void in the market for quality craft cocktails. With determination to improve the market, Andy embarked on a challenging journey of developing high-quality ready-to-drink craft cocktails.
In addition to the classic Manhattan Cocktail, Le Coqtail launched the Old Fashioned Cocktail which is comprised of premium Rye Whiskey, a touch of Demerara sugar mixed with in-house aromatic bitters. 
For more details – you can visit their Facebook Page or Instagram.
2. Sakura Martini and Umami Mary at Bar Goto
If you're fond of Japanese-style cocktail bars – then Bar Goto on 245 Eldrige Street is the place to go for some of the loveliest craft cocktails in NYC, as well as some delicious small plates (including one of our favorites – Okonomiyaki). 
So which cocktail should you get when there? Well, I actually have three favorites at Goto's, but please – drink responsibly. 
Sakura Martini is a great take on the iconic cocktail, mixed with Sake, cherry liqueur, and cherry blossom, while the Umami Mary is also a lovely take on an iconic cocktail – this time infused with shitake and miso. 
Want to take a look? Here's a short clip about Bar Goto:
3. Penicillin at Little Branch
This craft cocktail is an IBA official cocktail made with scotch, ginger, honey, and fresh lemon. It was actually created by an Australian bartender by the name of Sam Ross, who was living in NYC at the time. 
I love having a Penicillin when I'm up with a cold during the winter. Its ingredients definitely have some medical properties that relieve the symptoms of a cold.
Why Little Branch? Very simply, it's one of the city's most classic cocktail bars. Secluded beneath an unremarkable building in the West Village, Little Branch, or LB as it's called by locals, is a super cool and popular bar worth visiting. 
Here's a lovely review of the place:
4. The Perfect Irish Coffee at The Dead Rabbit
I know what you're probably saying…" I already know all about Irish coffee". BUT – you don't – at least not until you visit The Dead Rabbit. Nestled in the middle of the Financial District, this dimly lit modern-age bar is like a small Irish Island with a legendary cocktail menu, in the heart of New York.
This highly successful bar opened back in 2013 and just two years later won the World's Best Bar. The founders, Jack McGarry and Sean Muldoon (both Irish guys from Belfast) created a unique bar that is a brilliant combination of an Irish pub and a sophisticated cocktail bar.  
Watch this video to understand why it's become one of the best bars in NYC:
Ready to order the best Irish Coffee on the planet? As you receive it, your first sip will be a cold refreshing cream, slowly reaching the hot coffee and whiskey on the bottom. Dead Rabbit's Irish Coffee is not too sweet, neither bitter, just perfect. 
5. Vesper-esque Dante Martini at Dante
Dante is another iconic place in NYC, filled with lots of history. Situated in Greenwich Village, it was known as Caffe Dante for more than 100 years. It then closed down and reopened with a complete revamp of the place.  
Back in the 1920s, Dante was a casual espresso bar and cafe. Now, it's more of an Italian restaurant with one of the best bars in town. With its exquisite Italian cocktails, the re-invented Caffe Dante even reached the list of the World's 50 Best Bars. 
There's a lovely variety of crafted cocktails to choose from, but I recommend the Vesper-esque Dante Martini. It's a dazzling take on the classic Vesper Martini, which is originally made of gin, vodka, and Kina Lillet. 
Want to get a glimpse into Dante? Check out this clip:
To conclude, the Big Apple is not just famous for its hot dogs or cheesecakes, it's truly flooded with fascinating places where you can have a delicious craft cocktail. Yes, the scene is constantly changing, places close down and new ones open up. Some pioneering brands come up with unique ready-to-drink craft cocktails. It's an amazing scene to watch and experience!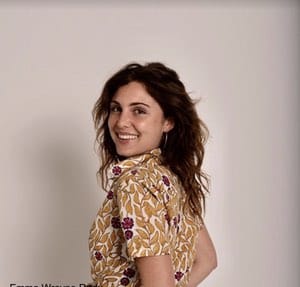 Emma Wrayne Rudy is a food connoisseur ready to indulge in every chance she gets to explore the beauty of New York City's endless food scene. Emma's writing style focuses on local hidden gems, food carts, food trucks, ma and pa joints, and eats that are affordable for everyone to try. With the diverse culture New York offers, she wants to emphasize on the foods that are less talked about and create a story behind each one. Growing up in Los Angeles at the age of seventeen Emma's curiosity for food started as she went to every restaurant she could and wrote reviews on her experience, the ambiance, and her meals. Moving to New York a year ago she is ready to take on the immense food culture New York City has to offer, and continues to dedicate her days to writing as much as she can to pursue her dream as a food writer and storyteller.